Are you planning a walk-in shower in your home but feeling stuck on where to start? You have come to the right place because we will be deep diving into how walk-in showers are essential, ideas for a walk-in shower, etc.
Walk-in showers are the dedicated space for showering within the big room.
It is mostly constructed to organize the bathroom storage, keeping the whole bathroom clean and dry, and simply because it looks luxurious. Walk-in showers are mostly doorless and come in different shapes and sizes.
People usually believe that walk-in showers are for large and luxurious bathrooms and won't be suitable in a small bathroom. However, it's a misconception.
Walk-in showers can be built-in bathrooms that have decent floor space. It doesn't have to be overly big. For instance, your ceiling has to be high enough to accommodate a walk-in shower.
Regarding the less space in the bathroom, there are many different ideas, like corner walk-in showers to save space.
Let's get started!
Aesthetic Doorless Walk-In Shower Ideas for Your Bathroom
1. Walk-In Shower with Pattern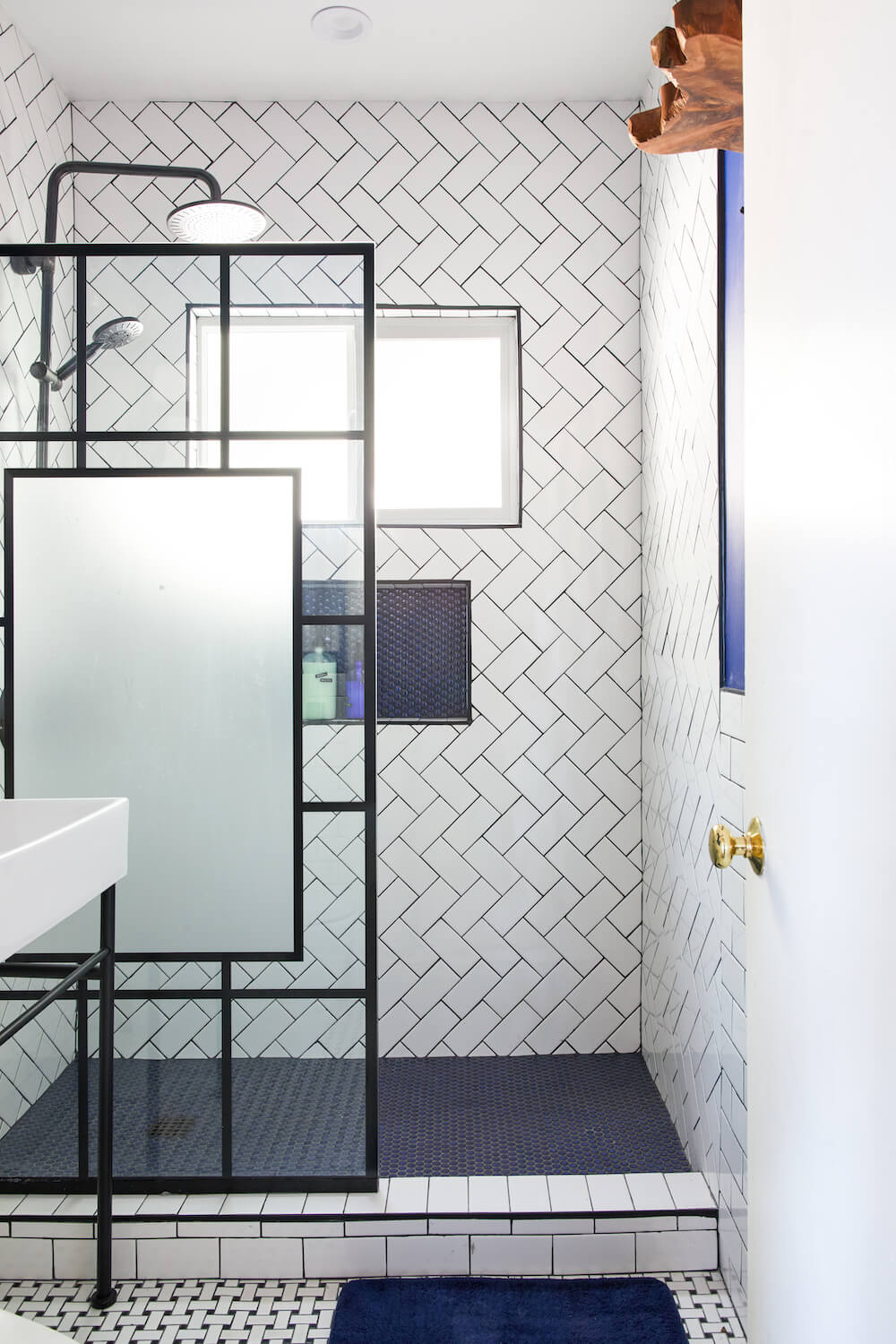 This doorless walk-in shower idea is subtle, eye-catching, and bold at the same time. The patterned white colored tiles and the rectangular storage dug out in the middle look premium.
The contrast between the patterned tiles and the background color of the strongest makes the whole wall more lively. Moreover, the rectangular frames of different sizes on the glass panel look gorgeous.
The frosted glass strategically placed against the shower area provides the much-needed privacy and boldness to this doorless walk-in shower.
If you notice closely, you will see that the color of the floor matches the in-wall storage. All these factors of patterns and colors combined give the doorless walk-in shower a refreshing look.
Similar Post: 22 Stunning Doorless Walk in Shower Ideas
2. Sleek Shower in a Townhouse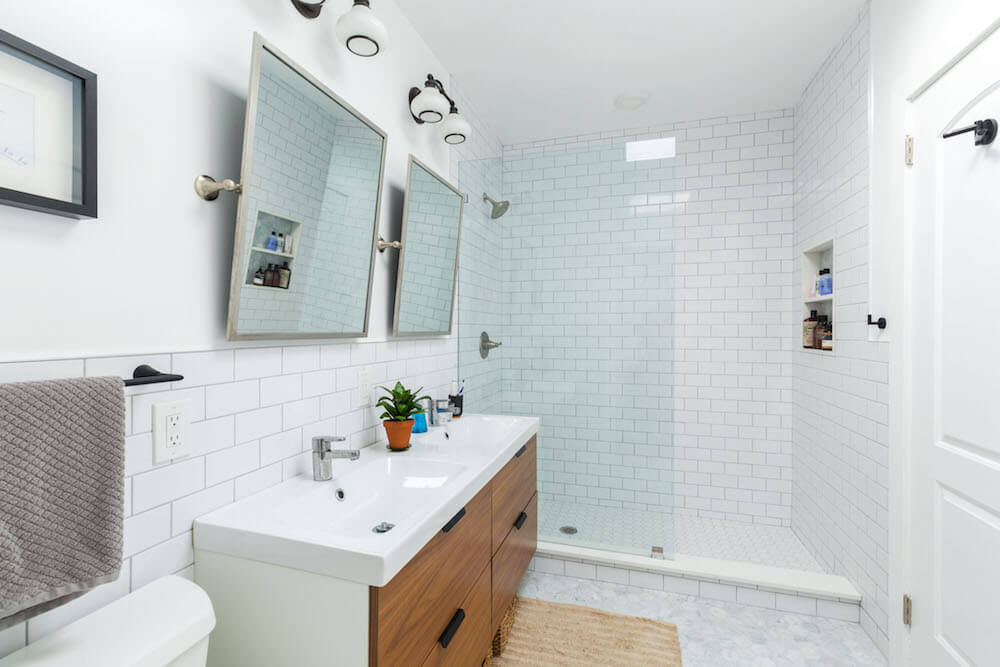 This idea is mostly suitable for large bathrooms and high ceilings. A very simplistic design that is easy to recreate without having a hole in the pocket.
Adorned with white color tiles and the most simple glass door, this design is sleek, very minimalist, and practical.
At the entrance, it has a raised platform that doesn't let the water crawl outside of the shower, keeping your entire bathroom clean and dry.
The in-wall storage at the back is strategically placed so it won't get wet easily, and you can reach out to it safely when you need it.
If you decide to build this type of walk-in shower, remember to keep things minimal.
3. Spa Worthy Walk-In Shower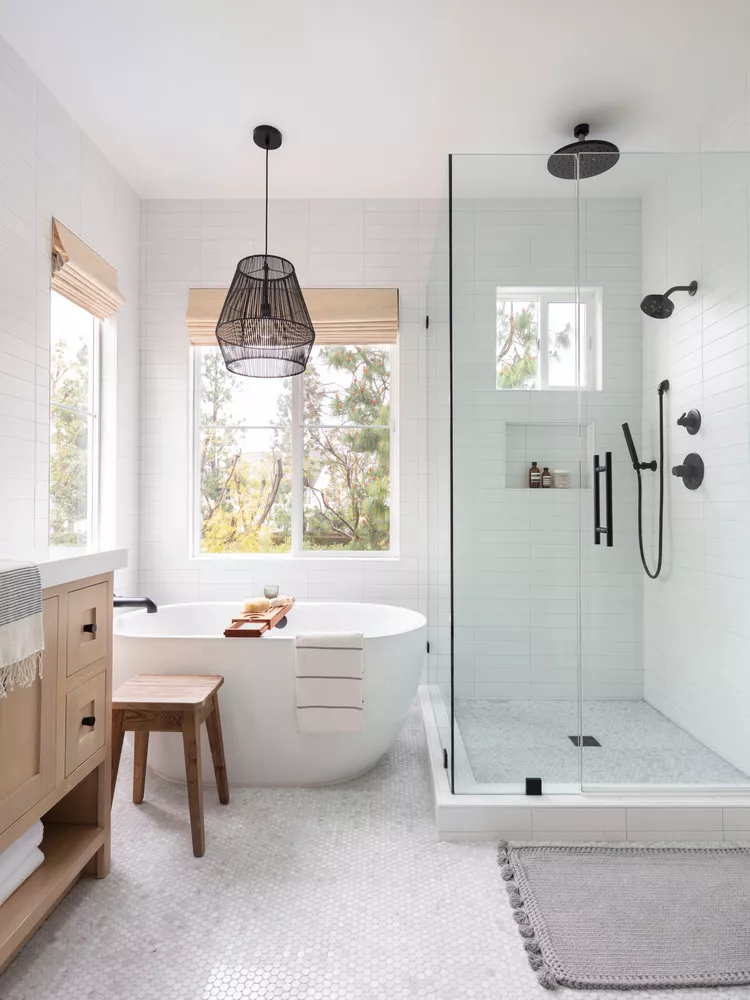 Who doesn't want a relaxation-like spa in the comfort of their homes? This walk-in shower, with its airy feeling, makes it happen without any hassle.
Covered with simple glass panels on three sides and three windows at a height, allows fresh air inside and gives it a very elegant look.
Along with it, the natural light really makes the whole walk-in shower look alive.
This doorless walk-in shower has three showerheads, i.e., rain shower, handheld shower, and wall mounted are installed for your utmost convenience.
What makes it truly special is the tub outside, with wooden cabinets having natural accents and bamboo shades covering the windows, making it a very luxurious and spa-worthy walk-in shower.
4. Glass and Tub Walk-In Shower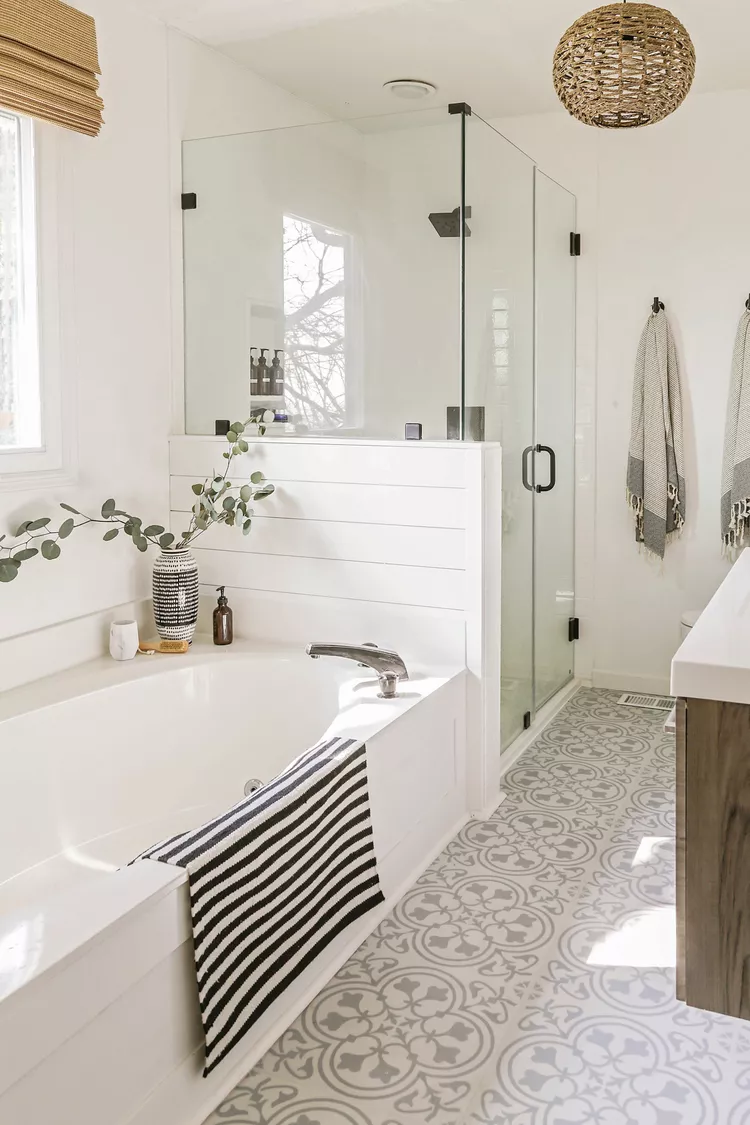 This type of doorless walk-in shower idea is a bit costlier and requires much space to be executed well because it requires a tub and walk-in shower to be placed adjacent to each other.
Not only the space but also the plumbing has to be done mindfully to avoid any leaking. The white tiles of the walk-in shower with the creamy tiles of the bathroom complement each other.
Since the whole bathroom is planned with muted and neutral colors, it looks big.
With the window placed over the tub and covered with bamboo shades, the whole bathroom gets enough natural light, giving it a very natural look.
When it comes to the ceiling, the bulb is covered with bamboo giving the bathroom a very rustic and warm look.
If you plan to have this doorless walk-in shower at your home, then except for having a bigger space, you also need to invest a lot of money in getting premium accessories.
But it will be worth it with the relaxation that it shall provide!
5. Slate Bathroom Shower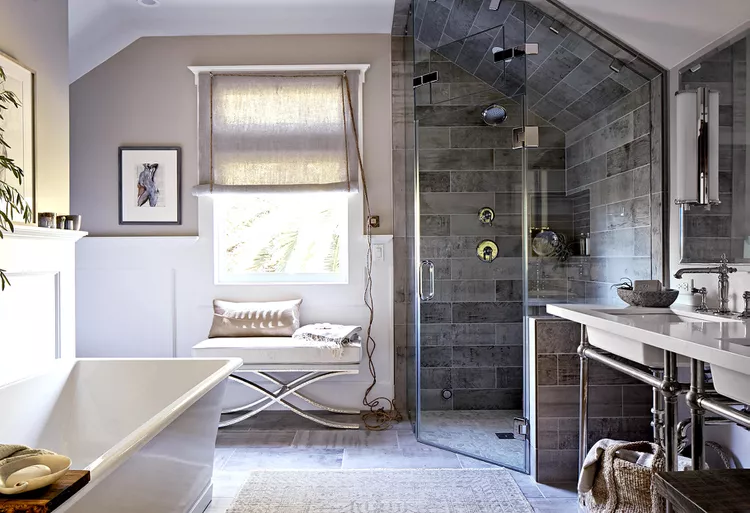 First things first, this idea of a doorless walk-in shower will not be easy to plan and is not applicable to most since it requires an angular ceiling at a corner.
However, you can always steal some inspiration from different ideas, even if it's not applicable to you. This walk-in shower is built in the corner with rugged tiles and also has an angular ceiling.
The color of the walk-in shower tiles greatly contrasts with the wall color of the bathroom.
With slate-colored tiles and a corner walk-in shower, this should be the ideal choice for anybody who has this kind of space setting in their home.
It doesn't look economically draining since there are no fancy items involved. Even the glasses can be kept simple, and they will still manage to look appropriately rustic in appearance.
6. Standout Walk-In Shower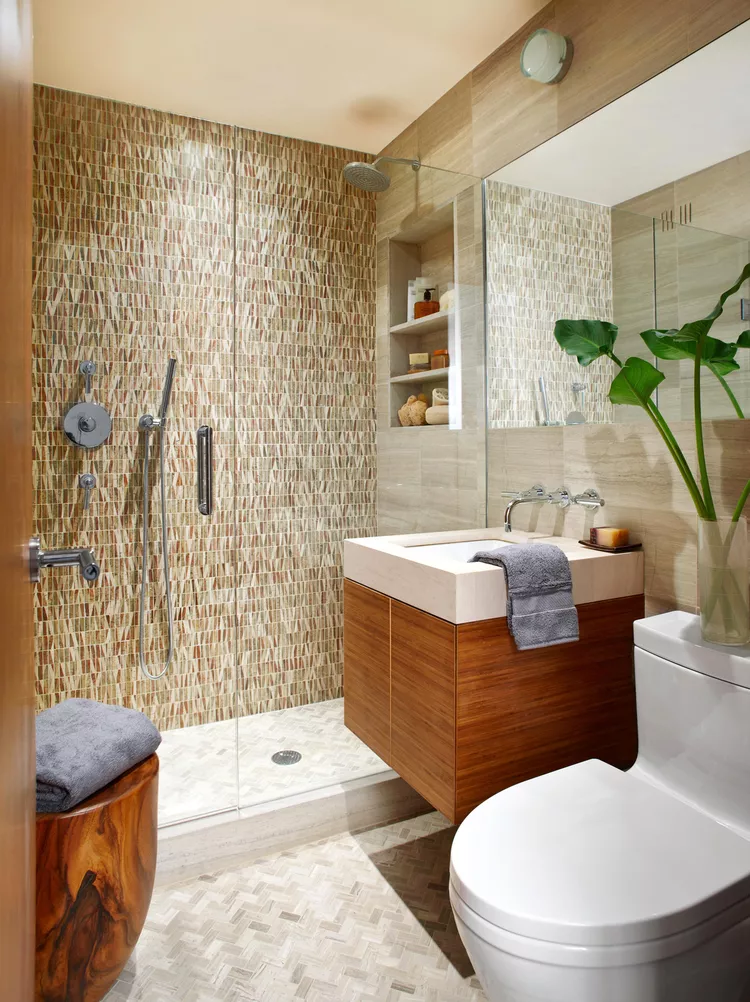 A very lovely-looking walk-in shower with unique stone mosaic tile will instantly catch your attention.
The glass panels are kept transparent so that the stone mosaic tile can be seen clearly without any obstruction. Leaving its gorgeous view behind, let's talk about its functionality.
First, it doesn't require much space and can be easily constructed in a small bathroom. Second, the heightened washbasin outside the shower makes the bathroom look bigger.
Lastly, the in-wall storage space constructed in the walk-in shower has plenty of space. Moreover, it can be easily reached while taking a shower.
This doorless walk-in shower idea is perfect for someone who has a small bathroom but still wants a good-looking walk-in shower.
The mosaic tile in the background is the main attraction and gives character to this walk-in shower.
Also Read: Shower Head Height: Complete Guide
7. Stone Walk-In Shower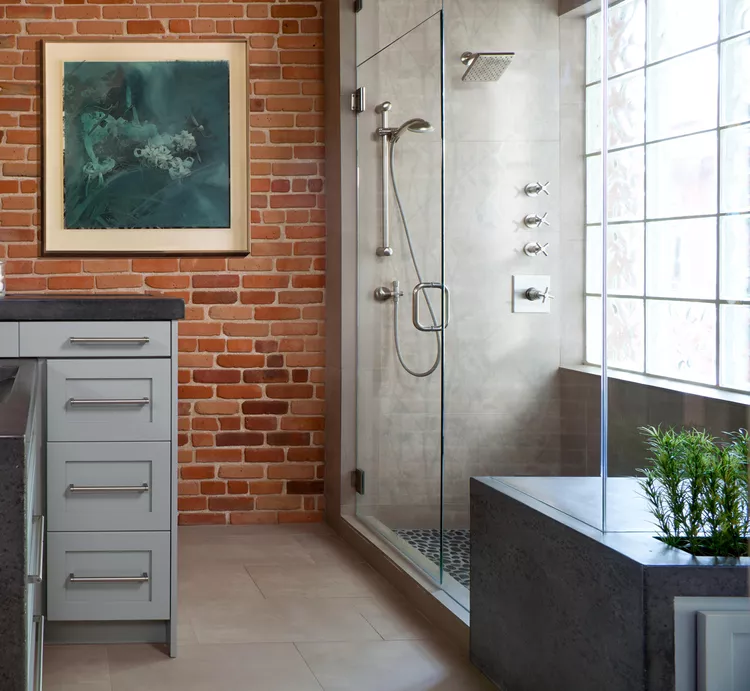 This stone walk-in shower looks absolutely exquisite. The combination of brick-shaped tiles and textures with the stone surround walk-in shower gives it a rustic feel and looks ravishing at the same time.
What is peculiar about the walk-in shower is the flooring. It is made up of pebbles that not only give a natural look and feels amazing but also provide safety from accidental slipping.
This can be extremely beneficial for you if kids and the elderly stay at your home.
In addition to big glass panels, it also has big windows which let in natural light. Add that pebble floor to this mix, and the result is a nature-like bathroom experience that feels real.
There are various shower head options like wall-mounted showers, handheld showers, and rain showers, making this doorless walk-in shower really practical.
8. Traditional Style Walk-In Shower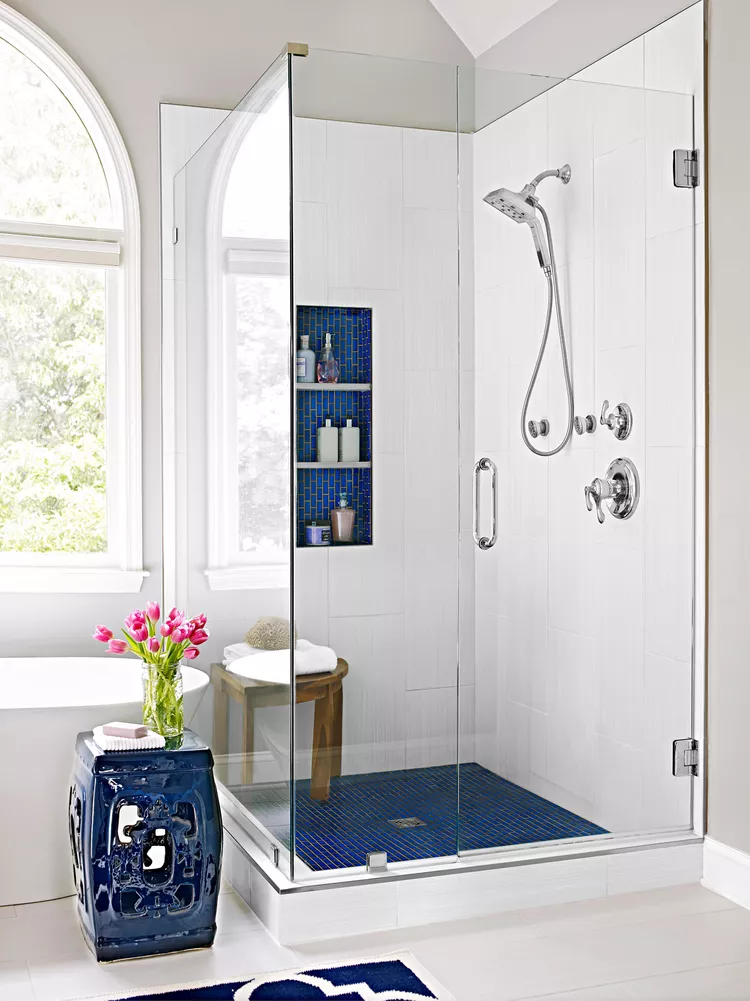 A very classically styled walk-in shower with the attractive colors of navy blue and white looks gorgeous. The combination of pearl-white tiles and beige-colored walls makes the bathroom look huge.
It's a corner-style walk-in shower, which is always preferred since the corners of a room are always unutilized.
The window adjacent to the walk-in shower is big enough to let a lot of natural light pass through. The walk-in shower itself shows a game of contrary with its navy blue colored flooring and white tiles.
The shelving backsplash and the tile color perfectly complement each other.
This walk-in shower is applicable to most big and medium-sized bathrooms since it doesn't occupy much space and is easy to build.
This is a very traditional style of walk-in shower, but it's very functional and beautiful in its own way.
9. Built-In Shower Storage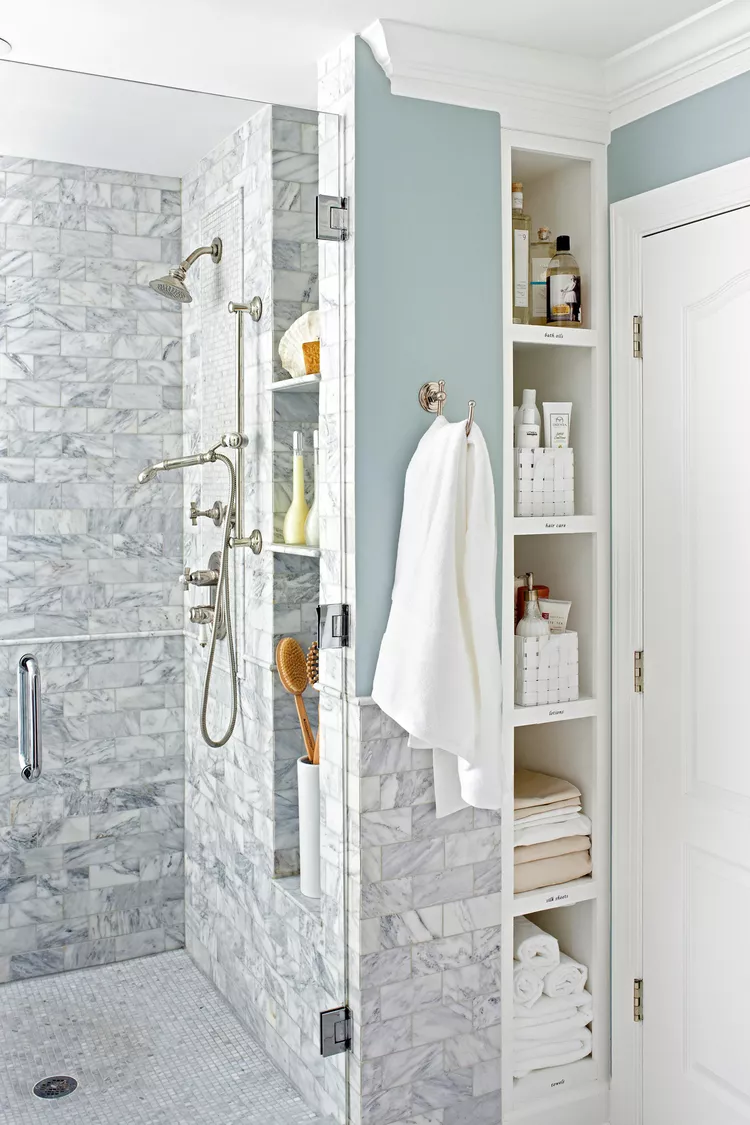 You must have noticed that in all of the doorless walk-in shower ideas we have seen till now, they were missing the one most crucial thing, a shower storage cabinet.
Its imperative to have shower essentials, towels, soaps, candles, and fragrances nearby to take a shower quickly when you are in a hurry.
Even when you are not late, we cannot ignore the fact that it's highly convenient.
Most of the walk-in showers have shelves for shampoo, soaps, and loofah, but the space is limited, and we cannot store anything there.
That is why in this walk-in shower, there is a cabinet built out of the walk-in shower for storing such items. If this is something you have in mind, go ahead with it without having second thoughts.
10. Arched Walk-In Shower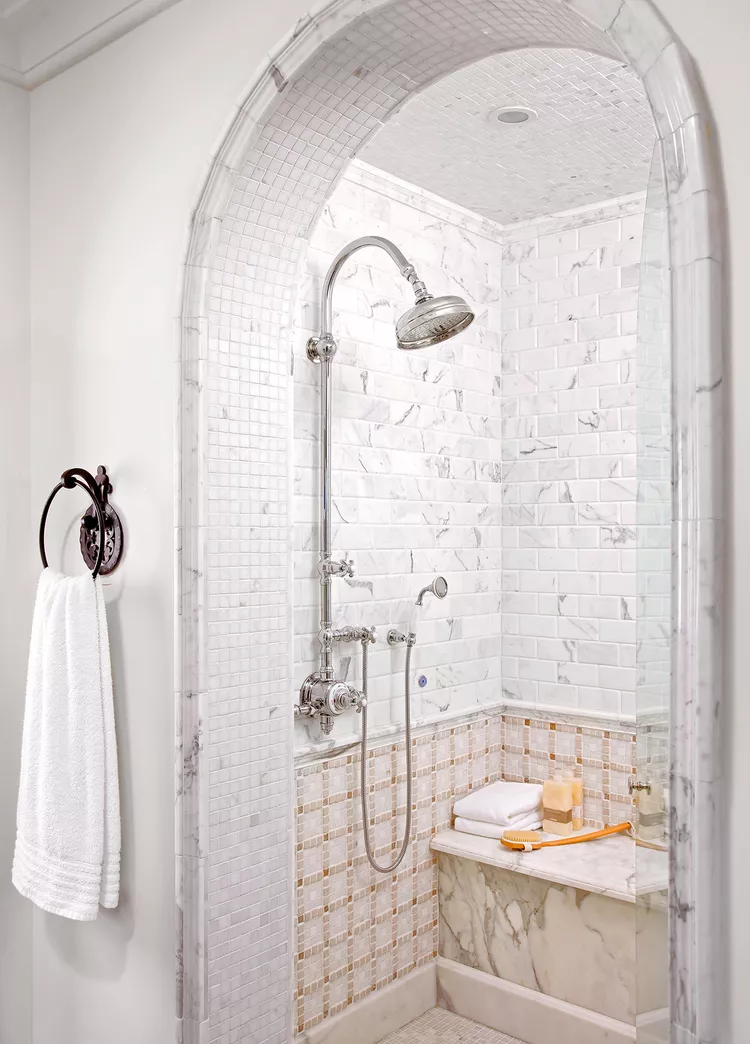 An arched walk-in shower portrays pure luxury and absolute grandeur. When you arrive at this arched walk-in shower, you will feel like you walked into a palace of utmost comfort.
This doorless walk-in shower has glass panels divided in two and open inwards, which helps in keeping the space outside the walk-in shower clear all the time.
When it comes to the inside of this walk-in shower, the textured marble subway tiles with a built-in marble bench really enhance the aesthetic of this exotic walk-in shower.
11. Seated Walk-In Shower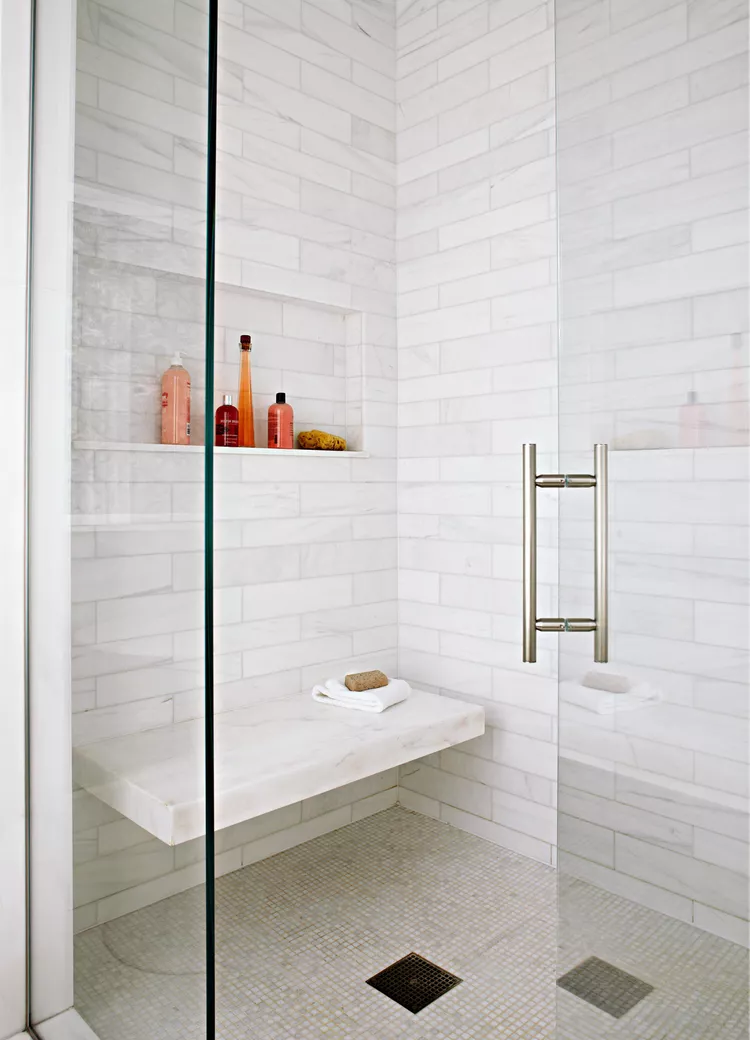 Walk-in showers are criticized by many people for not having a place to sit. This is mostly true since even in this list. You will not find many walk-in showers where you can sit and enjoy a relaxing bath.
A seated walk-in shower becomes a necessity for old people. But even young people can enjoy a seated walk-in shower if they are into long baths. What are you waiting for?
There is nothing stopping you from installing an exotic-looking marble-shelved seat in your own walk-in shower.
A seat also helps in shaving, a long spa bath, a place for shampoos, and other bathing essentials.
A seated walk-in shower is an appropriate choice since this is a perfect blend of comfort and functionality!
See More: 30 Budget-Friendly Small Bathroom Ideas to Refresh Your Space
12. Contemporary Walk-In Shower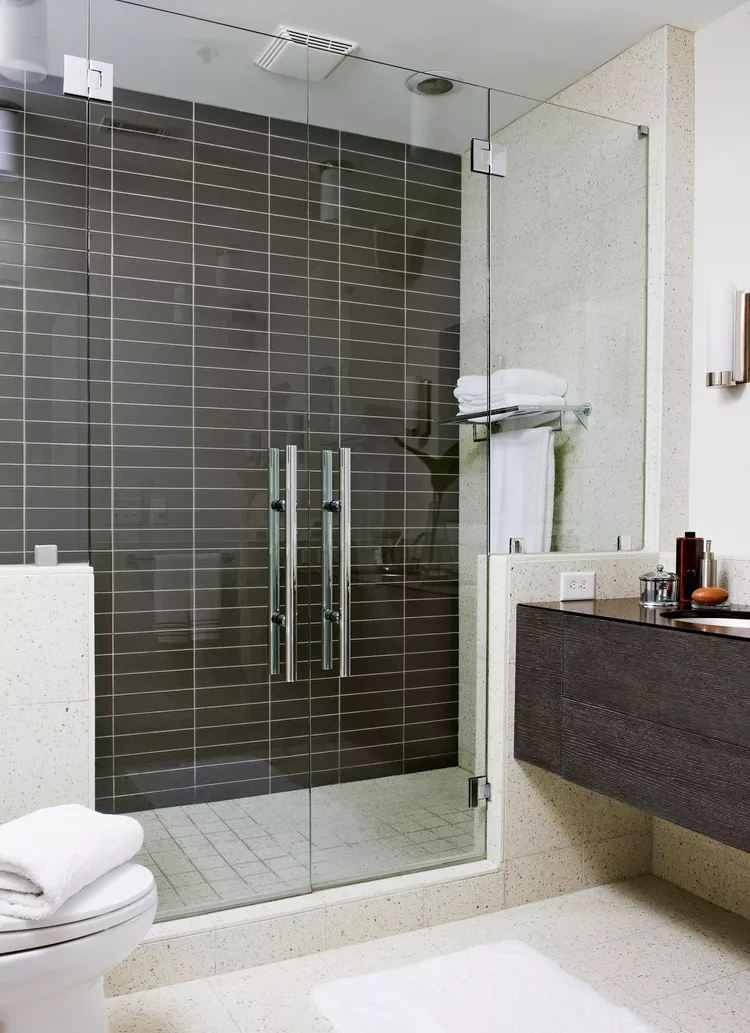 This contemporary-styled walk-in shower boasts of premium look and eye-catching contrast.
A very spacious doorless walk-in closet having full framed glass panels with chunky try, stylish handles grabs the attention in no time.
The back wall of the walk-in shower is made up of terrazzo, and the white tiles are used to give it a very contrasting appeal.
Inside the walk-in shower, there is a shelf made up of a grill where you can place your towels or hang them.
It is termed a contemporary style because of its fresh and bold design. The dark-colored wood outside the walk-in shower goes well with the muted white tiles of the bathroom.
You should go ahead with this choice if you enjoy minimalism and elegance!
13. Fully Outfitted Walk-In Shower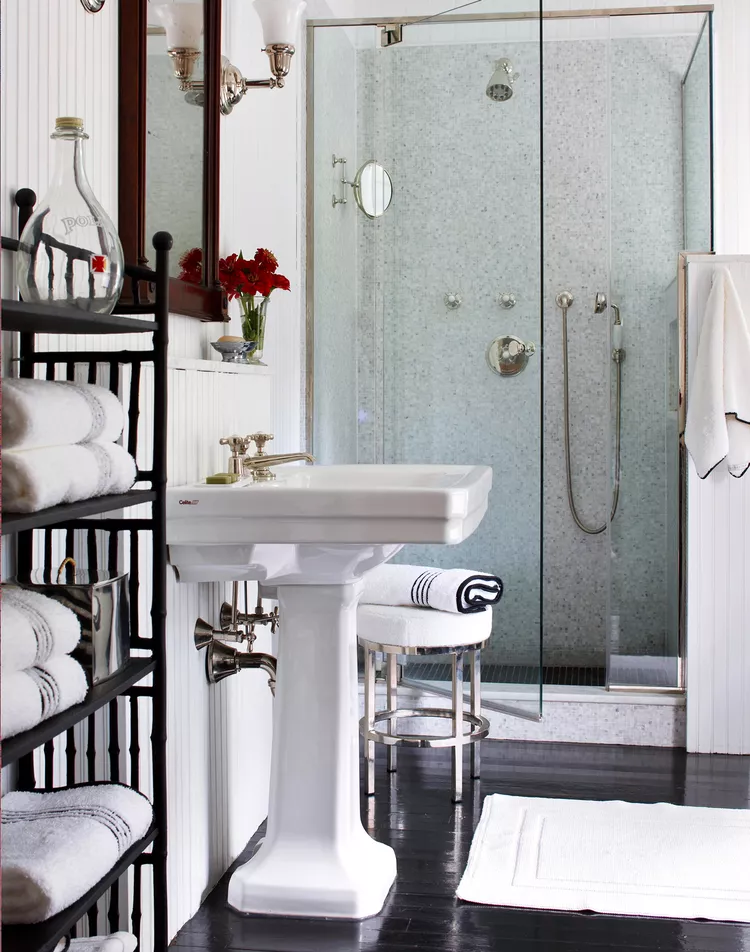 This walk-in shower stands out because of its features and functionality. It has so many thoughtful elements that make this walk-in shower truly one of a kind.
For instance, adding a step between the walk-in shower and the rest of the bathroom keeps the water from seeping out.
It is essential that the bathroom tiles are made up of wood and are not made to withstand water.
Inside the walk-in shower, there are several shower heads you can try for your ultimate convenience and comfort.
The placement of a small rounded mirror inside the walk-in shower is thoughtful and useful since it can be used while shaving and applying makeup.
Moreover, it looks vintage as well because of its rounded appearance. This can be built even in small spaces. Even though it looks a bit cramped, it sure serves the purpose quite well.
14. Steam Room and Walk-In Shower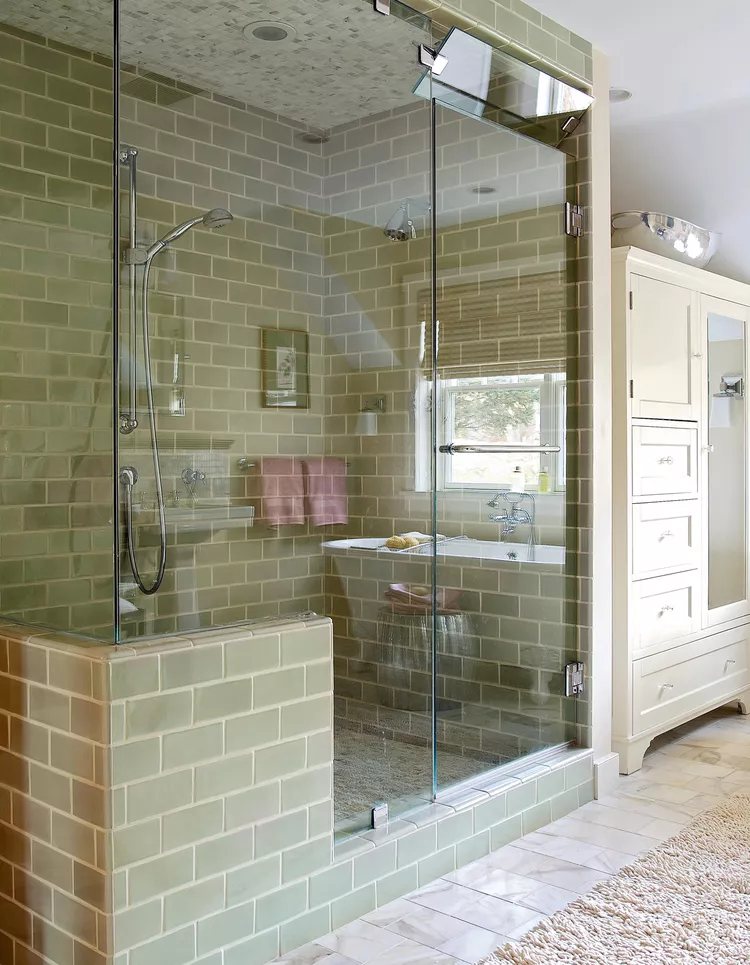 This is a classic walk-in shower with floor-to-ceiling height, but what's special about this is a hidden steam room offering pure luxury and comfort right at your home.
Taking a bath with a stream is not only for show. Rather, it promotes physical healing after a tiresome workout, is good for the skin, and has endless psychological benefits.
It is constructed with muted green shade tiles with steam and dual shower heads, evoking a spa-like atmosphere.
If you're interested in having this kind of doorless walk-in shower in your home, you should remember that you will definitely need a window in the bathroom to blow off the steam, and having a steam room, in general, is a very costly affair but worth it.
15. Nature Inspired Walk-In Shower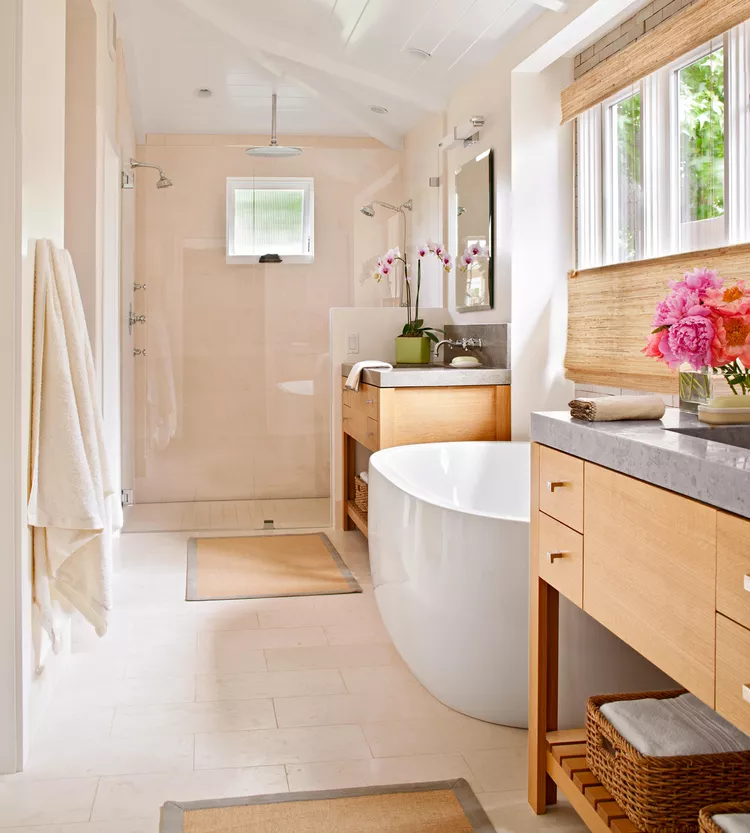 This is a perfect walk-in shower for those who love to be in nature and want to bring the subtle elements of nature into their home decor.
With nothing too fancy, just a simple full floor-to-ceiling glass panel, and with the use of natural finish oak and limestone, this walk-in shower keeps the walk-in shower neutral, fresh, and nature-inspired.
The usage of muted colors, artificial plants, and nature-inspired oak wood combine together to make your shower experience a luxury.
The bathtub adjacent to the walk-in shower has a window on top for natural light, and it really makes the whole walk-in shower come to life.
16. Corner Walk-In Shower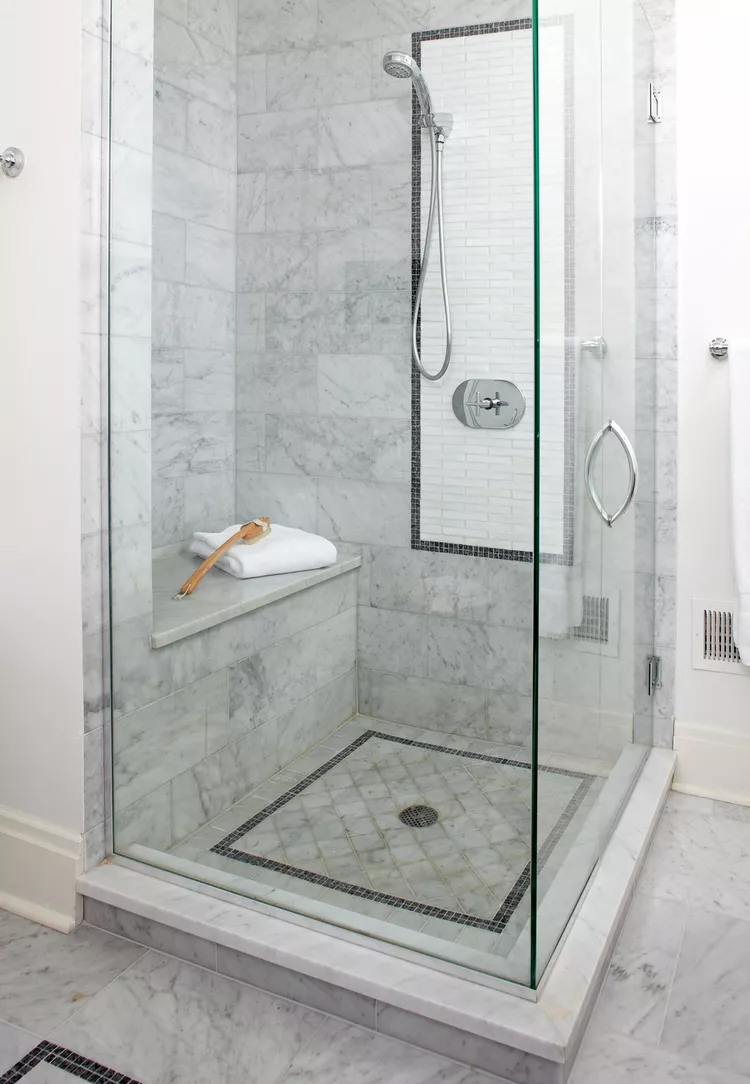 A corner walk-in shower is a genius way to get the most out of your bathrooms since the corners are mostly underutilized.
This walk-in shower presents itself with elegant marble, a rectangular mirror with ornated borders, a seated shelf for your convenience, and full-frame glass panels, making this walk-in shower the best thing for your corner.
Decorative tiles and chrome fixtures give the bathroom an elegant look.
If you plan to have a corner walk-in shower in your bathroom, make sure you have a high ceiling to have a refreshing and spacious look because most corner walk-in showers are known to look cramped and tiny.
Related: 31 Unique and Fascinating Bathroom Door Ideas
17. No Glass and Door Walk-In Shower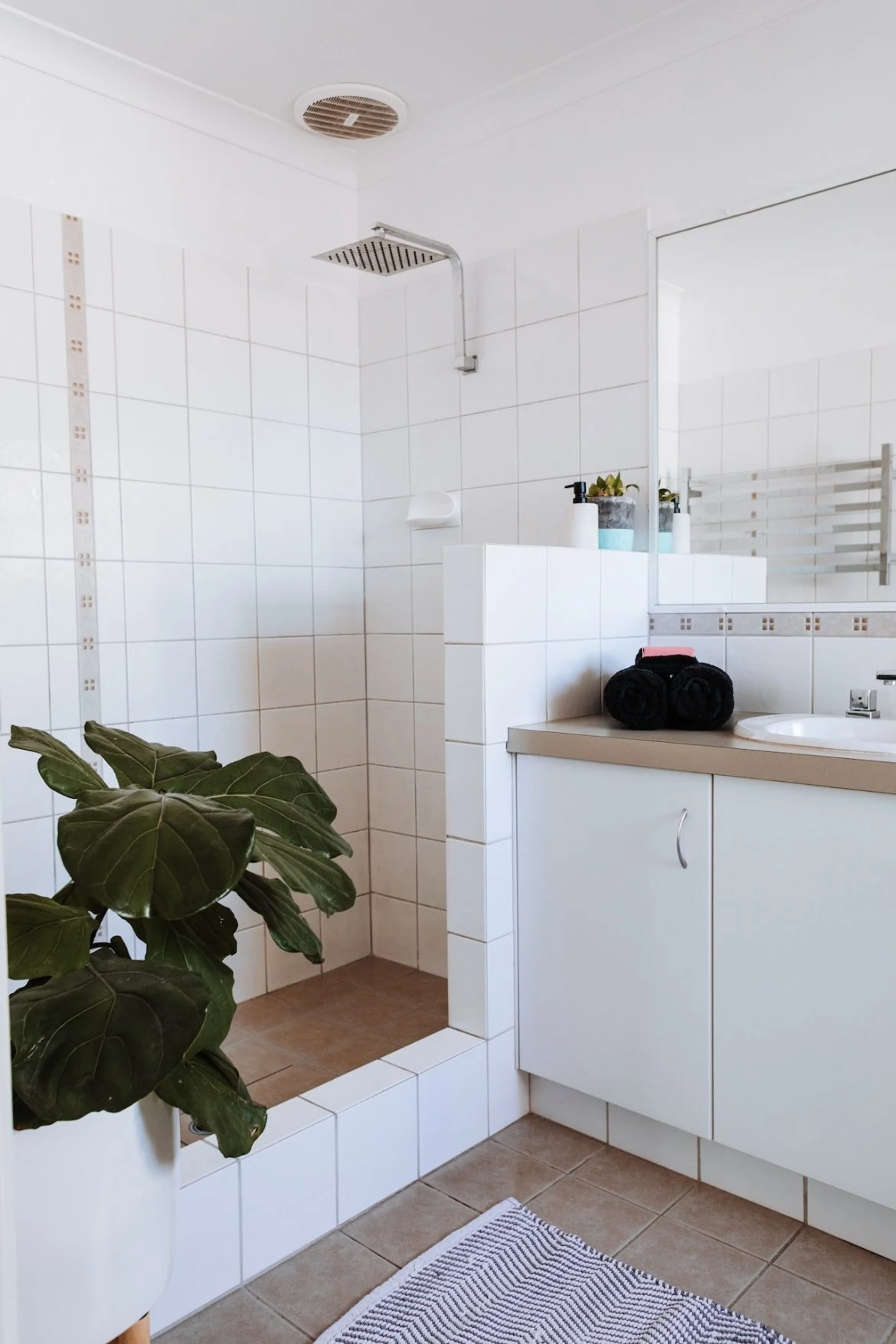 This is something really unique as it has no glass and no door.
This doorless walk-in shower idea without doors and glasses looks airy and big as compared to the big full-frame gasses and doors. So this seems like a perfect choice for small bathrooms.
If you plan to have this walk-in shower installed in your bathroom, be aware of water splashes coming outside the bathroom (especially if your tiles are not waterproofed, as water may damage them).
This can be easily constructed in all sizes of bathrooms without any hassle.
18. Doorless Walk-In Shower with Curtains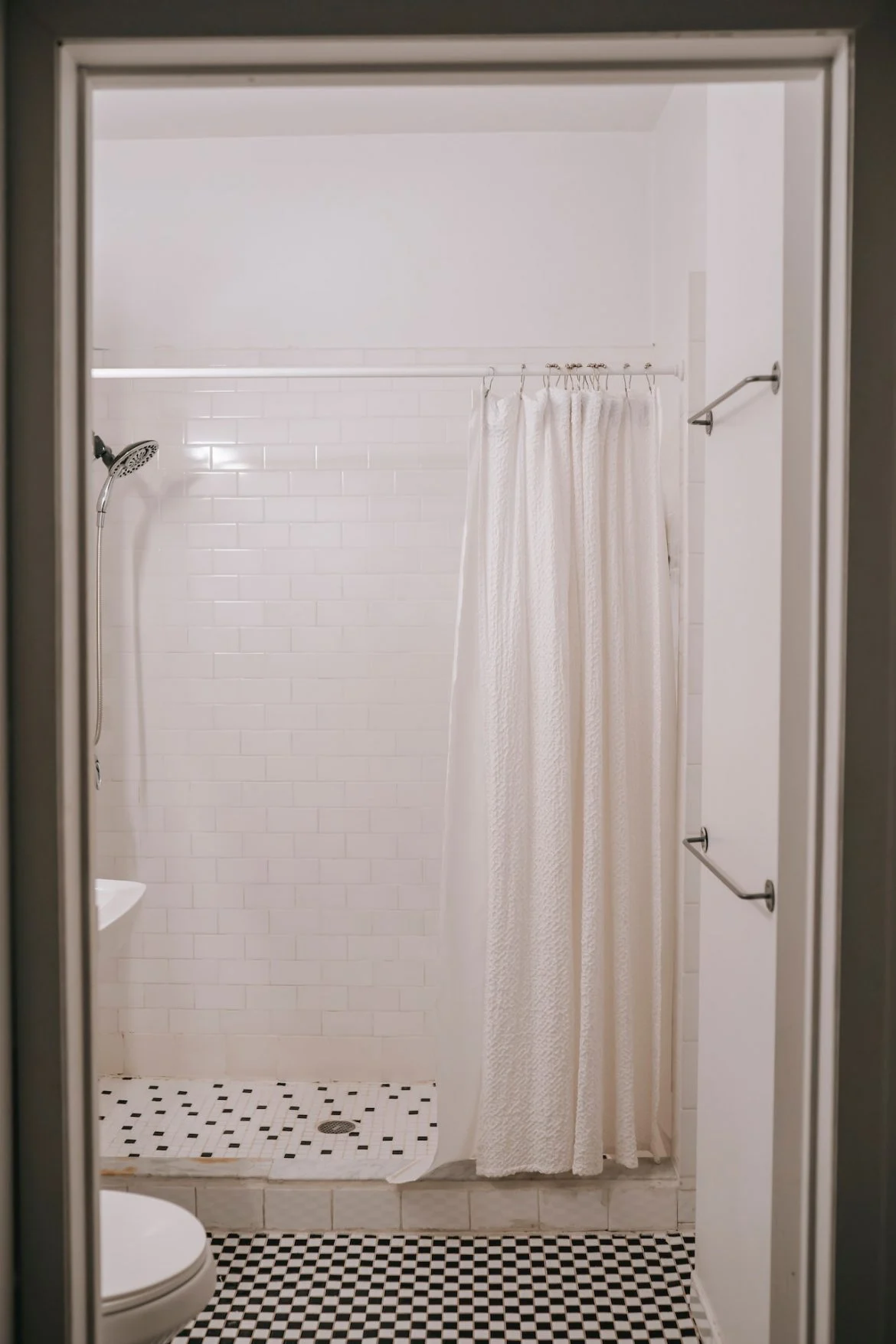 This is the right choice for people who feel exposed when taking a shower inside glass ceilings. It's more common than you think.
Even though people know technically that nobody can see inside, mental paranoia never lets them enjoy the shower.
For this reason, this doorless walk-in shower idea with curtains is an answer to safeguard their privacy and elevate their bathing experience.
Like the above idea, this also will feel airy and make your bathroom look spacious. One thing to keep in mind is using curtains, which are waterproof and should be extremely easy to wash.
The color, fabric, and pattern of the curtain should blend well with your home decor.
19. Wood Walk-In Shower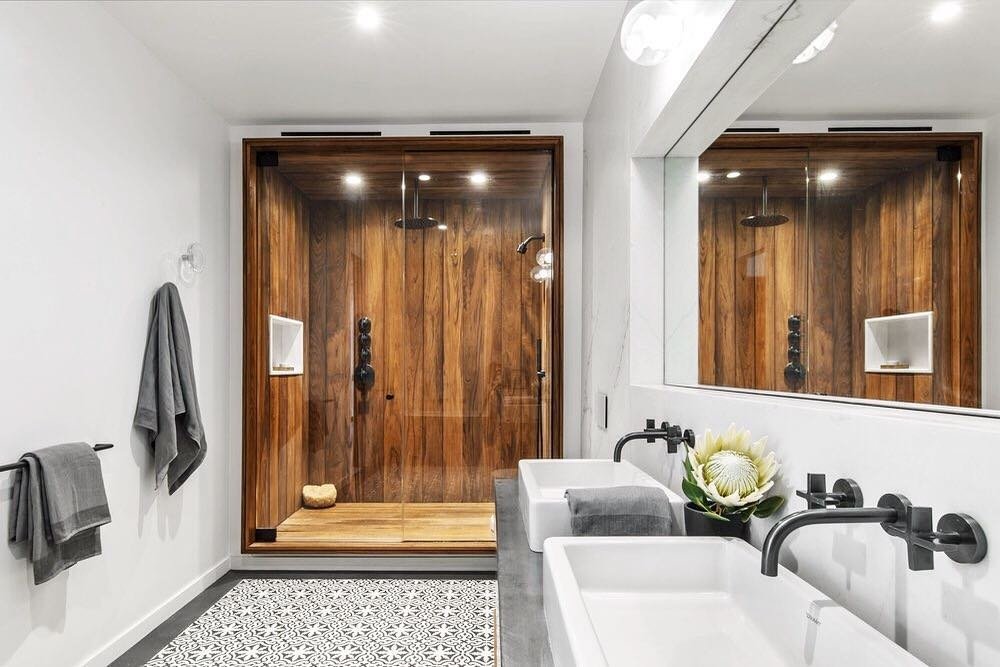 This doorless walk-in shower idea is one of the most unique ones on this list. A walk-in shower constructed with dark wood and glass panel gives a traditional look and looks sophisticated.
The walls outside the walk-in shower are painted in light beige color, offering a mind-blowing contrast. The usage of chrome with wood really makes this walk-in shower one of a kind.
If you're planning to construct this, know beforehand that this is going to be a costly affair as wooden panels don't come cheap and low quality won't last long.
But we both know it will be worth the investment to have the spa-like experience that it offers.
20. Luxurious Shower Head for Walk-In Shower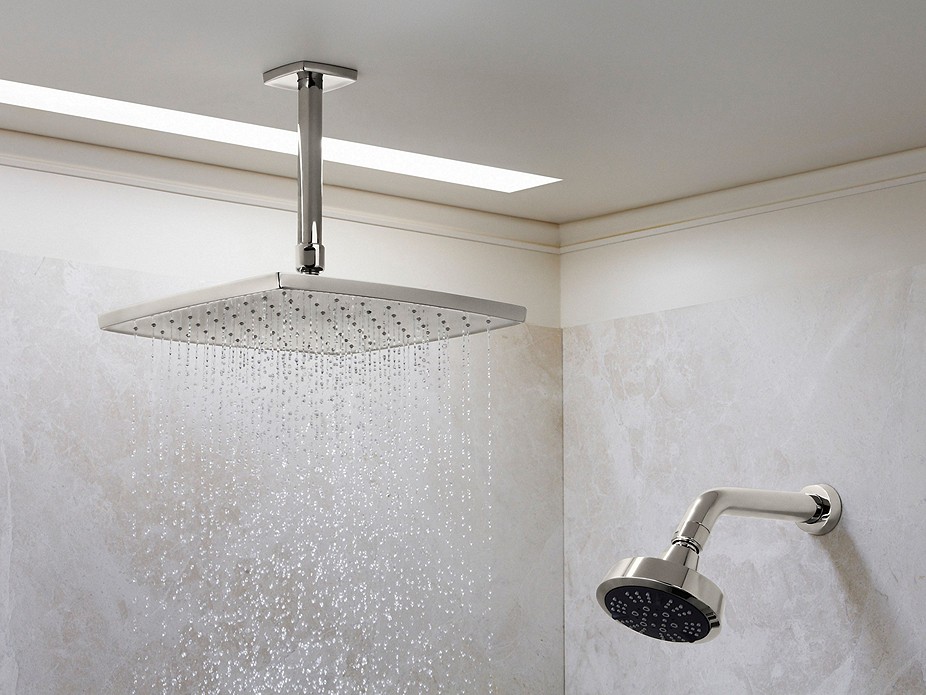 We have talked extensively about different types of doorless walk-in shower ideas. But do you know what a luxurious shower head can do to your walk-in shower?
It can change the whole appeal, and nothing speaks luxury and panache like a premium showerhead.
A luxurious showerhead is often installed in the ceiling and has a complete, wide, and uniform spray right from the get-go.
A good showerhead will not have clogging, rust, or water leaking issues anytime soon.
21. Contrasting Black and White Walk-In Shower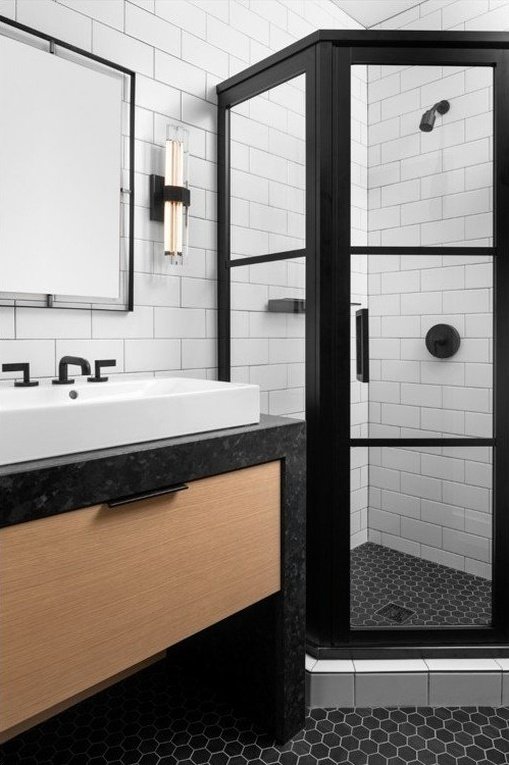 This is the cliche combination for a walk-in shower. However, it is a cliche for a reason, because it looks aesthetic, and the contrast of black and white is always incomparable.
This color combination is a perfect mixture of traditional and modern. Make sure the tile color is really deep and rich.
You can choose white floor tiles with black wall tiles or vice versa because it's really hard to go wrong with this color combination.
So why wait? Make this iconic doorless walk-in shower idea a reality today!
22. Neutral and Luxurious Colors for Walk-In Shower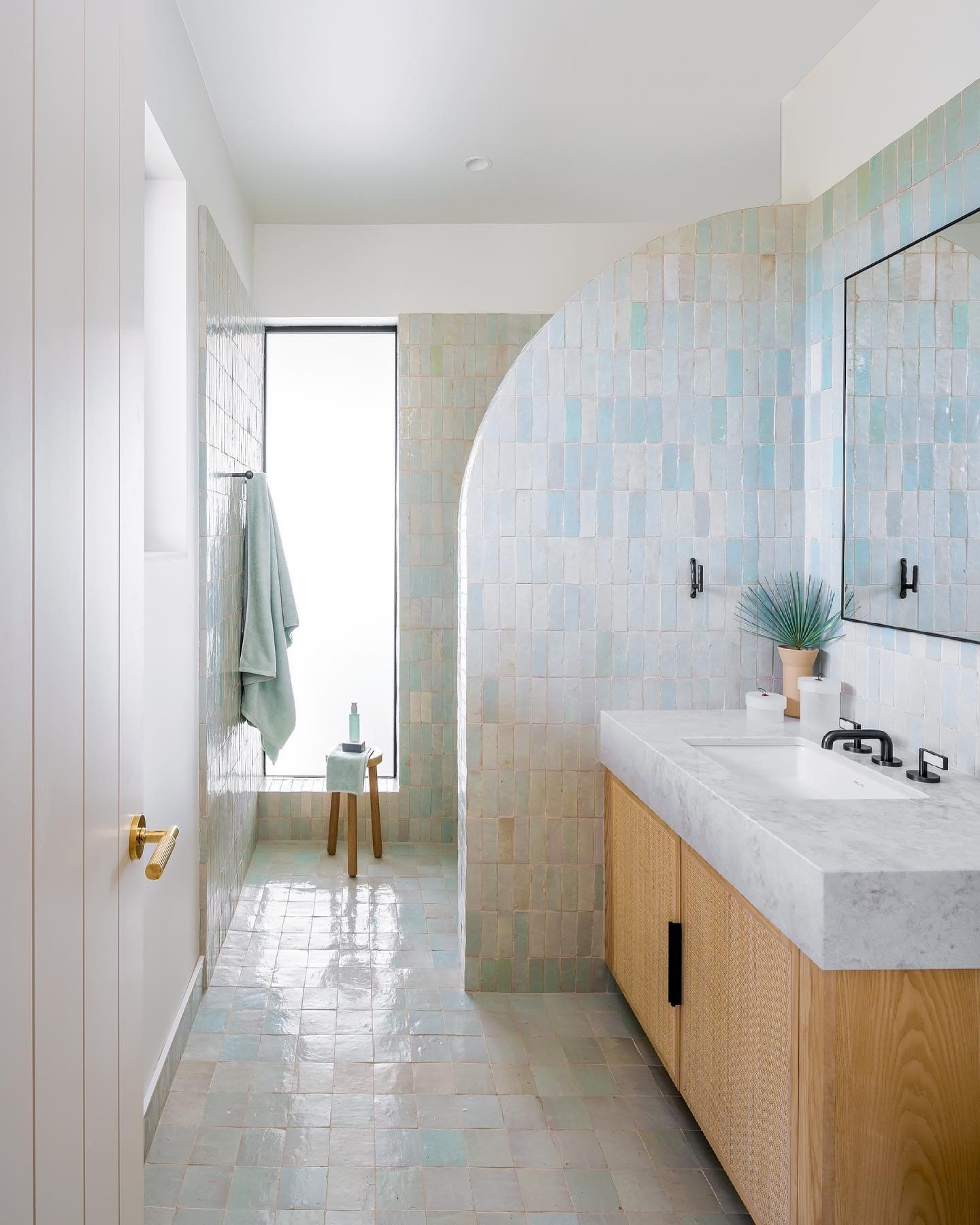 What colors you use really defines the core aesthetic and vibe of your walk-in shower that you are trying to recreate.
For instance, bold and bright colors give more playful and young energy. On the other hand, neutral and muted luxurious colors look sophisticated and premium.
To go with the premium feel, choose colors like light blue, beige, and gray, and try to match the shower fixtures with your faucets to have a flow in your walk-in shower.
This will make your walk-in shower look well put together and premium at the same time.
Check This Next: 10 Stylish and Functional Couch with Storage in 2023
Summing It Up
A doorless walk-in shower is not only a luxury but also a really underrated trick to keep your bathroom organized and clean at the same time.
We agree that it requires a little bit of extra splurging, but we also firmly believe that the satisfaction and the relaxation that you are going to receive later will be worth every penny spent.
To have a foolproof, durable, and premium-looking walk-in shower, it's essential that you invest in good quality raw materials and take the help of experts who do this day in and out.
We have covered almost all doorless walk-in shower ideas, suitable for all sizes of bathrooms, design preferences, and functionality.
Let us know which doorless walk-in shower idea you are planning to construct in your bathroom!