Decorating TV wall is essential to any leisure area. It draws everyone's attention and sets the mood for the entire room.
It's where we get together with family and friends to watch our favorite movies, TV shows, and sports games.
Since this particular space is so important, you must make it look nice and more comfortable.
Luckily, you don't have to spend a lot of money to make your TV wall look beautiful and unique.
In this article, we'll look at 11 ideas for decorating a TV wall that won't break the bank and will give your entertainment area a new and fresh look.
These ideas offer various ways to design your TV wall, from practical storage solutions to artistic shows.
It lets you make a wall with your other furniture and shows your personality and style.
List of 11 Ideas for Decorating Tv Wall with Cheap Finds
Putting the TV on the stand isn't the only way to decorate your entertainment space. It's a chance to turn your area into an exciting focus point that makes the room look better.
By decorating items together, you can make a stylish corner that goes well with your furniture and showcase your preference and personal style.
From floating shelves to gallery walls to accent lights and minimalist stands, these ideas will help you think out of the box and make the most of the space available for your TV wall.
The best part about this process is that you do not need to spend much money to get great results; you can make your entertainment space with some inexpensive items, creativity, and a little DIY project.
So whether you like a modern, classic, or eclectic style, check out these cheap ways to decorate your TV wall and make your entertainment area a true reflection of your class.
With some creativity and inspiration, you can put your TV on the wall at a higher level and make your living room a more comfortable and stylish place to watch TV.
Similar Post: 75-Inch TV Dimensions with Drawings and Tips to Follow
1. Gallery Display Wall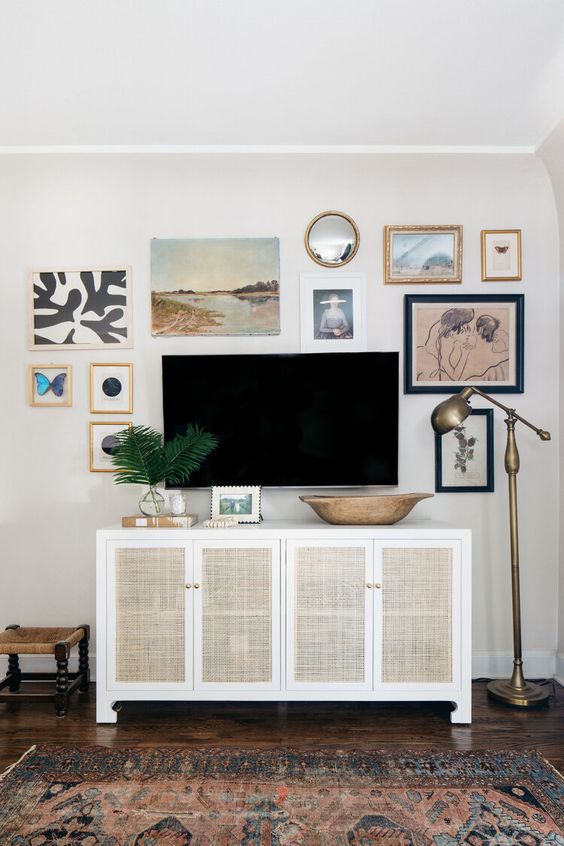 Make a beautiful gallery display wall around your TV by assembling various art pieces, decorative items, and pictures.
Mix and match different colors, sizes, and shapes of frames to make things more interesting. Choose pictures that showcase your style and go with the rest of the decorations in the room.
You can also use wall-hanging shelves to showcase extra decorations like miniature sculptures and plants for a well-rounded look.
2. Wallpaper Accent Wall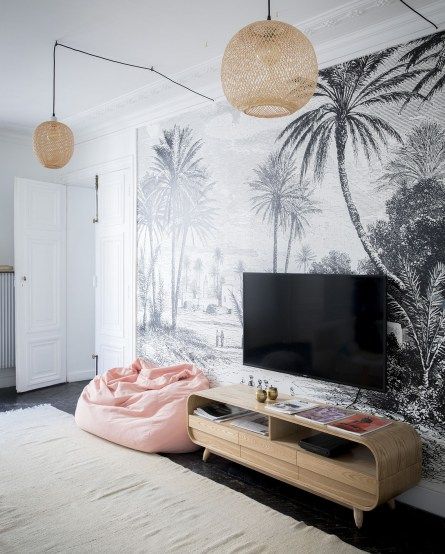 Add an eye-catching and bold wallpaper to the wall behind your TV to make it a piece of art. Choose textures, patterns, or murals that fit the room's color plan and style.
Ensure the wallpaper doesn't get in between the TV screen, and add wall lamps or LED strip lights for a cozy and soft glow.
3. Floating Shelves that Are Wall Mounted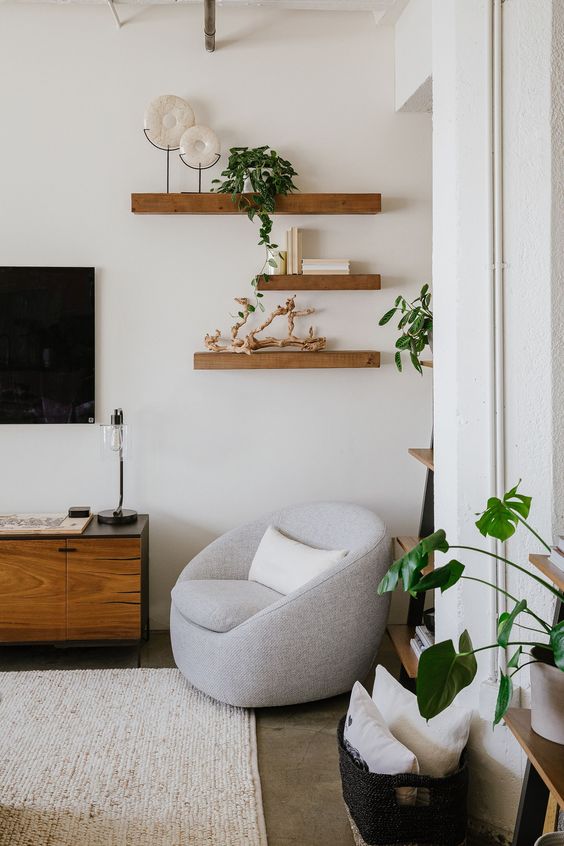 Floating shelves are a nice-looking and helpful way to decorate your TV wall. Set up a pair of hanging shelves on either side of the TV to hold decorations, books, or framed photos.
This kind of arrangement not only gives you depth but also gives your wall personality; it also gives you a place to store remote controls, media players, and game consoles.
4. Frame Your TV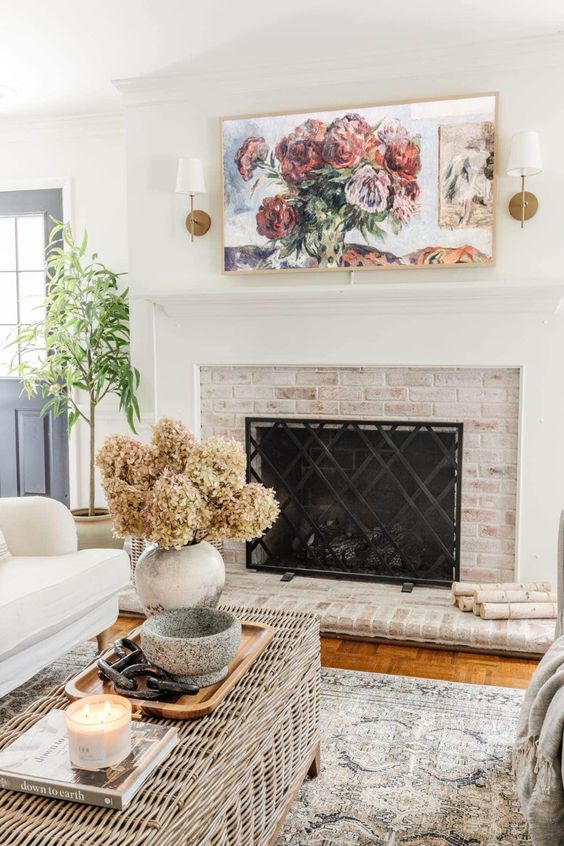 Make sure to frame your TV to make it look like a piece of art. Put ready-made or custom frames around the TV screen to make it look more classy and clean.
This method makes the TV look like it belongs on the wall and fits well with the rest of the room's decoration.
Also Read: 30 Budget-Friendly Small Bathroom Ideas to Refresh Your Space
5. Mirrors for More Visuals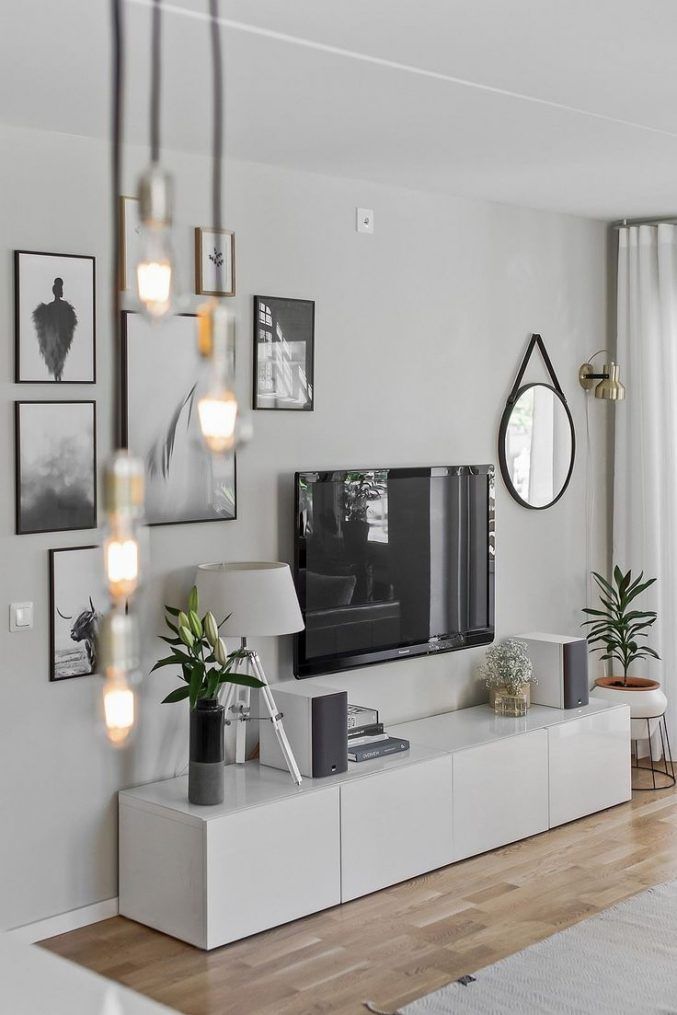 By putting mirrors in the right place on the TV walls, you can make the room appear more prominent. Choose mirrors with exciting frames that go well with the rest of the decor.
Place the mirrors to reflect natural light and other things in the room. It will make the room more open and brighter.
6. Rustic Wall Made of Used Wood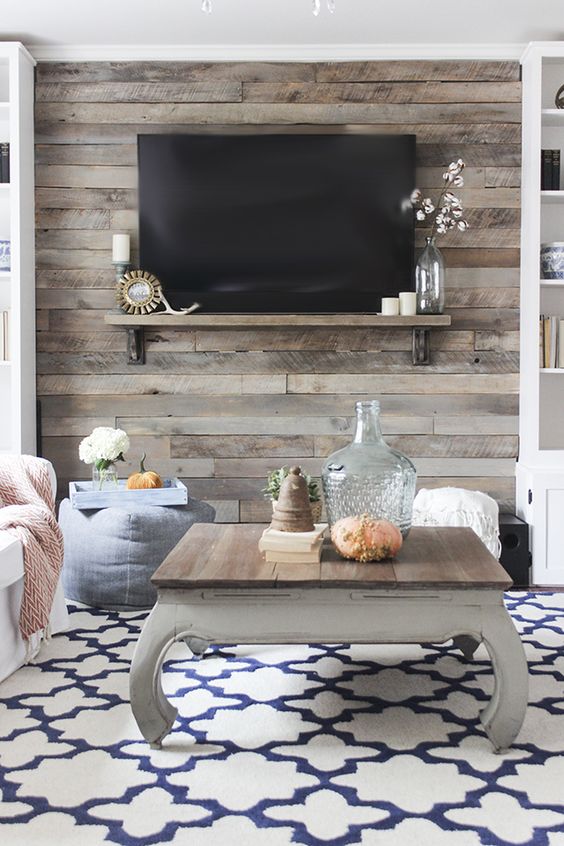 Adding a rustic touch with recycled wood can make your TV wall cozier and more attractive. Put wooden planks behind the TV, either vertically or horizontally, to create a focal point.
This old-fashioned detail adds a touch of natural beauty and character to the room, which goes perfectly with all the new technology.
7. Minimalist TV Stand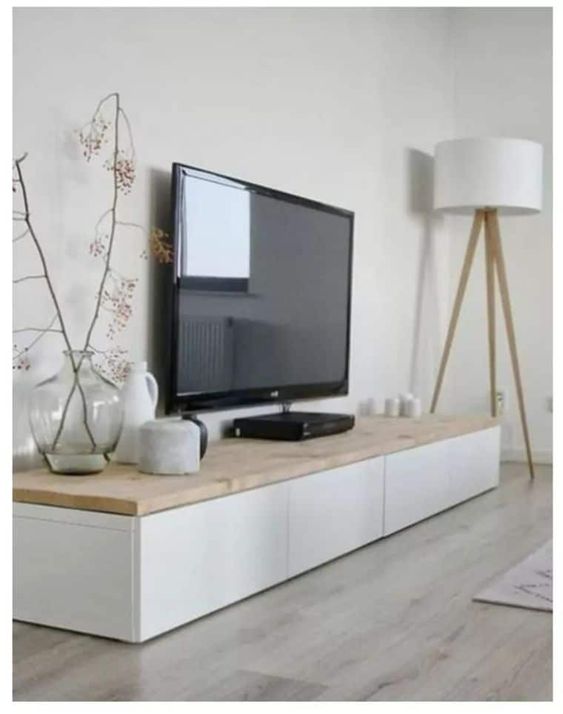 Try picking a TV stand that goes with the rest of your furniture and has ample storage space. Look for designs with lots of storage space and clean lines to hide cords, extra accessories, and media devices.
Choose a perfect stand with colors that go well with the aesthetic of the rest of the room to make the look put together.
8. Geometric Shape Wall Grids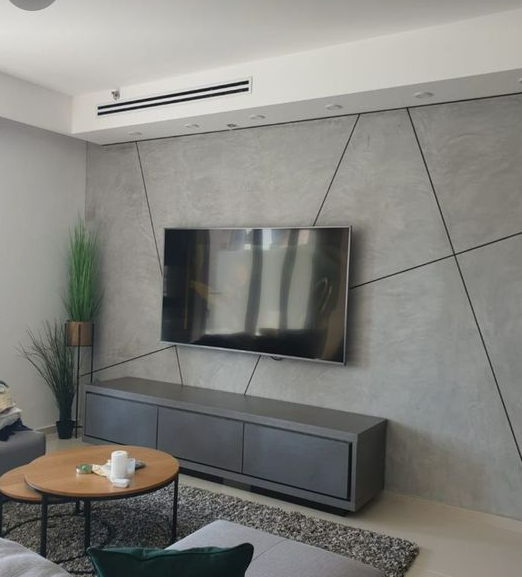 Use floating cubes, wall-mounted or hexagonal shelves to make a geometric wall grid around the TV wall. This modern design adds visual appeal and structure to showcase your decor in an organized and stylish way.
See More: 22 Fascinating Accent Wall Ideas for Your Home
9. LED Strips and Backlighting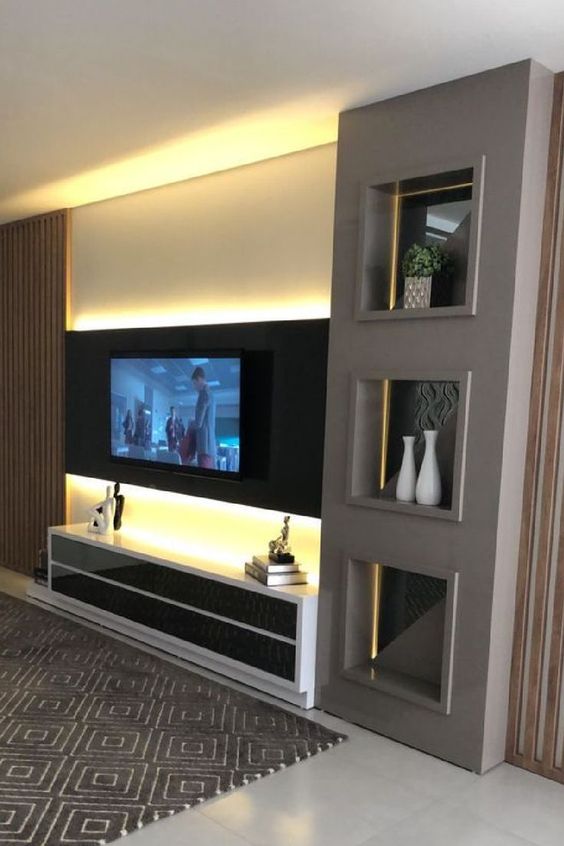 Put lights or LED strips behind your TV to give your TV wall a beautiful glow. This natural and soft glow makes the show more interesting to watch and makes it more enjoyable with a dramatic effect.
Choose lights that are cool or warm tones based on how you want the room to feel.
10. Add Hanging Planters
Try hanging macramé or planters on the wall behind your TV to add some greenery. These vertical details add a bit of freshness and nature to the room, making it feel more calm and balanced.
Choose indoor plants that don't need much care and grow well in your home lighting.
11. DIY Art & Wall Decor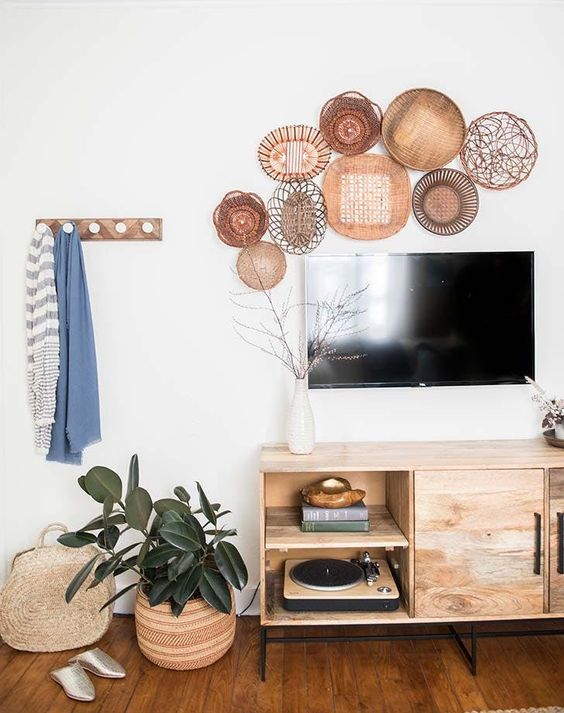 Try creating your wall art, or use stickers to decorate the wall behind your TV to showcase your personality.
You can make personal and unique pieces by painting abstract panels, making typography art, or experimenting with mixed media.
You can also pick wall patterns that come off quickly and can be changed occasionally per your style and preference.
With these 11 ideas, you can make a beautiful TV wall with high-end designs using inexpensive items like thrift store art, DIY projects, or items used for something else.
Additional Tips for Decorating TV Walls with Affordable Items
1. Use Adjustable Mounts
If you want to move the TV around, use a swiveling or rotating mount. It lets you find the best angle to watch, which is especially helpful in rooms with more than one place to sit.
2. Always Think About the Viewing Angle
When you mount your TV on the wall, always think it is at the right height and angle for watching it comfortably. Think about how people will sit in the room to ensure everyone can see the TV.
3. Create a Contrasting Color Palette
Choose wall art that matches the room's color plan for your TV wall. Stick to a theme that goes together to make a look that looks good and is balanced. You can also use colors that go well and stand out from the TV and the wall around it.
4. Add Soft Lighting
Add soft ambient lighting around your TV wall to make the room feel cozy and warm. Places in the right way, string lights, wall lanterns, or LED lights can give a warm glow that makes your wall more likable and makes it easier to see.
5. Include Storage Options
Use the space around your TV to put in places to store things. Use shelves on the wall or media cabinets with built storage to keep your media devices, remote controls, and DVDs in order so that they are easy to find.
6. Make a Balanced Arrangement
When putting things around the TV, try to make a balanced arrangement. Play with different sizes, heights, and forms to make things look good together. Use the rule of thirds to decide where to put things. Larger pieces should be off-center, and smaller ones should be in groups or pairs.
Related: 21 Paint Colors for Living Room: Expert-Approved Color Picks
7. Try Different Textures
Don't be afraid to mix and match different textures to give your TV wall visual interest and depth. Mix metal, glass, fabric, and wood to make an excellent three-dimensional show.
With these great ideas and tips, you can make your entertainment space more functional and stylish without spending much money. So let your creativity take the lead and enjoy the fun of creating a TV wall that showcases your style and makes a space that you like the most.
Conclusion
All in all, a beautiful TV decoration doesn't have to be hard to make.
With these 11 creative and affordable ideas, you can turn your entertainment space into a work of art that shows off your style and makes watching TV more enjoyable.
From accent lights to gallery walls, each idea is a different way to make your TV wall look better without spending much money.
When you see these ideas for decorating TV walls with affordable items, you should consider your style, the other necessary things, and the functionality you want in your room.
Mix and match different textures, explore different choices, and try combinations to show your creativity.
Take advantage of the chance to showcase your style with carefully chosen decorations that add to the atmosphere and make your TV wall a point of pride.
Frequently Asked Questions
How to Choose the Right TV Wall Art that Goes Perfectly with The Room?
Always consider the style and theme of your living area or entertainment space when choosing the right TV wall decor. Look at things like color schemes, furniture, and patterns to get ideas. Choose pieces of art that match the style of the room, whether it's rustic, modern, or eclectic. Try out different colors, materials, and patterns to find the best way for your TV to fit in with the rest of your space.
How to Hide the Wires and Cords that Go with The TV?
Caring for the cables is the most significant part of the TV wall decor. There are several ways to hide the cables and wires successfully. One option is to use cable management with cable raceways and channels that stick to the wires, allowing them to be nicely bundled and hidden. You can also use cable risers or cable covers that match the space's paint color.
Can We Put Plants or Greenery on The Wall Behind the TV?
Surely! Adding plants and other greenery to your wall behind the TV can make it look new and alive. Use wall-mounted planters or macramé hangers to hang small plants in pots on the wall. You can also put potted plants on hanging stands and shelves with decorations next to the TV. Choose indoor plants that don't need much care and grow in your room's lighting to ensure they stay alive.
How to Create Essential Wall Art for Decorating TV Walls?
Choose wall art with simple shapes, clean lines, and a clean look for a basic look. Use a wall-mounted TV clip to make your room look simpler and cleaner. Use simple floating shelves to showcase a few carefully chosen pieces of art or books. You might want to use primary colors like gray, white, or earthy tones to keep a minimalist feel. Keep the wall uncluttered and clean, and choose decorations based on quality rather than number.
Can We Use Our Pictures or Artwork to Decorate the TV Wall?
Absolutely! Artwork and personal pictures are a great way to add your style to the wall behind the TV. Mix art prints with framed pictures that match your style to make a gallery wall. Think about adding personal items and small works on floating shelves; this will give people a personal touch and a topic to discuss.
Check This Next: 30 Farmhouse Porch Columns to Create an Impressive Entryway