Are you planning to have your basement house-bar party and looking for modern basement bar ideas? Do you also love to spend time with your friends at the bar but no longer at the bar shops?
If the answer is yes, then you must have your house bar built in your basement. Now that you want to build a basement bar in your house, are you out of ideas?
When it comes to bars, we often think of new and unique setups, and some of us also think of subtle ones.
We have all the options for your different choices, and you can pick any of these according to how you want your bar to be!
Well, we are here with 24 amazing basement bar ideas that are surely going to help you build your basement bar at your place to have awesome parties organized at your home only!
Here are 24 modern basement bar ideas for you to have your bar at home.
Similar Post: 32 Stunning Kitchen Layout Ideas to Elevate Your Cooking Space
1. Keep It Quirky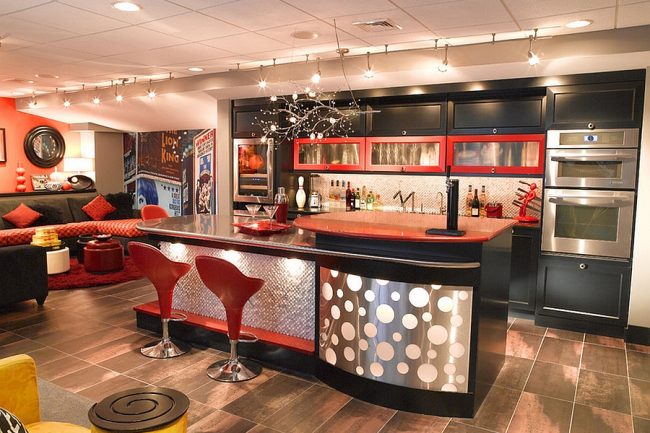 You can set the whole mood just with a quirky setup of your bar. How to do that? You can keep it quirky by using the colorful setup and making it an interesting one.
You can make your basement bar even in the smaller spaces and still make it look spacious; you can add some quirky pieces of crockery to your basement bar as well!
With that, you can even use colorful glasses of versatile designs and patterns to enhance your interest in drinking.
This modern basement bar idea is specifically for those who have fun while drinking and so want to keep it all interesting throughout.
2. Banquette Seating Plan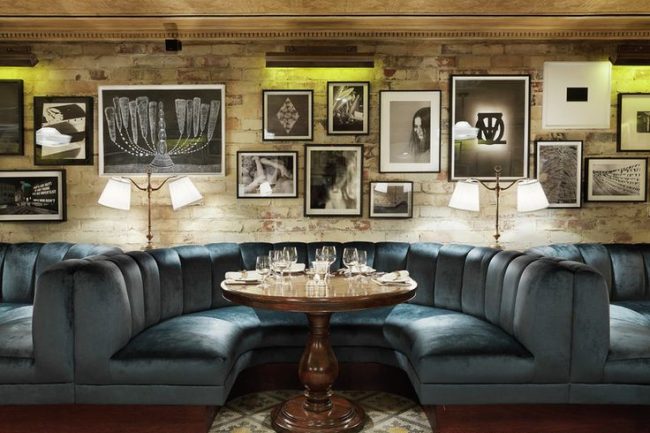 You can set up a banquette seating area in your basement bar to give it a real disco bar look and make it look super-fun yet comfortable.
A cozy and super-comfy corner dedicated to the Banquette seating plan is all you need for the modern and sumptuous bar that is surely going to give you relief after a long hectic day.
Having those late night or late evening chit-chats with your better half or your friends sitting on the banquette seating will let you be in your pace of comfort, and so you will be able to have utmost fun.
3. A Mirrored Backslide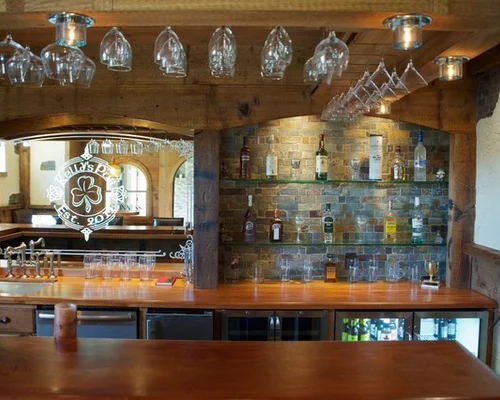 Want an almirah to keep all the beverages in it but also want it to be showcased like a real-time bar?
A mirrored backslide is all that you need to have in your storage box of bottles and glasses for your modern basement bar at home.
This is one of the modern basement bar ideas that is surely going to make your bar look awesome.
Mirrored backslides are the new way of showcasing the beautiful crockeries and glass collections for your basement bar.
4. Vintage Vibes Never Get Old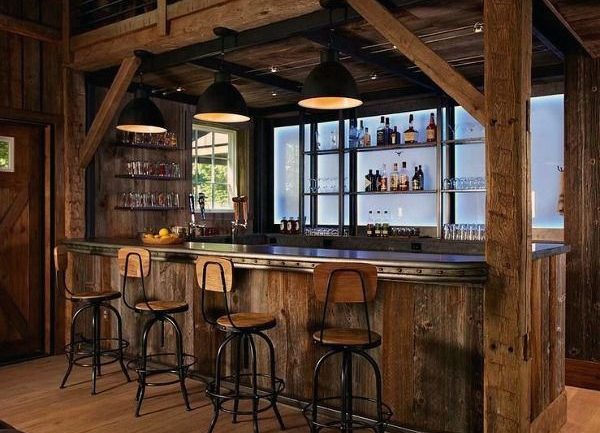 Old vibes age like a fine wine, and in some or the other way, we all love to cherish the old vibes through dancing or singing or just by setting up things that way!
You can even keep the antique instruments to make them look even more interesting.
Keep an old cassette music player and play your favorite golden music in it to cherish the legendary music period while drinking with your friends.
You can listen to your favorite songs from your favorite movies and celebrate the golden era while enjoying it with your friends.
5. The Play of Stones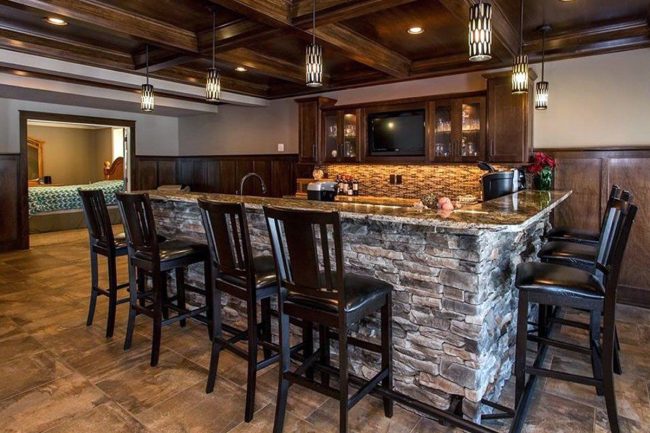 The impact of color on the tiling and stones you use for your basement bar matters a lot.
Suppose you have used all blue tiling with white stones; then it is going to feel like a cool place to drink in and have fun with your friends after a long day hence giving a cooling effect.
And if you go for colors like chocolate brown or all black, then it is going to give a classy and intense mood.
So, if you are one of those who like mixing up colors, then this modern basement bar idea is for you!
6. Make a Multipurpose Space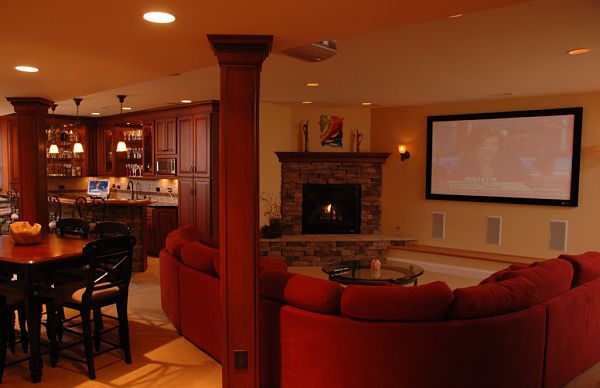 Who doesn't want a bar with a multipurpose space? A bar that is not just a bar but the following as well: a place where you can have a really fun time with your friends.
It's a place to watch your favorite movies with your friends and family. And it's also a place where you can play some of your loved songs. A place to dance and be carefree.
Create your multipurpose basement bar at your home because what is the most comfortable and safe place than your home?
Also Read: Top 16 Most Comfortable Couch to Relax on In 2023
7. Showcase the Art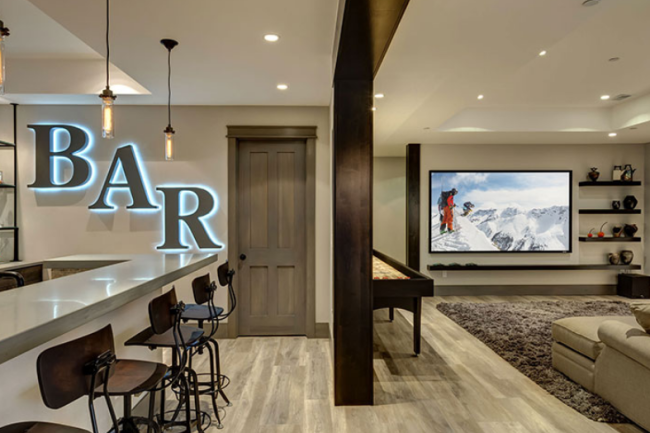 Well, if you have a true love for art pieces, then this modern basement bar idea is the best one for you.
Be very creative with your basement bar with the help of versatile art pieces that can showcase your awesome taste.
If you are an artist and you love to paint and draw, then it will be easy for you. Hang your beautiful paintings in your basement bar to make it look amazing.
If you are an admirer of good art, then you can buy some and showcase your great choice!
8. Keep It Airy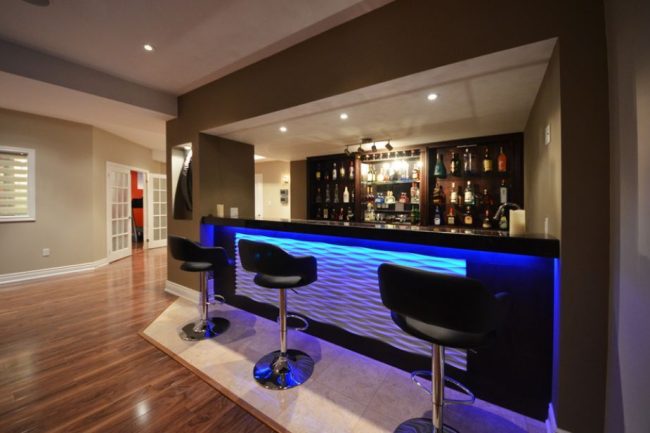 While thinking about a basement bar, the most important thing that comes to our minds is, what if it becomes suffocating or too compact?
You can have a quick and beautiful solution if this is what your problem is! Here are the following solutions for your airy and fresh basement bar.
So first of all, make sure that you have more than one window that can not just keep it ventilated. Windows will also give you an amazing view.
Don't keep more things if you have less space. Keep it simple and classy for small bars to keep them suffocation-free.
9. Fill the Empty Space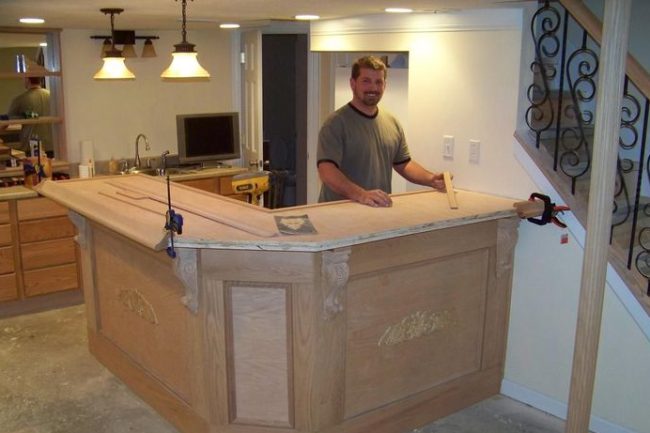 If you have an empty corner or space in your basement that is big enough to set up a bar cabinet or a small bar table, then this can be your awesome basement bar.
This is one of those modern basement bar ideas that let you set up your bar at your home.
Without any fuss of finding a big space, you can set your bar as simply as in the corner of your basement.
Where you can peacefully have some drinks with your friends, then what is the need for that huge and sumptuous setup?
You can make this cute and small bar of yours look even more amazing by adding some cute seating chairs.
10. Style It Your Way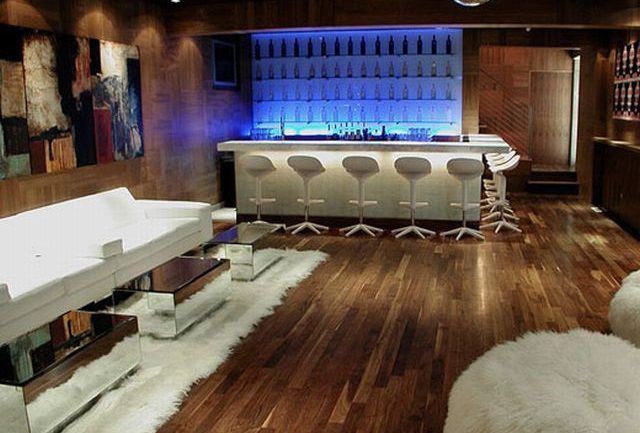 Who doesn't love to be themselves, styling things at their home their way? We all do! It is so fun when you can keep things your way.
Either keep it amazingly creative or beautifully simple, based on how you want it to be. Sit and brainstorm about your dream basement bar.
There is nothing that goes out of fashion or out of trend until you choose to go with that idea.
Once you are confident about it, then everybody else around you starts to look at it through your point of view!
Choose the design, the color pallet, the kinds of furniture, everything how you want it to be! Your way is surely going to be a unique one!
11. Game Is On
Having a cool play area in your basement bar is all you need to have ultimate fun with your family and friends when you wish to have amazing hours after a boring day of the same things as usual!
You can set up a pool table and have a great pool game with your friends; you can even keep some other games like table soccer, chess, ludo, carrom board, and many more.
For a change, you can even set up video games flex your PlayStation, and play awesome and versatile video games with your friends.
12. Keep It Simple and Clean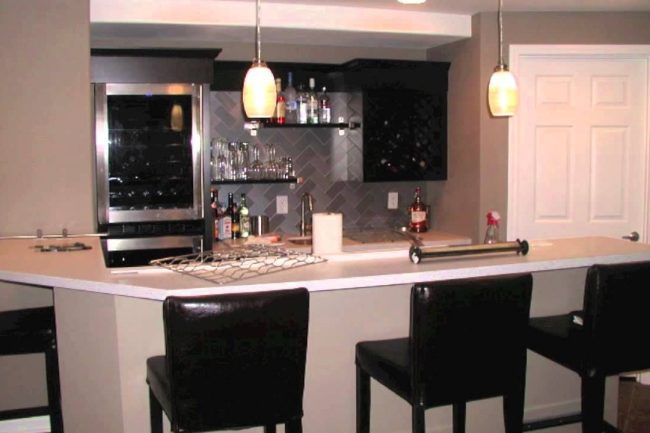 f you are a minimalist, then you can keep things simple and clear as you like them.
If you think that being a minimalist is outdated, then let us tell you that being yourself is never outdated.
If you believe in "the less, the more," then you can keep the arrangement of your modern basement bar completely minimal yet classy.
You can do this by choosing minimal colors like brown, white, or black, or it can be grey as well, based on your choice.
Apart from that, you can even choose to keep the same color for all the stuff you keep for your bar.
See More: 21 Ideas to Paint with Dover White Sherwin Williams
13. The Dropped Ceiling for Bar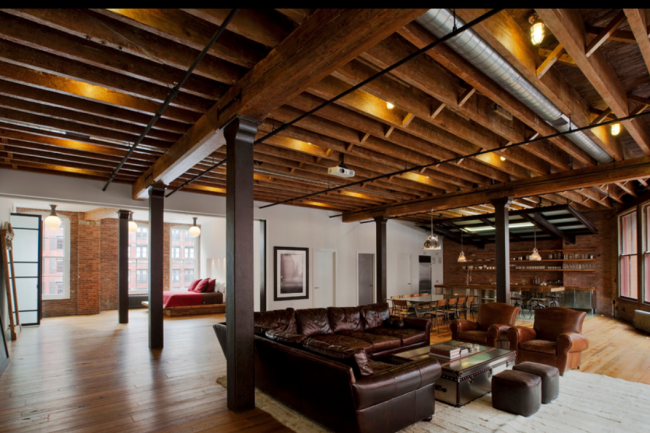 You can get dropped ceilings done in your basement bar; there are many benefits of having a dropped ceiling. The major one is that it can hide the defects like structural damage.
Just with this little transformation of having dropped ceilings, you can get the whole look changed of your house.
You can choose any color for your dropped ceiling, be it white, brown, black, cream-yellow, wooden, etc., according to what suits your house and which one looks the best.
This modern basement bar idea of getting the dropped ceiling done for your bar is going to be the game changer.
14. Kitchen Cabinets for Bar Setup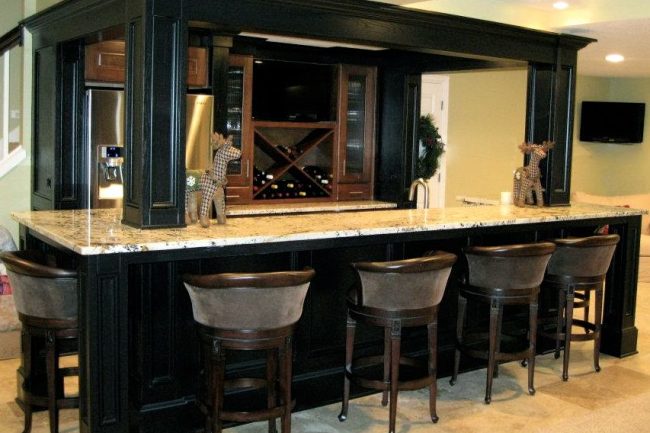 This is one of those amazing modern basement bar ideas that is surely going to make this project even more useful and interesting for you.
You can have an amazing space-utilizing basement bar that is not only going to be 'just a bar' but also can be used for keeping your kitchen kinds of stuff so that if you wish to cook there someday, then you can do that!
You can even keep the color of these kitchen cabinets, coordinating with your bar, or can keep it distinct from others that depend on you.
These kitchen cabinets in your basement bar can make a good space for you to keep anything you think should be kept in there when not in use!
15. Set the Mood
The whole mood can be set by the environment of any place, be it an outdoor bar or an indoor basement bar; all that matters is the mood and vibe of that place!
Are you planning to be the one to host parties and gatherings in your basement bar? Then through this modern basement bar idea, we intend to let you know some tips.
You should focus on setting a positive vibe and a fun mood. Focus on the following arrangements, like the color pallet used in your bar, and the set of furniture.
And the arrangement of games and fun kinds of stuff along with the drinking stuff.
16. Get the Dramatic Tiling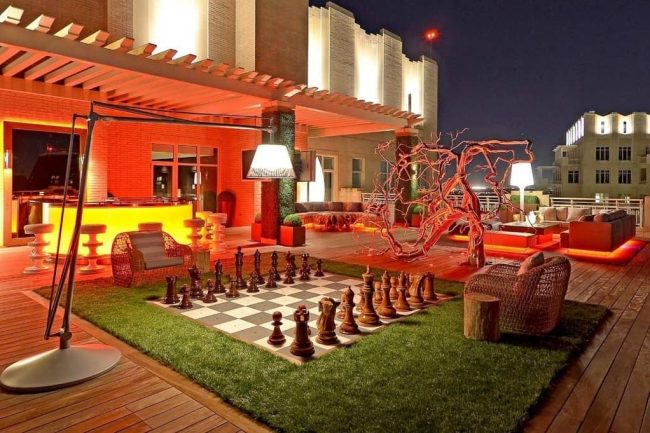 Do you want to add some drama to your basement bar? Well, after having a look at this modern basement bar idea, you will surely be able to!
Set the whole dramatic mood just by changing the tiling of your bar, and you can do that very easily by choosing the tiles with some fun kind of stuff or with some quirky color patterns in them.
Choose a tiling that has the view of checkers or looks like a chessboard. You can even choose a kind of tiling that has some quirky patterns having different colors in it.
17. A Basement Bar with a View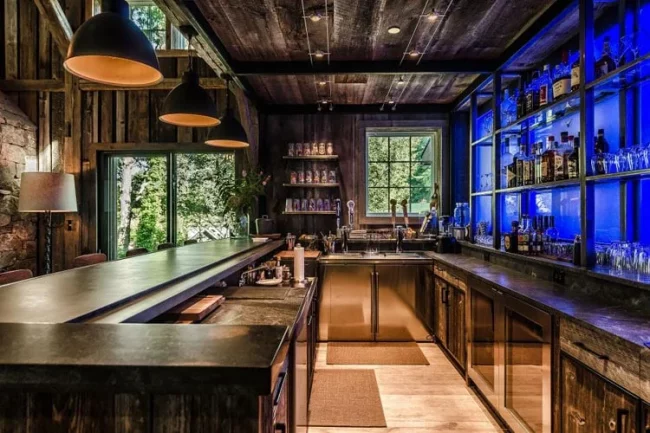 Who doesn't enjoy a beautiful view through their windows? We all love to have gorgeous views and adore feeling the presence of nature around us after a long hectic day!
So why not a basement bar with a view? This modern basement bar idea is for having an awesome setup for having a mesmerizing view through the windows of your basement bar.
You can even set up your bar setting such that you can get your banquette seating near the beautiful view you get through your window while you enjoy your drink with your friends.
Related: Sofa and Couch Dimensions: All You Need to Know
18. Mix and Match It Up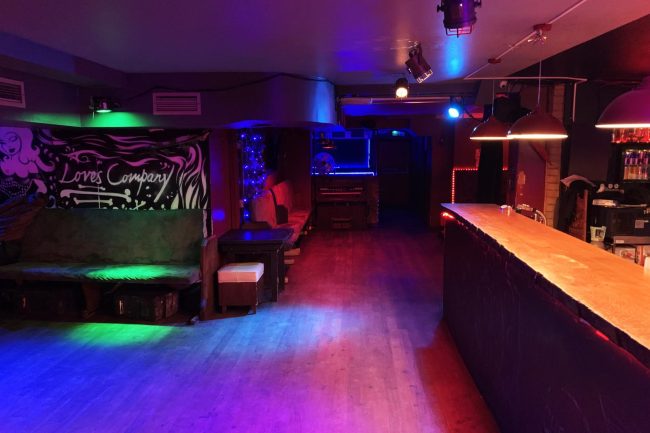 The trend of mix and match can never get old, be it any part of your house, mix and match works everywhere! This is one of the modern basement bar ideas that you don't want to miss while creating your basement bar at home.
Mix the different colored cabinets and match them with the subtle furniture or an even simpler setup to balance it out!
It will look awesome even if you do the reverse of it by choosing a subtle and bold cabinet area and colorful for other stuff like furniture and a play area kinds of stuff to make the area look fun and refreshing.
19. How About an Open Bar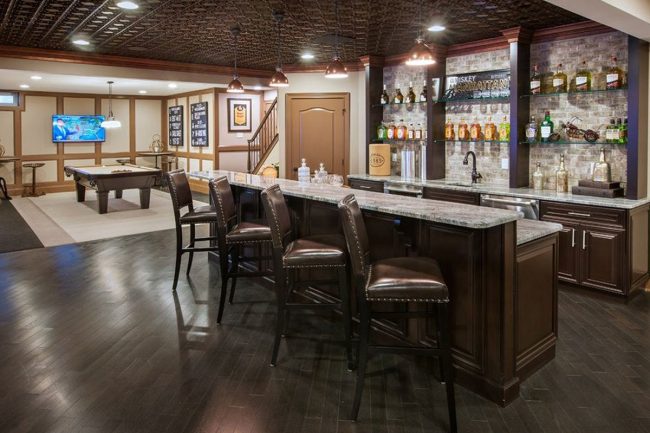 Just like most of us love the idea of having an open kitchen, we can apply the same for the basement bar by creating an open basement bar that is surely going to look decent and spacious.
Get an open bar with the modular setup, and also add the kitchen cabinets in the same way they are present in an open kitchen. Make it look even more modern.
Arrange the seating chairs around the circular or square panel space in your open bar to make it look like an advanced bar that provides the shots by preparing them in front of their customers themselves!
20. Use the Unusual Color Tones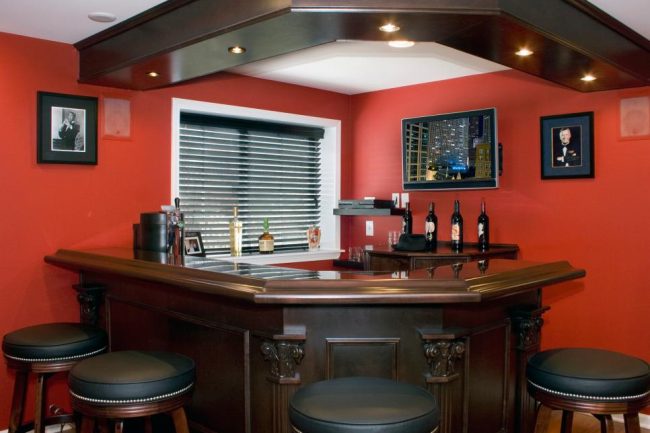 Why can't you like or choose that you haven't seen anywhere yet?
Being yourself and being unique is the best thing ever, and if you are thinking of having some unique color pallets for your basement bar, then this can be one of the best modern basement bar ideas!
Suppose you are thinking of choosing a rust orange color to get paired up with a chocolate brown color for your basement bar.
This combination might be unusual or very rare, but the best is that it is going to be your creation of color pallet selection.
21. Use Cooler Tones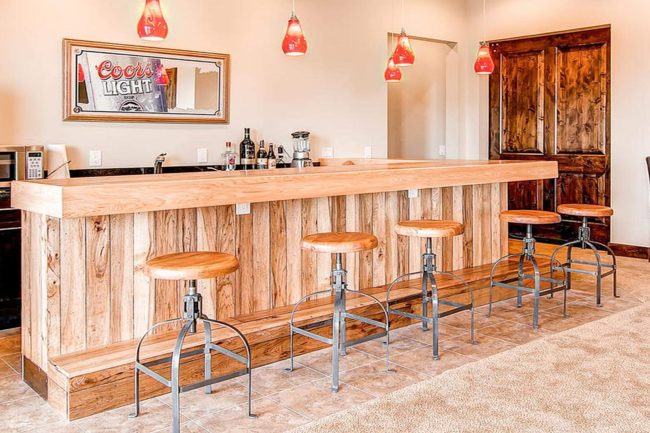 You can even go for cooler tones for your basement bar to make them feel cool and refreshing.
For instance, you can use blues and greens, maybe pastels for your bar walls, and can choose white color for the furniture of your basement bar to make it look even cooler and more relaxing for you after a long day.
Scientifically it is proven that the best colors for your eyes to relax are light blue and green, and these colors make you feel like you are relaxed and you can have a good time in your bar.
22. A Secret Behind Your Staircase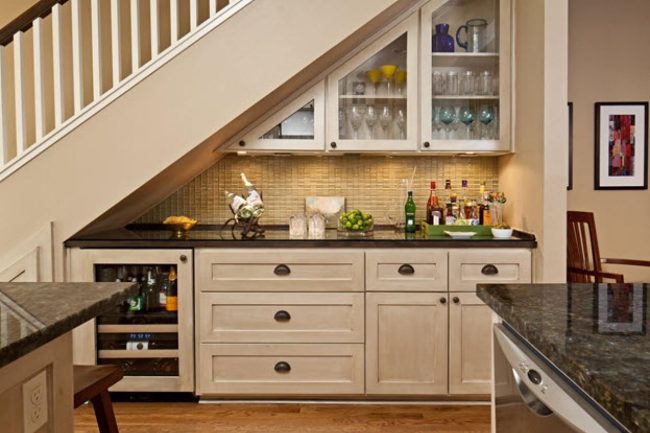 Do you have some space left behind on your staircase? If yes, then set up your secret basement bar behind your staircase and make it your little yet surprising secret to amaze your friends and family.
If you have a small space behind your staircase, then you can set that place to keep your beverages stored near your actual bar setup, or if you have that place as the only place, then you can set a cute and small basement bar behind your staircase.
You can furnish it amazingly to break everyone's expectations, making it reach to top from a place like behind the staircase.
23. A Bar with a Salon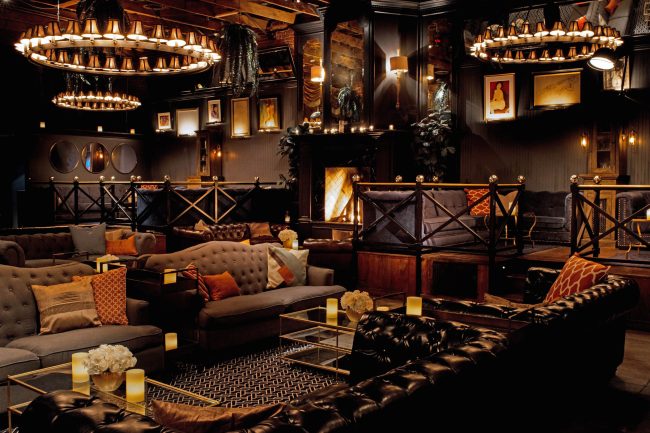 Have the two most relaxing places mixed? This modern basement bar idea is surely one of the blockbuster ones!
You can set up your bar on one side of your basement and a mini home salon for your relaxation on the other side.
It is entirely your wish to adjust both of them in a suitable place according to your preference.
Imagine coming back to a five-star salon in your basement with an amazing bar and spending time in such a place after a hectic long day!
24. Bar with Unique Setup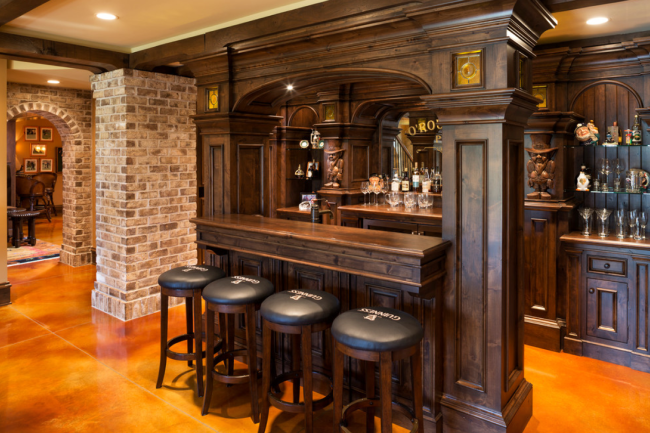 You can also brainstorm any of such ideas of some unique combo with your basement bar to make it even more interesting and super fun.
For example, you can pair up the basement bar with the entire gaming setup with a PlayStation that is going to provide you with versatile premium games with your friend.
You can even set up your basement bar with a game set up like bowling, table tennis, table soccer, and many more to make it even more fun and interesting.
If you want, you can just keep it as simple as a modern basement bar idea for you!
Check This Next: 13 Small Couches to Consider for Smaller Spaces in 2023
Wrapping It Up
So, these were the top 24 awesome modern basement bar ideas that you could read and select to have your perfect basement bar at your home to have fun with your family and friends.
After having your basement bar, you will not need to wait for the weekends, and you won't need to book a table for yourself in the bars since now you will be able to have the utmost fun in your basement bar.
You can now host your bar parties for your friends and even for your colleagues if you want to!
These modern basement bar ideas are surely going to be a win-win for you since they are not just going to have your basement bar at home but also a stress-releasing place at your home to be a savior for you after your long and hectic days.