Are you considering getting a pull-out sofa bed for your house? It doesn't matter how big or small your home is or how many rooms you have, there often comes a situation when you wish you had an extra bed.
When friends or family come over, or the kids plan a night in, we do not always have an extra room or a space to accommodate an extra bed, and that is where sleeper sofa beds come into the picture.
You can get these sofas that can turn into a bed within minutes, and we are not even exaggerating- It works like magic!
You may think of these beds as very tricky or not relaxing, but these sofa beds are very comfortable and are equipped with an easy, smooth mechanism.
If you are looking for something functional and equally stunning sleeper sofas, we have rounded up the most stylish, aesthetic, and trending 9 best pull-out sofa beds of 2023 for you.
Similar Post: 10 Stylish and Functional Couch with Storage in 2023
1. Sectional Sleeper Sofa Bed With Chaise Storage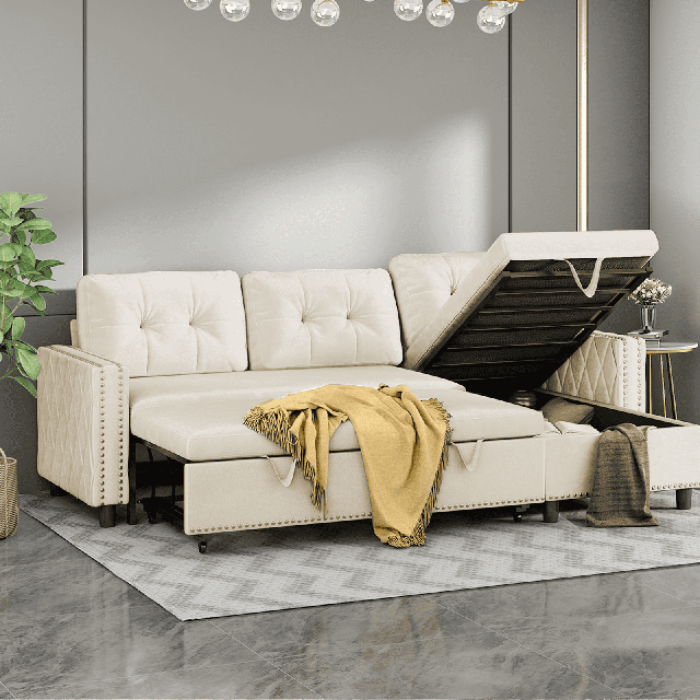 This sofa not only converts into a comfortable bed but also has a storage section underneath its chaise lounger, which can be used to keep the sheets, pillows, and blankets.
So you won't have to look around for them when you convert your sofa into a bed.
The buttoned-up studs on this textured polyester fabric, which is durable and comfortable, work like embellishments to upscale the overall look.
This sectional sofa bed with chaise storage works with any style of the living room as it has a very popular L-shaped sitting; it looks like a perfect fit even as a sofa.
Mechanism
The main section of the sofa converts into a pull-out bed with an easy-to-set-up rolling metal frame which comes along with fabric handles on the front for easy access.
So you just need to pull the handles to make the section pop out and lay out as a bed.
This sofa bed is also very comfortable to sleep on because it is made with high elasticity foam, which adds a bounce to it and doesn't make it feel sturdy and hard while sleeping.
2. Convertible Chair, Sofa Bed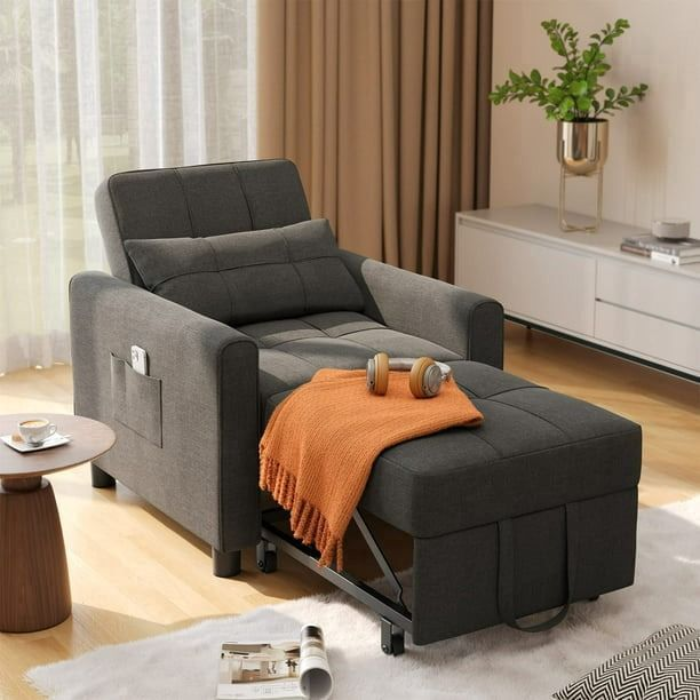 A sofa chair that can be converted into a sleeper sofa is the most functional item you can add to your living room; it consumes less space and is very easy to convert.
You can convert this chair into a lounger and further into a bed which makes it a great option to be added to a compact reading room or home office where you may want to relax a bit.
It also comes with side pockets to tuck in your remotes, books, or chargers. Not only your guests but you can enjoy a movie night by yourself on this cozy chair.
Also Read: 9 Floor Couches to Elevate Your Living Room Decor in 2023
Mechanism
A pull-out metal frame and a cloth handle help you convert this chair into a sleeping sofa real quick.
The seats and cushions are made with high-density foam for comfort, and there is a serpentine spring in the seat cushions for support while using it as a chair or lounger.
This is best suitable for an urban-styled home where you are usually tight on space.
3. Daybed with Trundle Sleeper Sofa
Daybeds are a multifunctional piece of furniture that serves two purposes.
These beds can be used as a sofa sitting or a sleeping bed in your living room, but this sleeping sofa daybed can further be converted into a twin-size bed for when guests come over.
The upholstery features a tufted button and nailhead, which makes this sofa bed look very sophisticated. This type of bed may or may not come with a mattress, which you can further add to your choice.
Mechanism
Here, you just need to pull out a drawer from under your sofa, which has wheels on it. The drawer pops out and locks into place to create a quick sleeping arrangement.
The drawer blends in seamlessly with the frame of your sofa frame. The frame is sturdy and makes a comfortable bed for your guests.
These are very popular living room additions, and you can also customize them in fabric and color of choice.
4. Futon Style Sleeper Sofa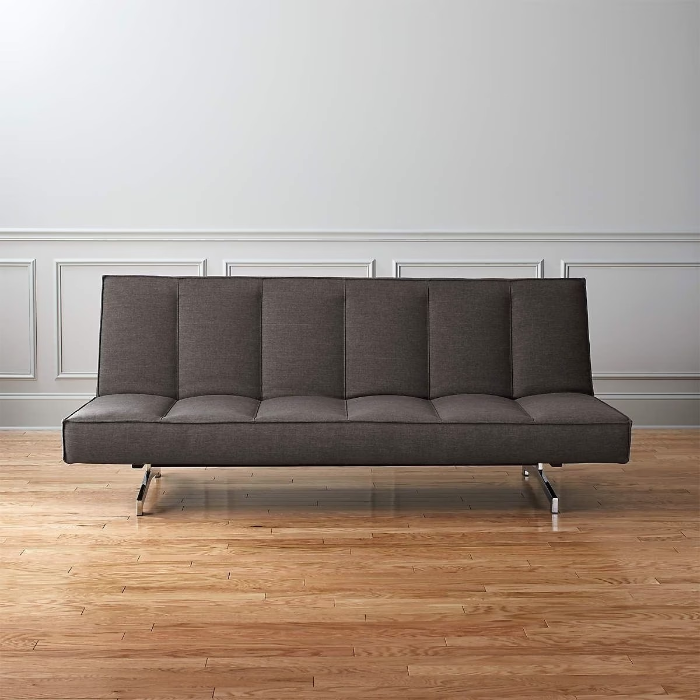 Futons are usually a mattress with low frames which helps to convert them into a recliner, but a futon-style sofa bed is a sofa that can be converted into a bed.
It is like a mattress on a sofa frame. A futon-style sofa is comparatively more comfortable and sets a very contemporary aesthetic for your living room.
It is made with high-density foam and pocketed coil springs to bring extra comfort to your bed.
Mechanism
This is the easiest-to-operate sofa bed of all. It is most preferred by young college-going students because you can slap the couch and call it a night.
What happens is the upholstery opens up and converts your sofa into a queen-sized bed.
It is not recommended to place this sofa bed against the wall because then you will have to move it ahead to let the upholstery backward. It pays flat when opened up with no separating partitions in between.
5. Urban Style Sofa Bed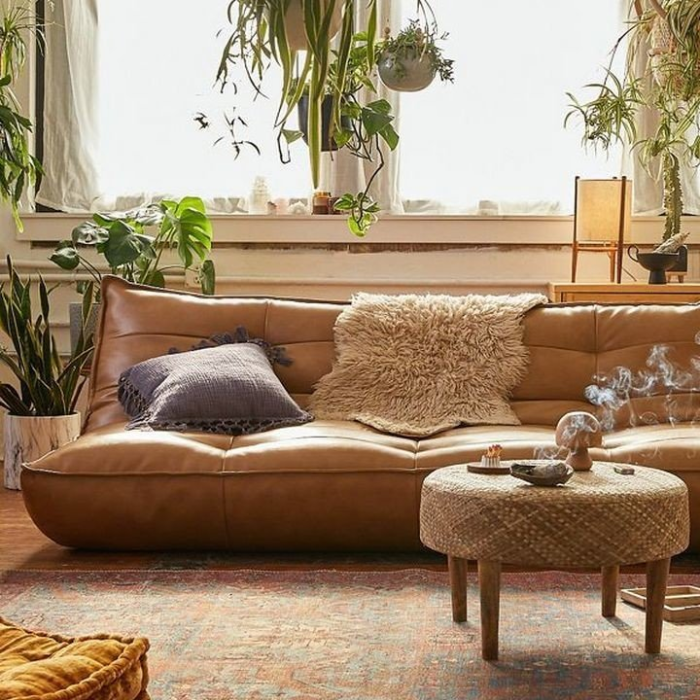 If you are looking for something that fits your modern urban style minimalist home, this leather sofa bed is for you.
It is soft, versatile, chic looking and is made from recyclable leather, which makes it eco-friendly. It gives a bohemian vine because It looks like a sofa without legs.
Designed with utter simplicity while keeping functionality in mind, this sofa bed doesn't come with any complicated features or high techs.
It is the most versatile piece of furniture you can add to your living room.
See More: Top 16 Most Comfortable Couch to Relax on In 2023
Mechanism
You can convert this piece from an upright sitting sofa to a halfway reclined lounging couch to a flat mattress-like surface with quick and simple adjustments of its sturdy metal frame.
It is a one-piece design with no sections or dividers, which makes it a comfortable flat bed. You can easily add fitted sheets to it for your guests.
The transaction is effortless; you do not need to lift or pull out anything.
6. Folding Sofa Bed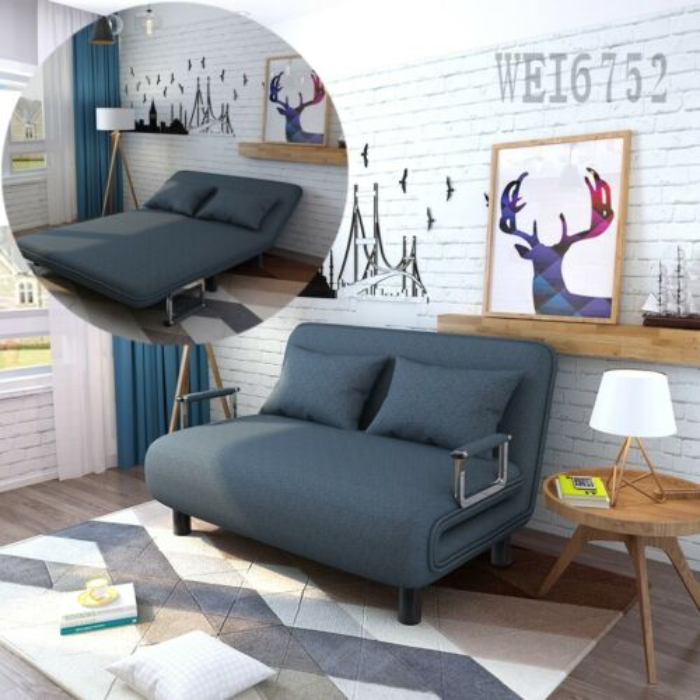 If you are looking for a piece of furniture that is straightforward, practical, and simple, this folding sofa bed is for you. This works as a perfect sitting sofa, a lounger, and a flat twin-size bed.
It is unique because the layered sitting cushion itself opens down to create a mattress. There are no hidden frames or compartments.
It is minimal and ideal for those who like keeping things clutter-free. This sofa is also perfect for outdoor use because the cover is made of polyester, which can be easily removed and washed.
Mechanism
You just need to roll down the seating cushions, and the metal handles will work as a base to create a longer and further lay down the back side of the sofa to create a flatbed.
Here, every piece of sofa itself is used to create a full-size bed which makes it perfect for those who are tight on space but still need a spare bed.
It converts within minutes without creating much fuss.
7. Stylish Leather Sleeper Sofa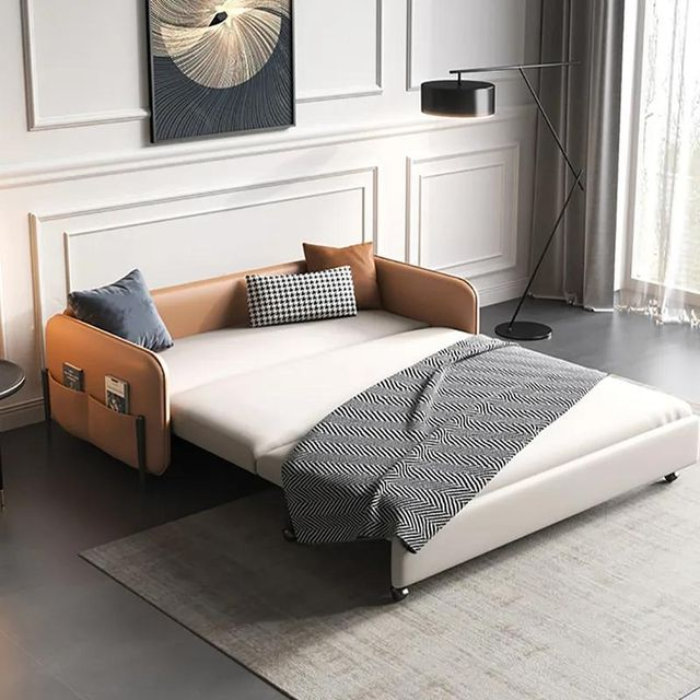 Do you want to incorporate an extra guest bed but do not want to compromise on the look?
This leather sofa bed is for you. It looks stylish, and modern and is aesthetically pleasing at the same time. It goes pretty well with the classic modern look of your home.
You cannot miss this one because It is not often that you come across a convertible sofa that also looks beautiful and stylish.
Not only does this multifunctional sofa bed look good because of its sleek craftsmanship, but it is also very comfortable.
Mechanism
If you are flattered by the looks of this stylish leather sofa bed, you will be even more impressed by its easy mechanism.
It unfolds into a queen-sized bed with an easy-to-use pneumatic lift assist system within minutes.
It also comes with side pockets to keep your bedside essentials like magazines, phones, chargers, or glasses.
8. Convertible Sleeper Couch with Adjustable Armrests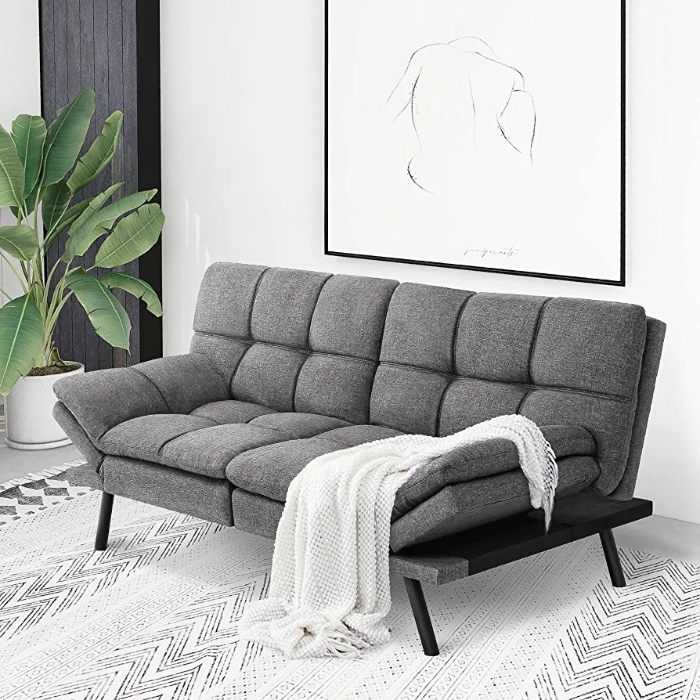 We can bet you would never have seen a sofa this versatile that can be turned into a sofa, a bed, a lounge sofa, a daybed, or a split back and additional adjustable armrest feature.
Imagine clay that can be molded into whatever you want; this sofa is similar to that; you can adjust the height and the shape according to your wish.
This convertible sofa bed is ideal for offices, studio space, or compact living rooms. The metal legs look very stylish, and the cushions are filled with memory foam.
Related: Best Alaskan King Bed Mattresses (2023)
Mechanism
It has an easy tick-tack mechanism. You just need to lift and push the part you want to adjust, and that is it. You can set it into three positions: upright, reclined, and flat.
It has a split back, which allows one side to recline while the other stays upright. The armrests also have three adjustable positions; they can be raised as a pillow, or armrest, or lay flat.
9. Pull Out a Queen Size Bed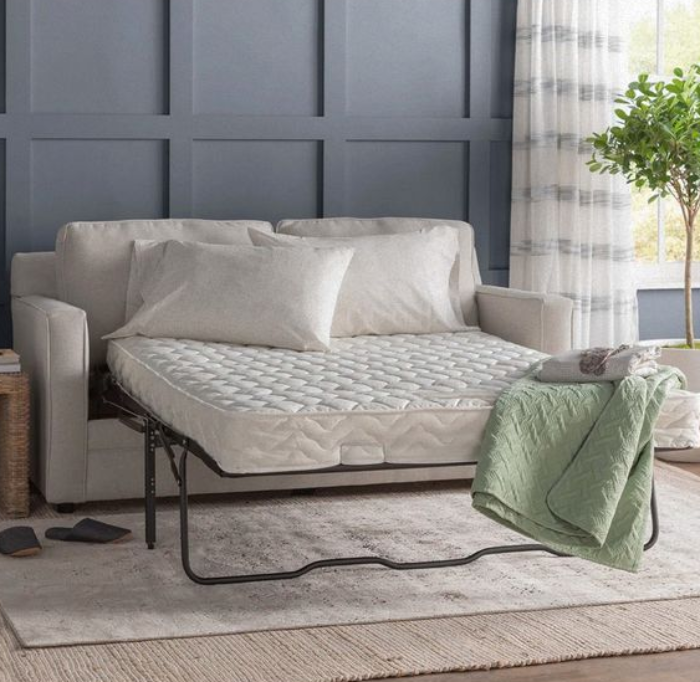 You will get no idea by looking at this exceptionally designed sofa that there is a hidden queen-size mattress in it.
This pull-out sofa bed comes with a mattress that gives ultimate comfort and space to anyone spending the night on it.
You can also choose what kind of mattress you want to install depending on the kind of comfort you are looking for. The metal frame is solid and sturdy, which won't create any disturbance.
Mechanism
The mattress is under the cushion seat, so when you look under it, there is a whole mattress that is folded along with a metal frame.
Just take that out, unfold it, and your queen-size bed is magically here within minutes. You can easily fit sheets on it, and your guests will have a comfortable night on it.
The sofa cushions and seat are made from high-density foam with a wooden structure which makes the sofa itself quite comfortable.
All of these sofa beds can be majorly classified into four types, and you can select according to the purpose, the style you are looking for, the space in your living room, and the size of bed you are looking for.
There Are Primarily Four Types of Sleeper Sofas
Pull-out Sofa beds– These are traditional sofas with hidden mattresses that can be pulled out when necessary.
Convertible sofa beds– In this case, you convert the seat cushions and the armrest itself into the mattress while setting up the bed.
Futon– A futon is also a type of convertible sofa, but here the backrest of the sofa is pulled down to make a bed.
Sleeper chairs– A sleeper chair is an accent chair or an armchair that converts into a bed for sleeping.
Conclusion
All in all, these sleeping sofa beds are incredible, whether you are looking for a space-saving solution for your small apartment or a king-size sofa bed to provide maximum comfort to your overnight guests.
These sofas are sure to elevate your style look and function in your space.
Now no more worries about how to accommodate people in your house when you have these versatile sofa beds because when guests come over, you can happily welcome them to stay overnight and provide them with ultimate comfort.
Pick your favorite among these most popular 9 sleeper sofa beds of 2023, which are all crafted for modern-style urban homes because why compromise on style for comfort?
Check This Next: 9 Amazing Trundle Bed Ideas and Designs to Save Space