Chimineas are our best companions on a rainy or cold evening; they keep us warm and cozy. But when they are regularly used outdoors, rain and cold can start wearing them down slowly, but you do not need to replace them.
You can paint their surface and give them a new life. One crucial thing here is to choose the right kind of clay chiminea paint.
Painting the chimney with the wrong kind of paint can be a big waste of your time, money, and effort. Not all types of paints are suitable for your clay chiminea. There are certain types of paint you need to buy.
If you want to paint your clay chimnae but do no know what color to choose, worry not; we are here to help you pick an ideal paint for your clay chiminea.
Best Paint for Clay Chiminea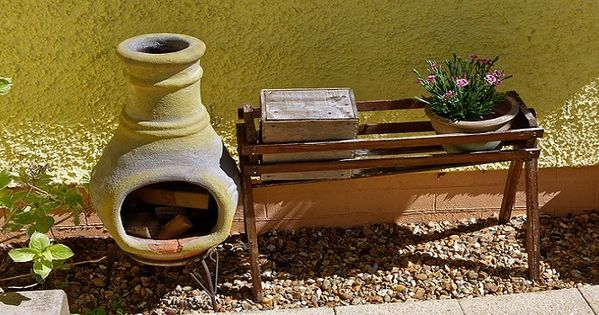 Now that you have decided to give a new look to the chiminea, here are a few things to look for to choose the best paint for your clay chiminea.
Read the instructions on the paint and the chiminea manual before starting your painting adventure.
1. High-Temperature Paint
Chimineas are exposed to high heat all the time. It is very important to use paint that is resistant to high heat, or the paint will melt off from the heat. Heat-resistant paints are ideal for chiminea as they can withstand 1200°F of heat without peeling, chipping, or discoloration.
Similar Post: How to Paint a Vase: 9 Quick Steps Guide
2. Weather Resistant
Chimineas are used outdoors and hence exposed to all the elements in weather like cold and rain. Moisture harms the clay the most, so make sure the paint you choose is weather-sealed, weather-resistant, or water-repelling. The paint will give a layer of protection to the chiminea from the harsh conditions.
3. Suitable for Clay
Heat and weather-resistant paints come for all kinds of chiminea in different materials other than clay, like polymer, steel, and iron, so make sure you are buying the paint that is suitable for clay.
You can read the instructions on paint bottles or the manual with chiminea to know what works best.
Color and Finish Options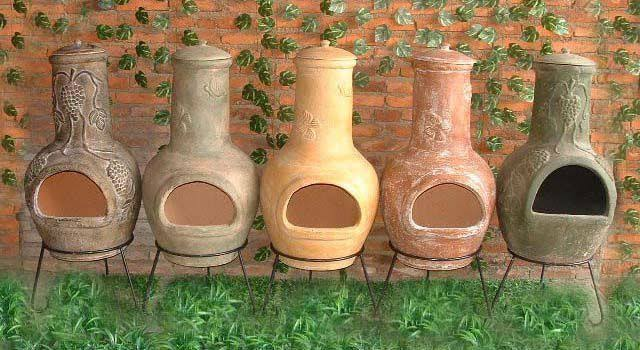 High-temperature chiminea paints come in all kinds of color options, like classic black, metallic shades, and some vibrant hues from light to dark to match your style and aesthetics.
You can pick any color that matches your outdoor decor. If you don't want to change the natural clay color and maintain that rustic look, clear paints are also available.
That was about color, but you can also further choose the kind of finish you want on your chiminea from options like matte, glossy, or sheen.
Check what kinds are available in your desired color and pick the one according to the look you wish for your chiminea.
All of these colors come in paint cans or spray bottles. If you are confused about which one to use, keep reading.
Also Read: Sofa and Couch Dimensions: All You Need to Know
Spray Paint vs. Brush Paint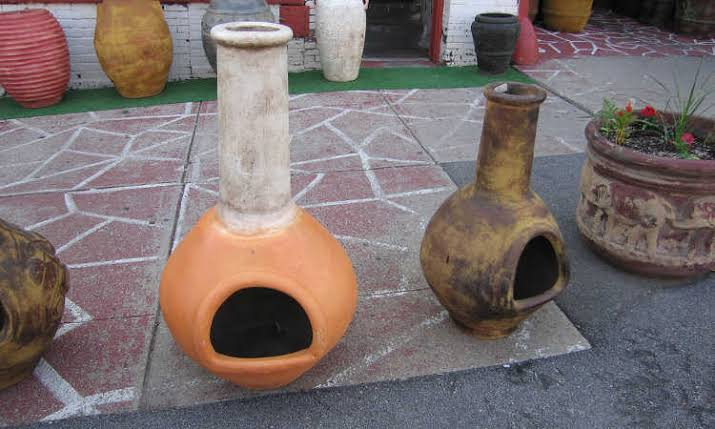 You can use any paint on your clay chiminea unless they are both heat and weather-resistant. Mostly, these kinds of paints are available in spray bottles as well.
Both kinds of paints do the job well and give similar results. Here are a few things that may help you decide which one to go for.
Spray paints are ideal if your chimney is big, while brush paints are recommended for a usual-size chiminea.
Spray paint will provide a smooth and even finish, while brush paint will give you more control and precision.
You may have to put on a lot of coats when using spray paint, as the chances of leaving the area uncovered are pretty high compared to brush paint.
How to Paint a Clay Chiminea?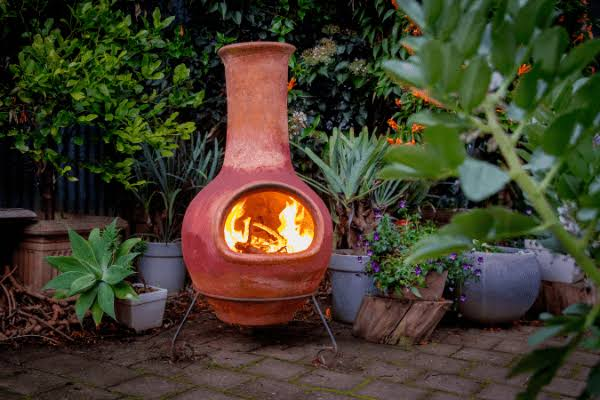 Here is a step-by-step guide on painting your clay chiminea after selecting the right paint. Make sure your chiminea is completely dry and is not hot from the previous fire before you start painting it.
Step 1: Carefully remove the chiminea from its stand and place it on a paint cloth or a plastic sheet to protect your surface from paint and dust.
Step 2: Use a dry cloth to clean the dust from the outside surface of the chiminea and a brush or small dustpan to remove the fire debris and dust from the inside of it. Do not forget the lid and the bottom.
Step 3: Use a damp cloth to clean everything again, and then let the chiminea dry completely. Once dry, sand it with 80-grit sandpaper to make the surface smooth for painting.
Step 4: Take out some chiminea paint in a plastic bowl or a paint container.
Step 5: Use a soft bristle brush to coat the outside of your clay chiminea completely. You can use the size of the brush according to the size of your chiminea, but make sure it is not too small or too big.
Step 6: Once the surface and lid are painted, wait until it is dry to tip it over and cover the bottom. Painting the bottom is very important as the moisture can crack it up if left unsealed.
Step 7: Wait for 24 hours to let the color dry, and then apply the second coat. This is not a compulsory step, but it will ensure each area of your chiminea is painted. Again, do not forget the lid and the bottom.
Step 8: Wait at least 24 hours before you light a fire in your chiminea. Make the first fire small after the paint, and it will help to cure the fresh paint.
See More: Sherwin Williams Rainwashed SW 6211: A Thorough Review
Why Paint Your Clay Chiminea?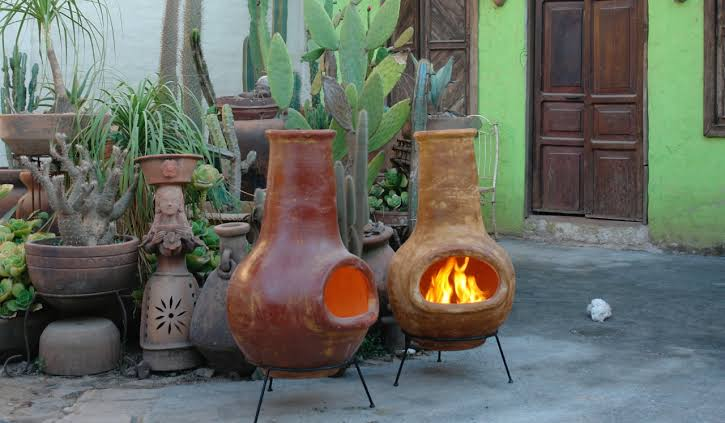 1. To Make It Look Better
If your clay chiminea is old and rusty from a lot of use, you can paint it to upgrade its appearance and make it look a little more decorative, new, and fresh.
2. To Protect Your Chiminea from Tough Weather
Painting the chiminea helps to seal it from harsh weather conditions like cold and rain, which can crack it. Paint works as a protective layer for your clay chiminea.
3. To Change Its Color
If you have recently upgraded the look of your patio and now you need your chiminea to match the aesthetics, paint it up. Also, the same color can get a little boring to look at; you can spice things up by painting the chiminea with a color that pops.
4. to Prevent Your Clay Chiminea from Cracking
The clay chiminea can be your favorite element in your backyard and the last thing you will want it to crack up. Weather and moisture in the air can take their toll on your clay chiminea. It is a smart idea to paint your chiminea so it doesn't crack up.
5. To Extend Its Life
If your clay chiminea is old and you are scared that it will crack up if you use it again, do not worry and paint it. It will help to extend its life by not letting in the moisture to affect the clay.
Pro Tips
Never paint the chiminea when it's wet because the clay chiminea can shrink after drying, which can make the paint chip and crack. So it's a smart idea to wait until it's dry.
Always patch-check the paint before going full-fledged to check if the paint sticks and if the color looks as you expected it to.
Your chiminea may need several coats of paint according to the type of chiminea paint you are using. Read the instruction manual to be sure. Note that light colors may need several coats.
Use a primer if your paint doesn't stick well directly on the surface, but make sure to buy a primer that is also heat resistant.
Wear a mask and eye protection glasses when using a spray, as the spray can get into them and cause a reaction.
You can use a clear coat sealer to seal the paint every once in a while to make the paint stay longer.
Always check the manufacturer's instruction manual before you paint a chiminea as it is the best place to clear your doubts about what kind of care your chiminea requires.
Related: 21 Paint Colors for Living Room: Expert-Approved Color Picks
Recommendations
Here are our top favorite picks for clay chiminea paints and sealers.
Thompson's Water Seal is the best overall paint
Conclusion
Painting your chiminea is a very quick and fun task; It will only take a few minutes to get it done. So do not get overwhelmed by the idea of it.
You only just need to pick the right kind of color. Play with the colors, and you can also go all artistic with it if that is your style. You can match the new paint with your decor or make it pop.
So, now that you know this beautiful hack, there is no need to replace your good old chiminea; you need to give it a new look and energy by painting it all over with heat-resistant paint.
We hope this guide will help you pick just the right kind of chiminea paint, so stop delaying and start
Frequently Asked Questions
What Qualities to Look for When Selecting a Paint for Clay Chiminea?
The top three things to take note of while buying chiminea paint are: the paint should be heat resistant, check if it is suitable to be used on clay, and if it is weather resistant before buying
How Long After Painting My Clay Chiminea Can I Light a Fire in It?
Usually, you should at least wait for 24 hours before lighting a chiminea after painting. Read the instruction manual carefully that came with the paint to know the exact time. The first small fire will help to cure your paint and seal it nicely.
Can I Use Leftover Outdoor House Paint on My Chiminea?
No, the outdoor house paint won't stick very well on the chiminea, and it is also not heat resistant. For chiminea, you will have to buy specialized paint that is heat resistant, and your outdoor paint will not stay; it will melt off and cause a horrible mess.
How Often Should I Paint My Clay Chiminea?
To stretch the life expectancy of your chiminea, you should paint it once every year, preferably before the winter starts, to get the chimney sealed up nicely for the cold and moisture of the upcoming season.
Should I Paint My Chiminea from The Inside?
No, never paint your chiminea from the inside; it can cause a blunder. The fire is enough to seal it from inside. Also, the paints you used for the outside are not suitable to be used inside of it.
Check This Next: Best Neutral Paint Colors (15+ Colors to Choose from)