Getting a beautiful modern shiplap fireplace idea installed in your house can be a life changer for you. Be it a small house or a big one, you can have one for any one of your rooms.
It is a versatile yet casual piece that can be installed in any house to make it look even better.
Most people go for a modern white shiplap fireplace as it looks traditional and classic. It works perfectly for any house, be it a traditional one or a modern one.
You can also play with wall colors of shiplap, black, brown, and grey.
These colors beautifully complement the house. Additionally, you can also choose to go for different mantels, lime-washed exteriors, and more.
Keeping the same in mind, let's get started with our article and explore 29 beautiful modern shiplap fireplace ideas.
Similar Post: 15 Stunning Brick Fireplace Makeover Ideas for Your Home
1. Black Coloured Shiplap Fireplace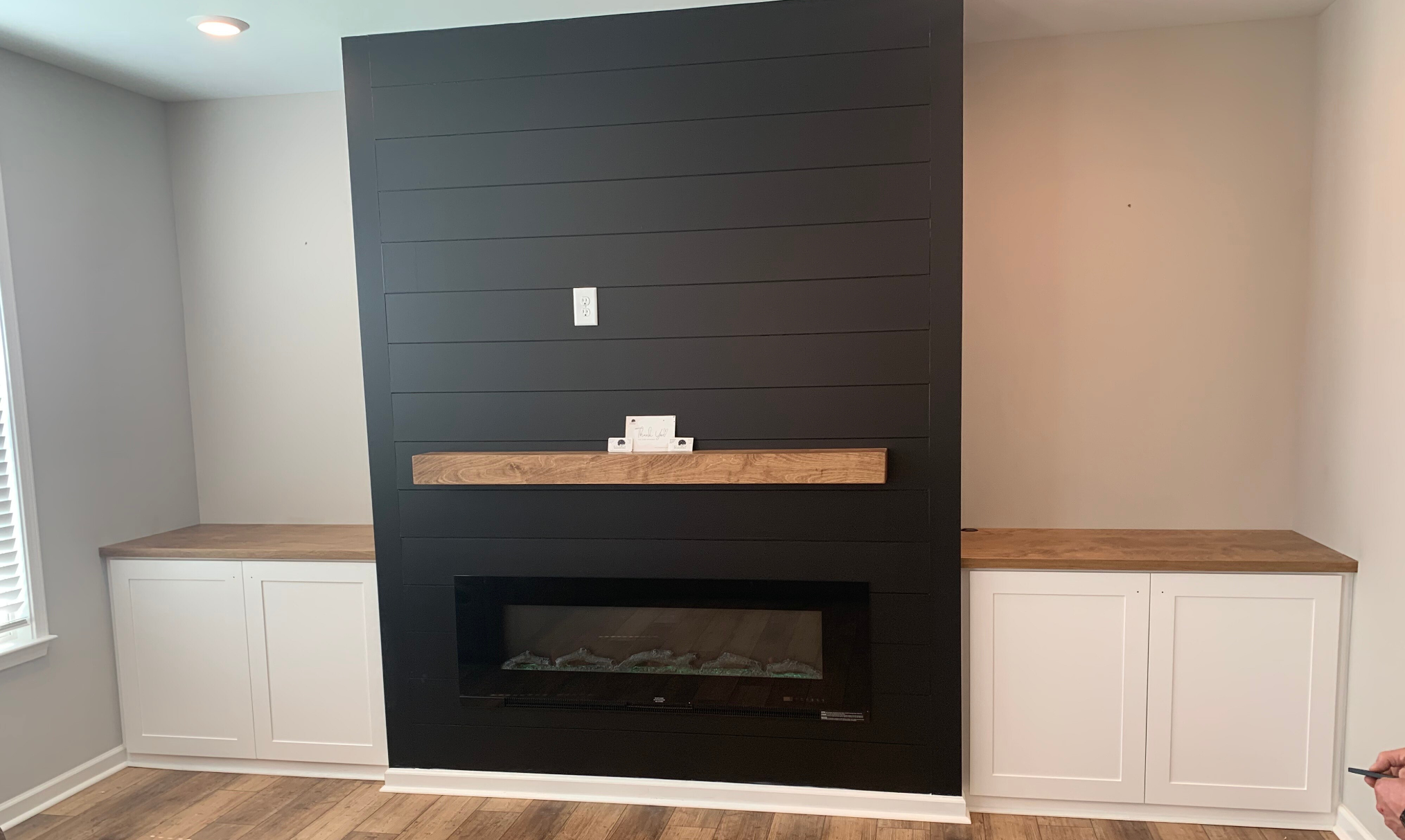 Getting a black vertical shiplap fireplace can add the right of modernness and simplicity to your room. You can get a wall accent that is vertical in shape and black in color.
It can be simple or have textures all around it as per your preference and style.
2. Shiplap Fireplace in Cottage Style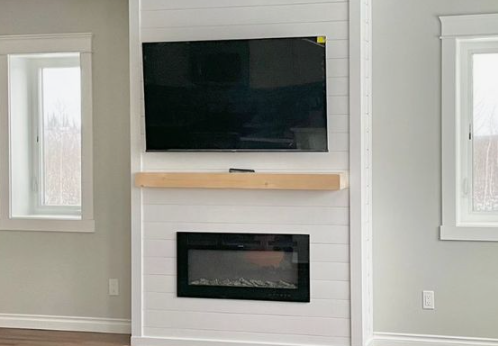 Shiplap Fireplace in Cottage Style is also a perfect and minimal piece to add to your living space. Mostly it will be in white, and you can easily incorporate it into your room.
You can also add a few decorative pieces that match the vibe of your room. Additionally, you can also get wooden flooring or marble flooring in the room, as it will enhance the overall look of your room.
3. Contemporary Shiplap Fireplace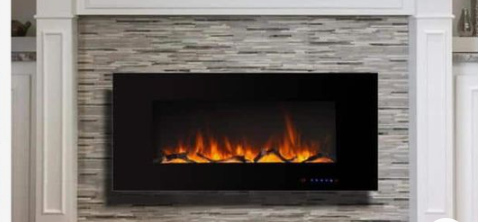 Go ahead and make your room look a little different with this contemporary shiplap fireplace. This is a great way to blend various colors and textures in your room together.
It will look perfect on the neutral palette and works elegantly with the beige and white walls. Don't think twice, and invest in this beautiful piece for your house.
4. Gray and White Shiplap Fireplace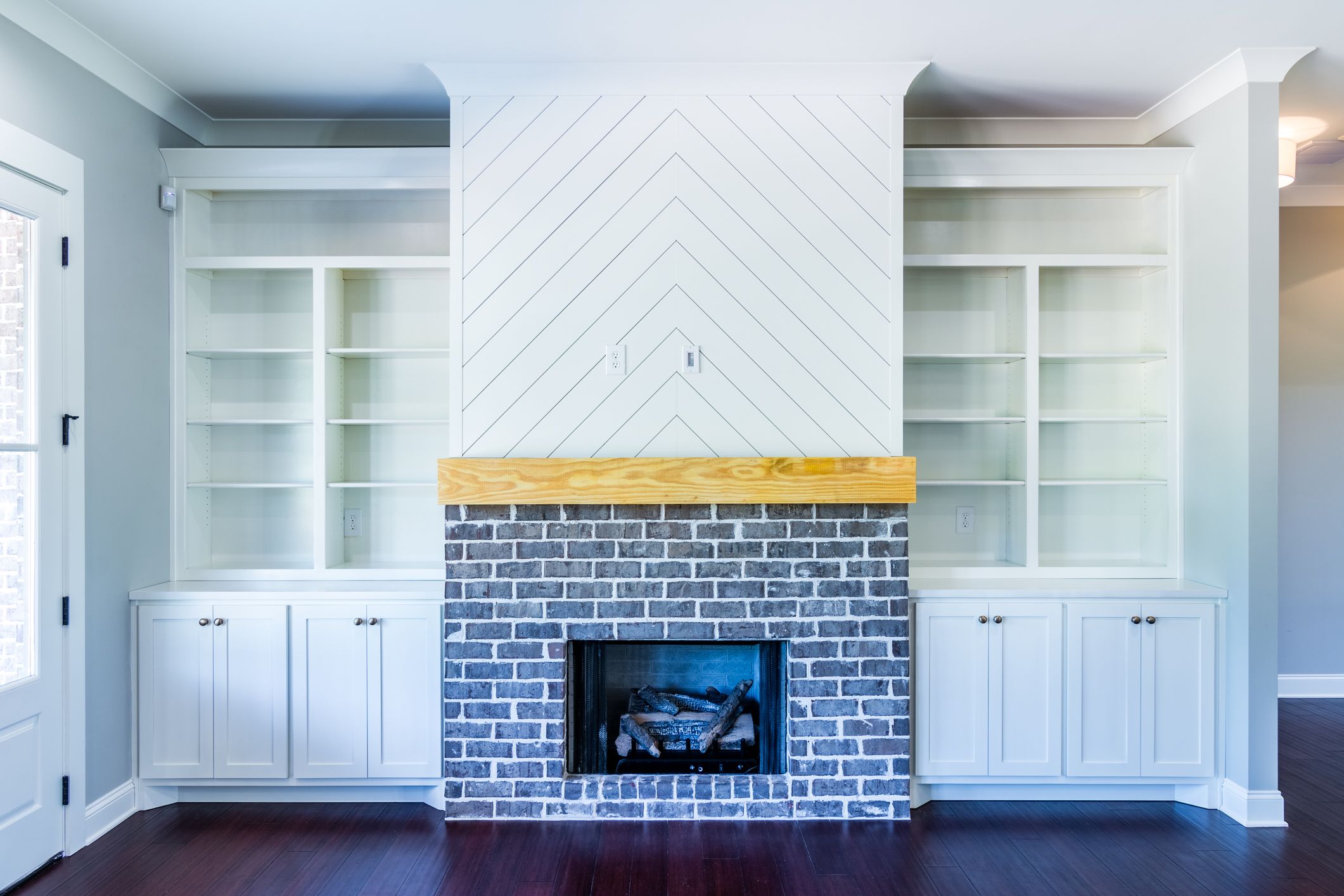 Grey and white colors together for a shiplap fireplace. Imagine how minimal and beautiful this combination is. It is part of urban living and looks nothing but heavenly.
Start by adding a basic white-toned shiplap fireplace and then add warm grey tones to the exterior of the piece. You can also go ahead and add pieces around the shiplap fireplace for more visuality.
5. Modern Shiplap Fireplace Idea with Tiles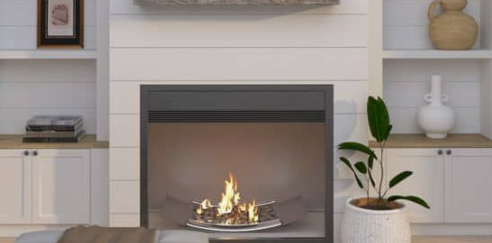 If using old and contentious bricks in your house is not your thing, then this one is for you. You can enhance your shiplap fireplace in the living room by adding modern tiles around it.
Instead of going with bricks, you can choose modern-looking tiles in different designs. You can either go for basic printed tiles, or you can go for something as bold as geometric shapes.
Browse the market and find the tiles that add style to your house.
6. Different-Shaped Shiplap Fireplace Idea

Most of the shiplap fireplaces are in similar shapes. There is little or no space for change or exploration.
Hence, getting something in a unique shape can change the style game of your living room. If you are onto different shapes, then definitely go for this one.
You can either purchase it online or get it customized in your house.
7. Shiplap Fireplace with Minimal Efforts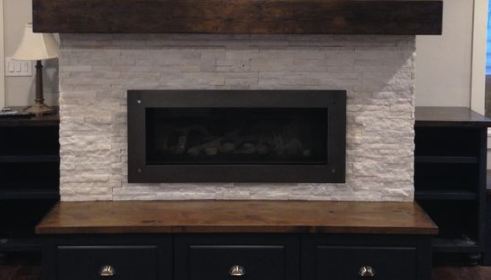 When we talk about something modern, then choosing minimal is the key. Many people choose options that are not overpowering and look decent.
White shiplap fireplace is usually not chosen because it requires high maintenance, but you can surely opt for this as it is minimal and trendy.
This category of modern shiplap fireplace ideas offers you only reference materials in different shapes, sizes, and colors.
Also Read: 21 Stunning Black Couch Living Room Inspirations
8. Traditional Shiplap Fireplace Idea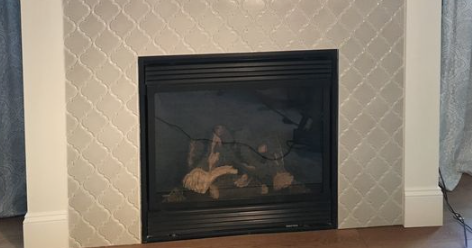 No matter how much development we get, traditional shiplap fireplace always looks better and more stylish.
Whether you go for a room, furniture, or fireplace, anything that comes with a traditional touch makes the room a little more light.
Hence, getting a shiplap fireplace in traditional accents can be a steal deal. It will convey your traditional style and represent your inner self to the world.
9. Shiplap Fireplace in Black Colour

Black is usually neglected by people around the world when it comes to the interior. People think that it is a negative color and does not add enough color and light to the room.
However, if you ask for our opinion, then black is one of the best colors available for a shiplap fireplace.
You can shop for something in black color and then add different textures to colors to balance out the shades.
10. Shiplap Fireplace with Books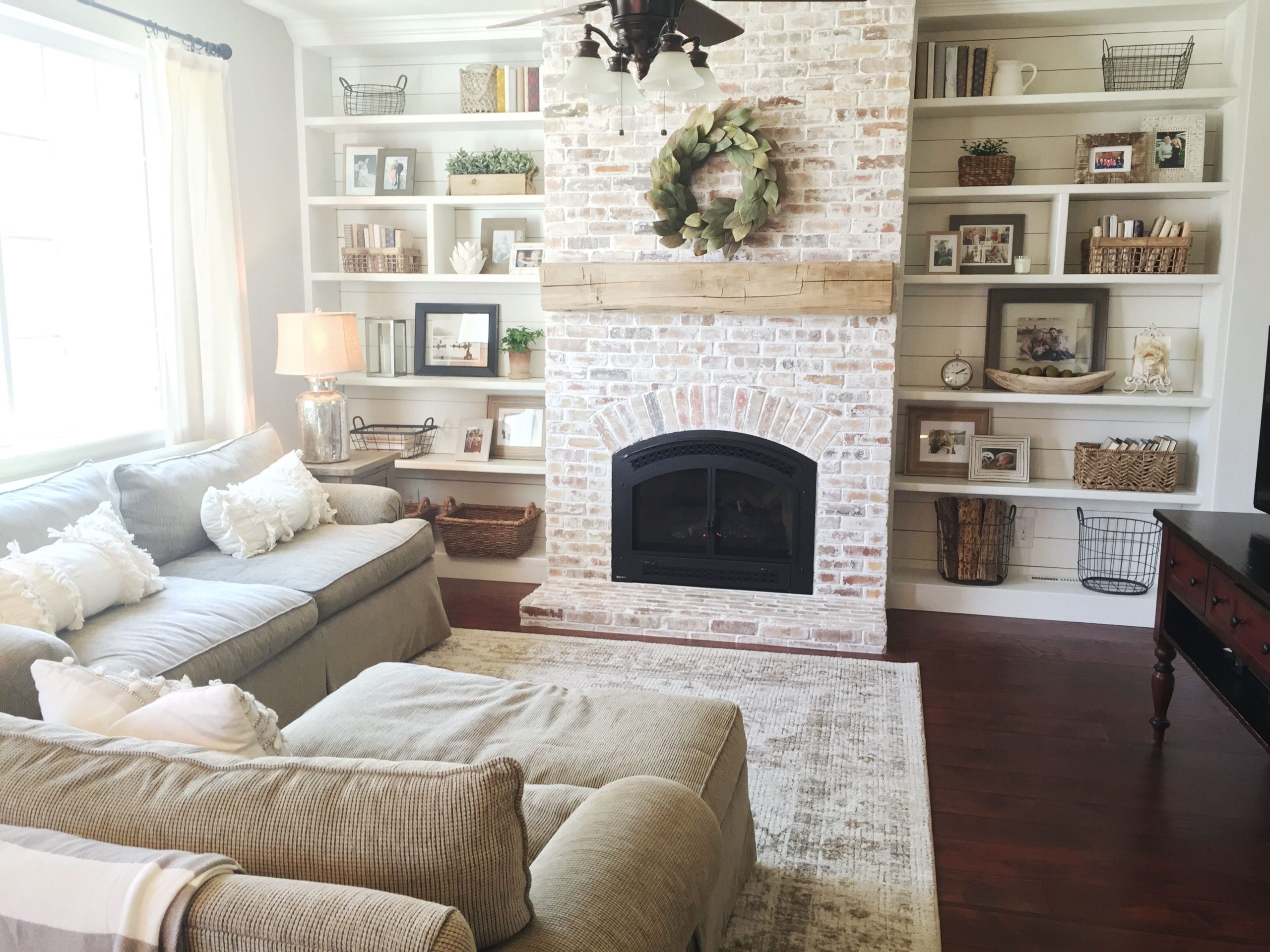 Reading books is one of the chosen ways of contemporary living. People like to read and store their books in-house. As it represents their personality and style in the house.
But have you ever thought of getting a shiplap fireplace with a bookshelf around it? No. Right. This is your time to consider this one and build a shiplap fireplace with books all around it.
11. British Styled Shiplap Fireplace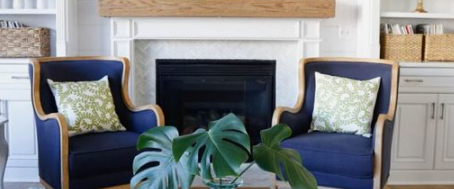 As we move forward, we are getting more into British styles for clothes and houses. They have a unique taste, and their style is minimal yet classy.
Bring the idea of a modern English country fireplace into your interior and see how it enhances your life.
British-styled fireplaces usually come in white and require a little more maintenance. However, we can assure you that it will look elegant and stylish in your house.
12. Limestone Shiplap Fireplace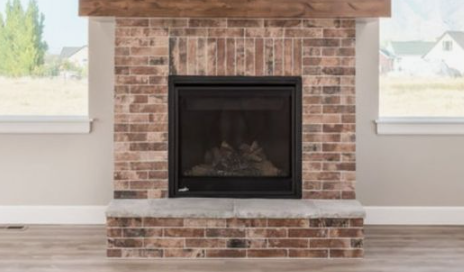 Limestone is a unique piece to add to your house. It is a beautiful stone to add texture and style to your home with minimal effort.
If you are planning to buy a shiplap fireplace, then you should get something that involves limestone in it.
The outer exteriors can feature limestone, as it will be more durable and will keep your living room looking great all season long.
13. Textured Shiplap Fireplace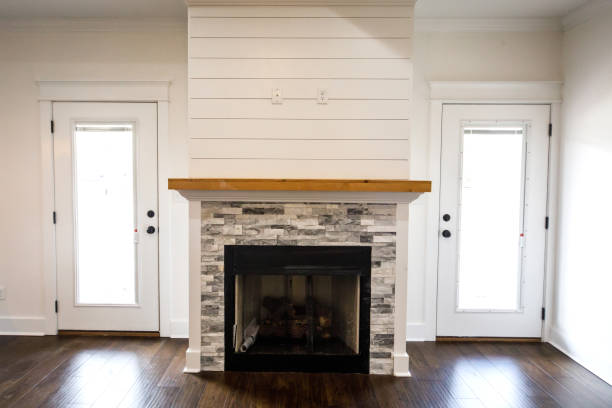 If you are someone who wants to buy something that neither looks basic nor comes with a high price range, then this shiplap fireplace is perfect for you.
You don't have to go for something simple. Just get something with an outer surface that has texture, as it will fit perfectly in your house with minimal elements around it.
14. Shiplap Fireplace in Dual-Tone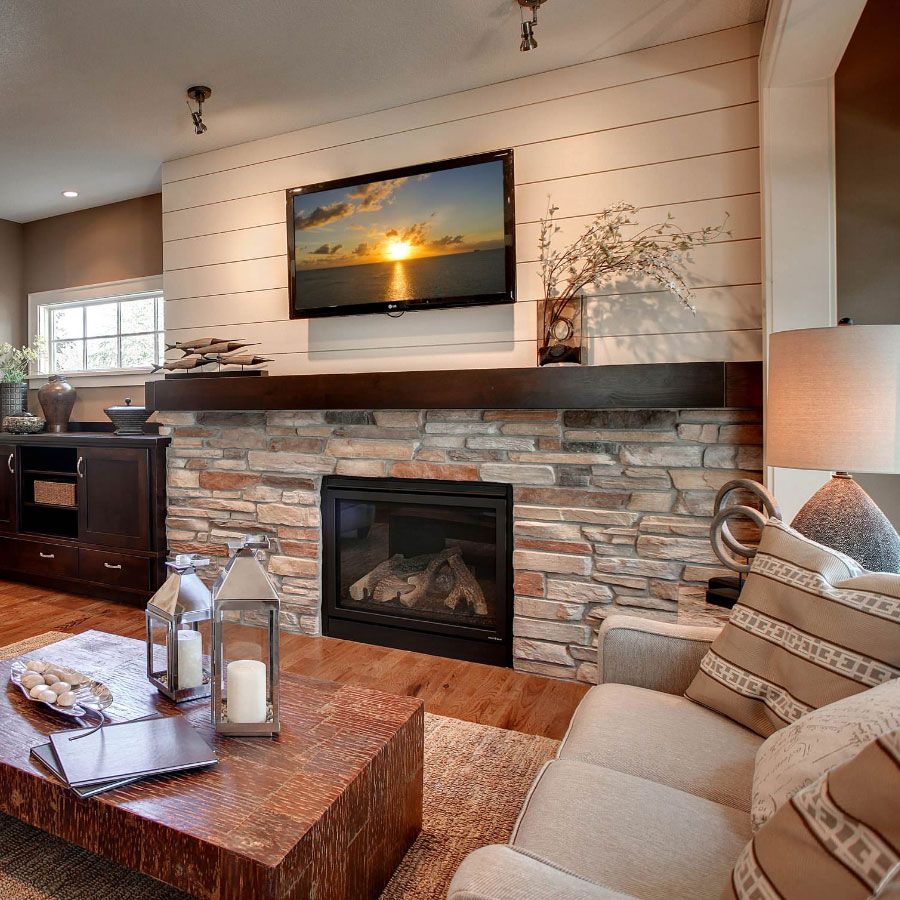 If you want to add depth to your space and make it look elegant and beautiful, invest in a modern two-tone fireplace idea.
A two-tone modern fireplace will fit perfectly into your home, and choose a combination of light and warm tones.
You can opt for brown and white tones or black and beige tones. Also, you can add rugs in warmer tones for more ease and comfort.
15. One with Geometric Texture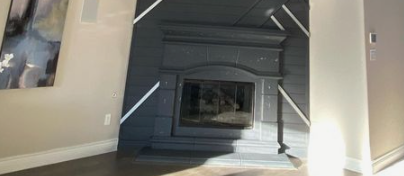 Geometric patterns are not basic, and they can give your house a little element. It will make your house appear different and classy at the same time.
Go ahead and shop for something in neutral shades like white and black or vibrant colors. Choose textures with geometric shapes on them and add the right amount of style to your living space.
16. Grey-Toned Shiplap Fireplace

The grey color is classic, and you can find it in any house. It is beautiful and minimal, and you can easily pair it with different sofas, paintings, and furniture.
This time move forward and choose for shiplap fireplace in grey color. It will be easy to maintain and will add the right amount of accent to your living room.
See More: Transform Your Kitchen with Amazing Black Appliances
17. One with Wall Accents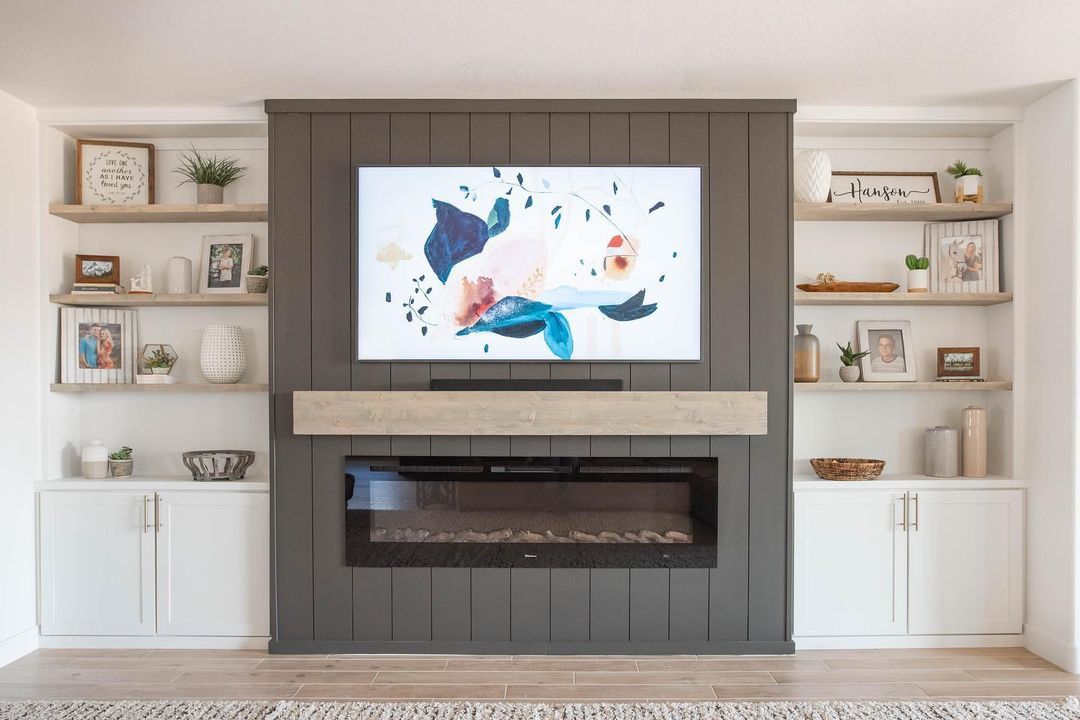 You don't like to go for normal things, right? Getting an additional overlay wall can add more visibility to your space, and that is the unique idea of a shiplap fireplace.
This makes your room appear more open and higher on the ceiling. You can get an extra wall in a specific color or print or just add an extra drop ceiling in white.
18. Wood-Stone Shiplap Fireplace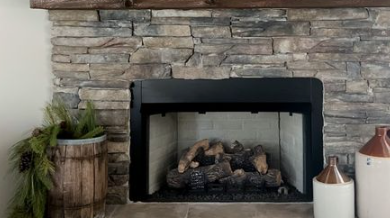 A combination of wood and stone is loved by all. It is a classic combo for any house and looks modern and minimal.
Both the accents vary in texture and color, which makes it even more, better to incorporate. Try to choose a grey-colored stone and then add a wooden facade.
You can enhance your space with this texture subtly.
19. Layered One

Whether we talk about clothes or anything else, layering can change the whole style statement. You can easily choose a simple fireplace idea that has plenty of room for layering.
An essential combination of marble and concrete works best, and the shiplap fireplace idea is to choose simple and clean designs and patterns.
20. One That Is Wall-Mounted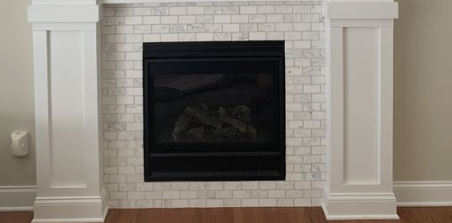 Something that is wall-mounted is usually preferred more because it neither takes a hell lot of space nor is difficult to maintain.
Get a customized shiplap fireplace installed on your wall and add more depth to your living room. You can balance out the aesthetics of your room by choosing one element in lighter tones and one in cooler tones.
21. Black Tiles Shiplap Fireplace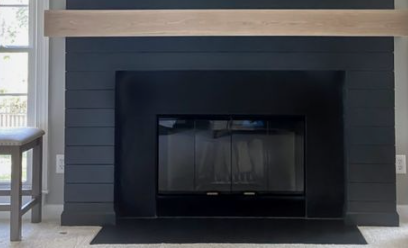 Black color is not only a color but is a whole new feeling. Adding black tones to your living room with a black tiled shiplap fireplace is the easiest way.
It will be quite easy to maintain as it will not get easily ruined or dirty, and you can use it for a long time. Without a doubt, invest in modern black tile fireplace ideas like never before.
22. One with Moldings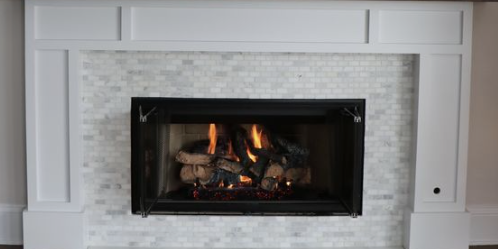 Moldings are a great way to enhance the overall feel and look of your house. You can easily light up your living room by adding little moldings around the house.
You can choose different materials like bricks and paint them in similar shades to add more similarity. This will make sure that your room looks spacious and neat all the time.
23. One with Rustic Tones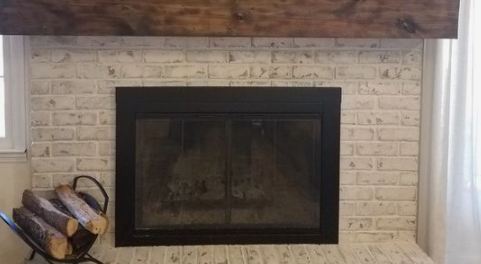 Who does not like little rustic tones in their house? It is quite minimalist but adds just enough structure to your living room.
Therefore, you can start by painting your entire room white and then add a fireplace that gives off a rustic appeal. You can play with the same color palette throughout your space and keep it spacious and clean.
24. Gray Bricks Shiplap Fireplace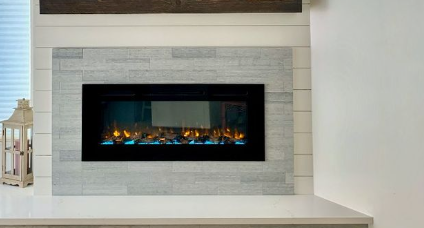 Buying a grey-colored shiplap fireplace is a great idea as it is easy to maintain and dustproof. They are quite versatile and go with everything.
You can add textures that either add uniformity to your room or something that adds more color to your room. Just go ahead and shop for this shiplap fireplace for your house.
Related: 14 Blockbuster Ideas from Studio McGee's Kitchen
25. Shiplap Fireplace with Exterior Art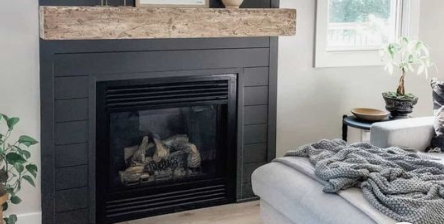 The paintings look beautiful in the house. If you also love paintings and have an eye for them, then this one on our list is for you.
Start by giving a minimalist vibe to your room, and then add paintings for color and texture. Go for a different-colored shiplap fireplace if you want to be more experimental.
26. One With Gray Bricks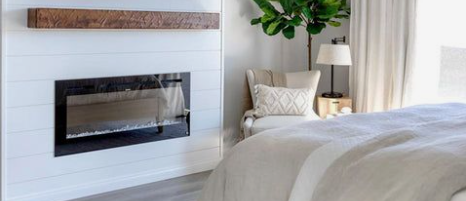 .
Do you also want something perfect for your bedroom and not your living room? You are at the right pointer; a bedroom shiplap fireplace is the easiest and coziest thing to add to your bedroom this winter season.
You don't have to go out in chilly weather; you can easily lay in bed and have most of your time by getting something like this.
27. Hanging Shiplap Fireplace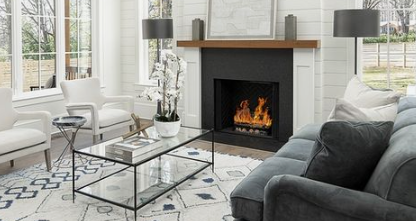 Need help with interior space and still want a shiplap fireplace? Get yourself a hanging piece instead.
Get a modern hanging fireplace that takes up minimal space in your room and performs to the max. You do not have to invest a lot of space or money to get this piece for your living room.
28. Floor-to-Ceiling Shiplap Fireplace

Connect your room floor and ceiling by adding a piece that is big and takes most of the wall space. You can add adjacent walls and panels to add more texture and play with colors for more visuality.
You can opt for this white-colored shiplap fireplace as it will make your room look more spacious and organized.
29. Shiplap Fireplace with Ornate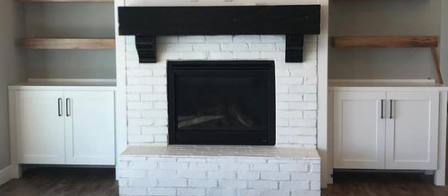 It is a contemporary fireplace with modern and traditional elements to it. It is a beautiful pairing that involves texture and change.
You can have a basic shiplap fireplace and add traditional carvings around it for a better look. It is great for you, and without wasting any further time, you should get this one for you.
Conclusion
Getting a shiplap fireplace is one of the easiest and most stylish elements to add to your house. You can have a basic living room and then amp it up with something like a shiplap fireplace.
It will not only be for a show, but it will also be perfect for the coming winter season. There are plenty of categories and many options available in the market.
All you have to do is make your checklist and requirements before getting one for your house. Be cautious and plan about the size of your room, texture, and color of your shiplap and pricing.
All these factors will help you get the most out of your space and make it look nothing but classy.
So, stop wasting any further time and get one for your house now.
Check This Next: 17 Black Kitchen Cabinets Ideas for Small Kitchen