No matter if you are hosting an intimate garden party or having a quiet movie night to yourself, snacks are important in both cases.
And this is where the need for a vegan charcuterie board comes in.
Be it for the appetizing aesthetics or for the healthy, light, and refreshing snacking options, a charcuterie board can be the main star of the show. Plus, this is a great way to put the veggies in your fridge to good use.
The best part about a vegan charcuterie board is probably the fact that it looks so delicious and yet does not require you to spend long hours in the kitchen to prepare the recipe.
Here, we will be moving from the traditional method of preparing a charcuterie board, as cured meat like salami and prosciutto are the cornerstones for most recipes.
But no worries, vegan options are very much in vogue and equally delicious.
Vegan Charcuterie Board Ideas
Looking for inspiration to make your next charcuterie board that will amaze all your followers on Instagram? Then you have found the right place.
Here are 8 ideas to make a stunning charcuterie board that is vegan and awesome!
1. Charcuterie Board with Plant-Based Meatballs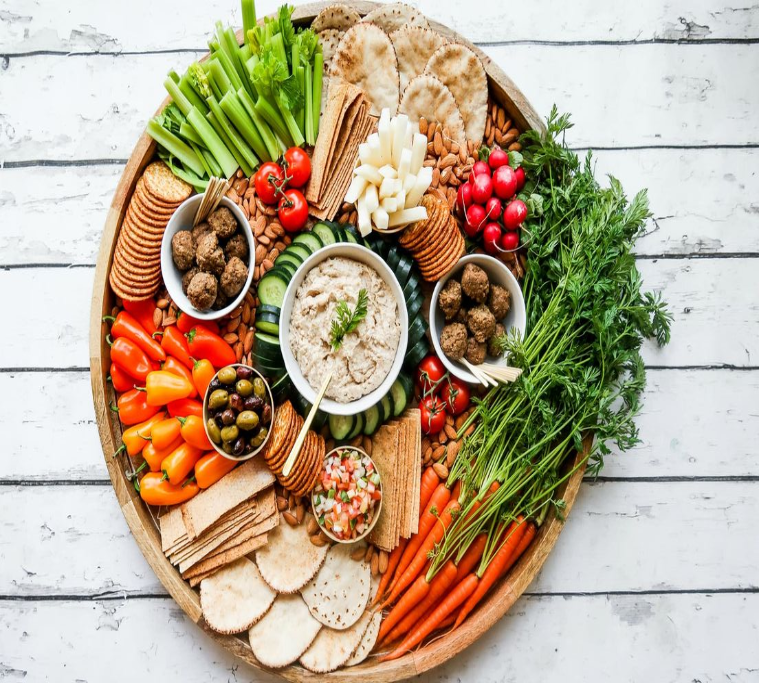 The word Charcuterie can be roughly translated to "the art of curing meat." Begin by getting a round serving board.
The idea can be executed in rectangular boards as well, but getting a round board makes the preparation more charming.
A large glass bowl full of hummus (or cashew dip) goes in the center. Prepare two smaller bowls for placing the hot meatballs and place them on diagonally opposite ends of the large dip bowl.
Two more bowls will be needed for the marinated olives and pico de gallo.
From this point on, you can start arranging the vegan pita bread, crackers, and whole carrots with tops around the outer part of the bowl and around the central area; add roundly sliced cucumbers.
The remaining empty spots can be filled with nuts of your choice, crackers, cherries, or cherry tomatoes. There is no fixed rule about where you will place which item, and you can do what looks best.
Similar Post: 21 Paint Colors for Living Room: Expert-Approved Color Picks
2. Charcuterie Board with Vegan Cheese and Meat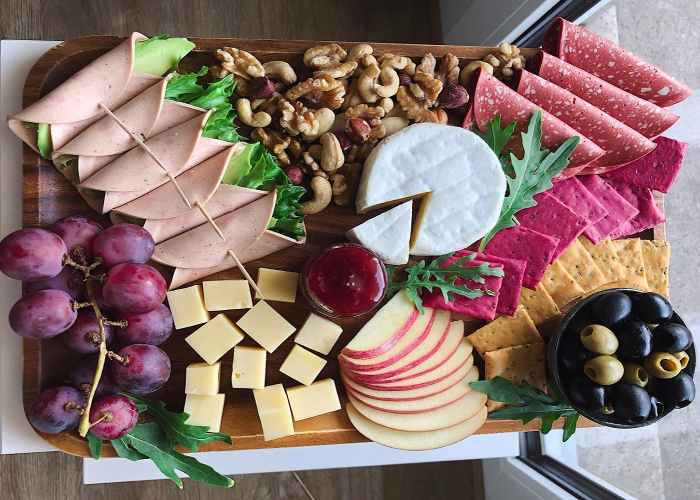 Thankfully for vegans, every kind of food has a cruelty-free and vegan alternative. The same goes for meat and cheese, which are the main items in any charcuterie board.
Get a rectangular serving board and prepare the following ingredients: vegan cheese of any three kinds, vegan meat of three types, marinated olives, two or three types of seasonal fruits, crackers, and nuts.
Start by placing folded slices of any vegan meat on one corner of the board. The meat used here is plant-based salami. You can also use vegan ham and salami alternatively for this section.
Besides the meat, place carrot crackers, regular vegan crackers, and finally, a bowl of marinated olives. Roll up some lettuce and vegan ham together and place these rolls on another corner of the board.
A wheel of vegan brie, a small vegan baby bell, and a few cubes of vegan parmesan cheese will go in the center.
The fourth and the last corner can be filled with seasonal fruit of your choice. Here grapes have been used. You can also slice up some apples and fill the empty spot with nuts like almonds or walnuts.
3. Make Purple Produce the Star of The Show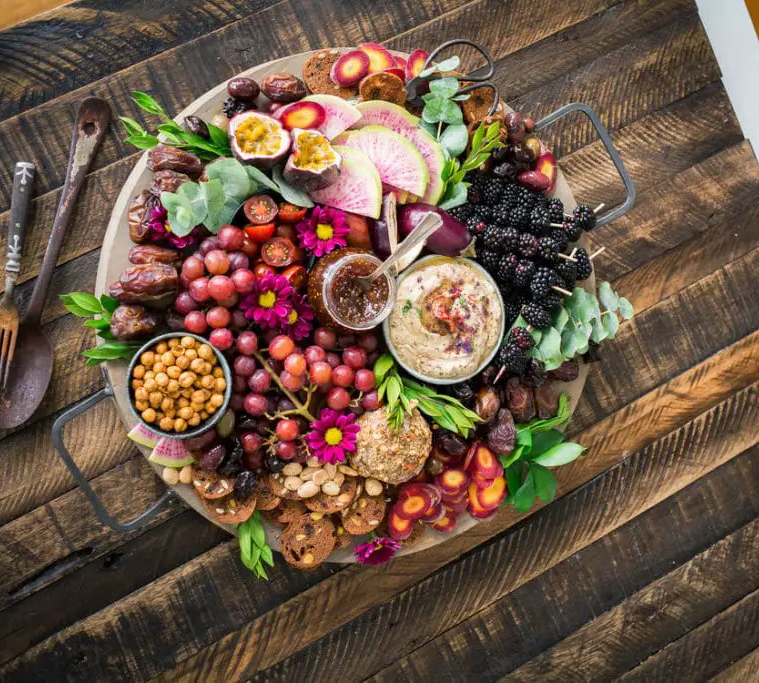 Want to make a charcuterie board that will do justice to all the seasonal fruits and is able to please Vegans and Non-vegans alike?
Then here is your chance to get inspired by this amazing idea that mixes juicy fruits and fresh veggies alike on the same serving board.
The ingredient that you will need for this vegan charcuterie board is – whichever purple fruits and veggies you get your hands on.
In this particular reference, purple carrots, purple grapes, kumato tomatoes, watermelon radishes, passion fruits, blackberries, pitted olives, and dates are picked.
You can also use purple cauliflower, asparagus or eggplant, and figs for the fruits section.
Start by placing a large bowl of Baba ganoush or Hummus beside a jar of vegan jam in the center of the board.
Place a cheese variant adjacently. Here, cashew cheese with crushed almonds has been used. The fruits and veggies can be placed around the dips alternatively, and you are done!
Oh, and do not forget to save some space for crispy snacks such as nuts and crackers. Here, purple potato chips, Marcona almonds, and crispy chickpeas have been used.
Also Read: Sofa and Couch Dimensions: All You Need to Know
4. Easy Charcuterie Board for Vegans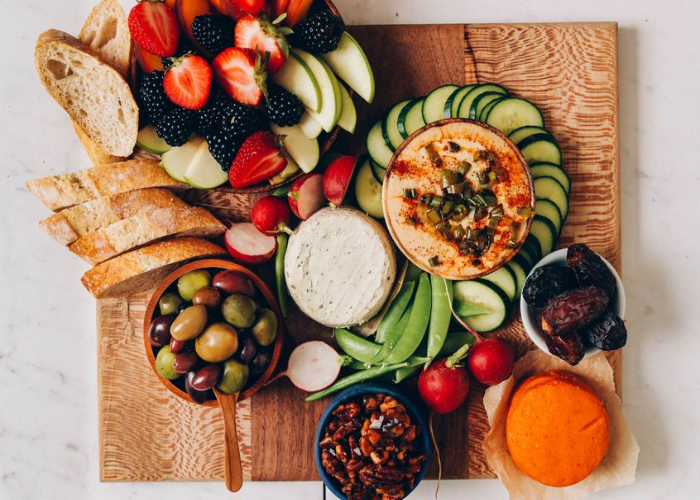 Are you among the people that go through an endless cycle of making a charcuterie board and browsing through ideas? But somehow failed miserably.
It's because the recipes and ingredients just seem too complex to follow through completely. Well, that is understandable because, for many of us, free time is a myth.
That is why this simple vegan charcuterie board idea is perfect for you.
The arrangement is also pretty simple, and you can start by placing a large bowl of dip on one side of a rectangular serving board.
The dip used here is store-bought hummus, but you can also go for baba ganoush or guacamole. In two other smaller bowls goes some candied nuts and pitted olives.
Since we are keeping it simple, the rest of the things that you will need are some fresh fruits, some garlic and herb vegan cheese, veggies, and one or two sweet treats like macarons or crackers.
In the reference, the bowl of dip has been surrounded by sliced cucumber, while the vegan cheese in the middle has some peas and radishes surrounding it.
There is also a bowl of fresh fruits that contains sliced apples, figs, and halved strawberries. For the sweet treats, there are some dates in a bowl and one orange macaron.
The dip can be enjoyed with toasted vegan bread slices.
5. Charcuterie Board with Vegan Macadamia Nut Cheese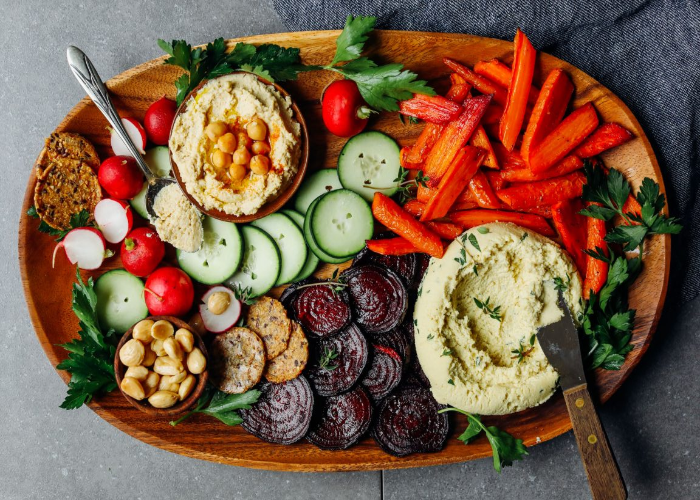 The most amazing part of this charcuterie board idea is the Macadamia Nut Cheese which is surprisingly easy to make.
All you need to do is whip up some macadamia nuts, nutritional yeast, lemon juice, garlic powder, and optional herbs for some color in a blender.
Once blended, strain the mixture of excess water using a white cloth, and you have your homemade vegan macadamia nut cheese ready. Now, start prepping the veggies.
Here, carrots and beets have been roasted, but you can add them raw as well. It's just that when roasted, carrots and beets caramelize into a sweeter taste that goes very well with the cheese.
Once this is done, place the cheese dip at one end of the serving board and the roasted veggies in two sections near the dip.
There is plenty of room for another dip, and here you can add either hummus or baba ganoush. For something crunchy, add sliced cucumbers and radishes.
And lastly, some vegan crackers and nuts to enjoy with the dips. If there is any room for more stuff, then you can add something sweet, such as dates or candied nuts/fruits.
See More: How to Get Rid of a Couch – Discard it Economically
6. Charcuterie Board with Vegan Chocolate Fondue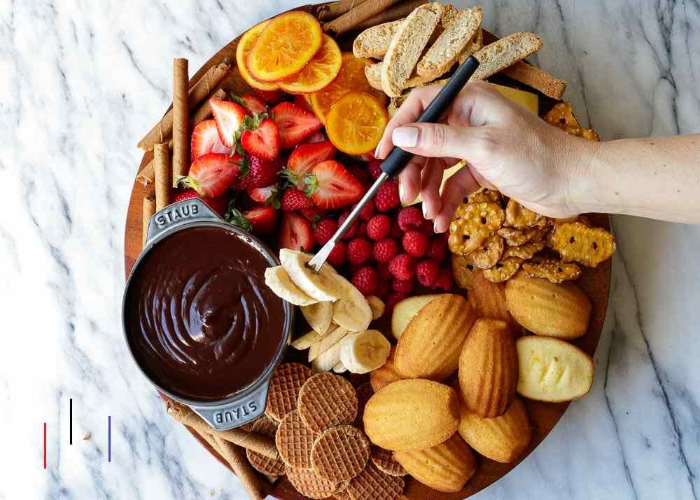 This idea is for all the chocolate lovers out there. The main dip for this charcuterie board is a big bowl of delicious vegan chocolate fondue.
The rest of the ingredients that you place on the board have to be complimentary to the chocolate dip. Now for the fondue, there are two recipes you can follow.
The first is a simple one where all you need is to get vegan brown and white chocolate chip cookies and melt the two together while adding some plant-based milk.
The second recipe needs a few more items, and you will need dark chocolate, plant milk, vegan butter, and maple syrup.
Keep the dark chocolate in the milk, and after it has become molten, add the butter. Once the sauce thickens up, add the maple syrup to make it appropriately sweet.
As an accompaniment, this charcuterie board includes vegan crackers, cookies, and biscuits. There are also fresh fruits like bananas, raspberries, oranges, and of course, strawberries
7. Vegan Cheese Charcuterie Board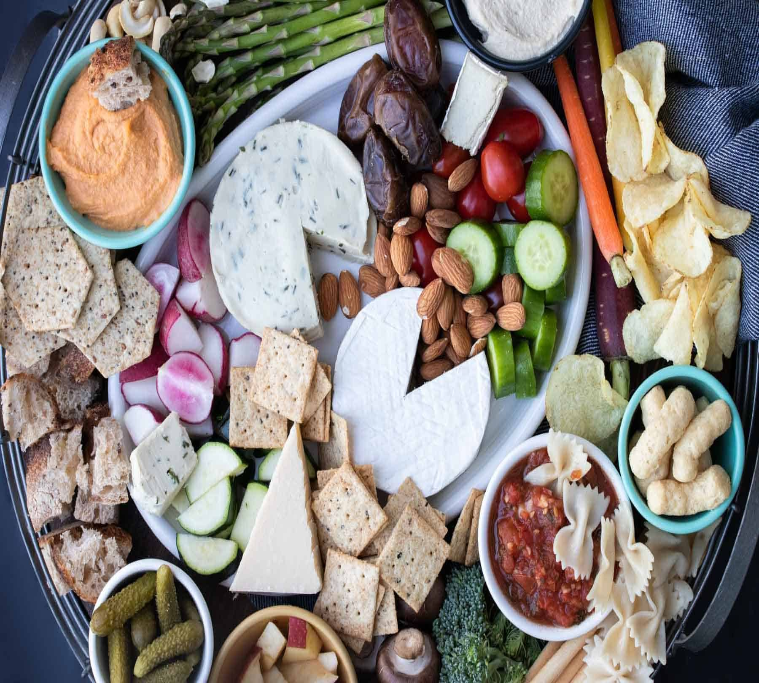 Looking for a vegan version of popular grazing boards that feature cured meats and lots of dairy cheese? You are in the right place.
This vegan cheese charcuterie board holds all the right number of sweet and savory plant-based snacks that are perfect for serving at parties as well as just for a plain dinner because of well-balanced items in terms of diet and taste.
For an easier process, prep the following beforehand: Veggies, Fruits, Nuts, Crackers/Bread, Vegan Cheese of 2-3 types, Vegan Meats, Dips, and Sweet Treats.
How you wish to arrange the ingredients is ultimately up to you, but since the vegan cheese is the cornerstone of this idea, place all of them in the center.
Here is a wheel of vegan brie and parmesan placed on a plate in the center of the board, and the cheese is separated by some almonds.
The rest of this plate is filled with a mix of healthy snacks such as dates, sliced cucumbers, cherry tomatoes, and radishes.
Once you are done filling the plate, you can start to add items on the board in sections. Start by placing smaller bowls of dips on the corners of the board.
Here are a few dip ideas- Greek Hummus, Fresh Tomato Marinara, Mexican Salsa, Cilantro Cream Dip, Vegan Tahini, Guacamole, and Vegan Buffalo Chicken Dip.
For the meat, you can choose among vegan meatballs, vegan sausages, mushroom bacon, vegan pepperoni, or salami.
For vegetables, you can go for broccoli, carrot, zucchini, asparagus, radishes, peppers, celery, and cucumbers. While for fruits, your choices are – figs, melons, grapes, strawberries, apples, and oranges.
Related: 30 Budget-Friendly Small Bathroom Ideas to Refresh Your Space
8. French Fries Charcuterie Board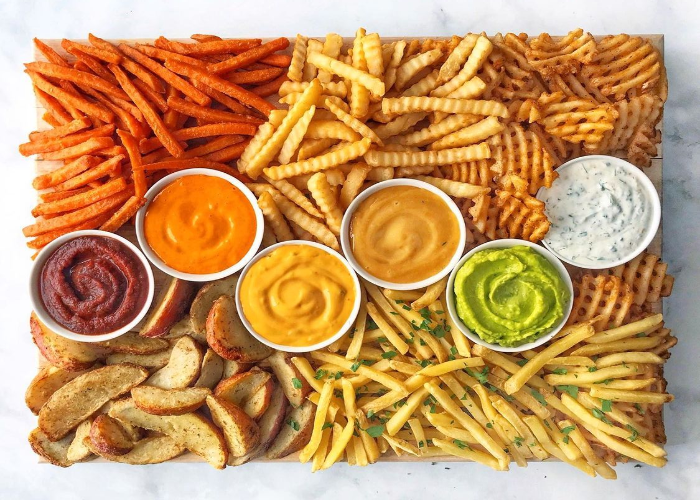 This can hardly be referred to as a charcuterie board as neither there is meat nor there is cheese, only the goodness of fried potatoes.
But we did agree to deviate from tradition at the very beginning, so why not give this a try?
No doubt, the french fry board is perfect for those evenings (or afternoons!) when all you crave is carbs and more carbs. The best thing is that this is super easy to make.
All you need is potatoes and vegan dips. Well, not whole potatoes but rather potatoes should be cut and fried in various forms.
The reference includes waffle fried, crispy boardwalk fries, potato wedges, some zigzag fries, and lastly, herb french fries.
To be fair, it's all potato anyway, and it does not really matter which fry you place where. And, of course, we cannot forget the dips.
You can choose literally anything plant-based such as vegan ranch, vegan cheese sauces, ketchup, salsa, cilantro cream dip, simple guacamole, and even mustard if it suits your taste.
Wrapping It Up
All in all, there are two primary types of charcuterie boards that originate from Italy and France. Both include cured meats and dairy cheese.
Thankfully, these days there are also many alternative vegan options that are cruelty-free, tasty, and just as beautiful.
These days, with the rise of awareness and activism, more and more people have been turning vegan.
People build these beautifully arranged charcuterie boards, then share them online for others to see and make their own versions of them.
And an amazing part about these boards is that they are customizable, and there is no hard and fast rule to what you should add, as long as the tastes are complementary.
You can try and make a vegan charcuterie board even if you are not vegan or just vegetarian. Choose all of them and make them when you are free or when you are hosting friends for dinner.
These are just as good for when you want to relax with a book, perhaps on your patio, or enjoy some quality time with your family.
Pair some wine with the snack, and you are all set to have the best time ever!
Check This Next: 12 Enchanting Cottagecore Bedroom Ideas for Your Dreamy Oasis