Are you also fascinated by olive trees and thinking of having them as your home decor? You're not wrong. Olive trees can liven up your space and add a personality to your interior home decor.
However, olive trees require a lot of care to grow well. To solve this problem, faux olive trees were introduced.
Faux simply means artificial, so these are artificial or faux olive trees, and what makes them special is their resemblance to the real olive trees.
The faux olive tree is widely used in place of real olive trees to beautify the interiors.
It became an emerging trend in 2017, and it still holds the first preference for many professional interior designers today.
Please be mindful that the internet is swarmed with faux olive trees, but not all look like the real olive tree.
Hence we have come up with this list, which is tailor-made for you and only showcases faux olive trees that look life-like in real-time as well.
Best Faux Olive Trees to Add to Your Home in 2023
Similar Post: 13 Trendy Curved Sofas to Transform Your Living Space in 2023
h3>1. Viagdo Artificial Olive Tree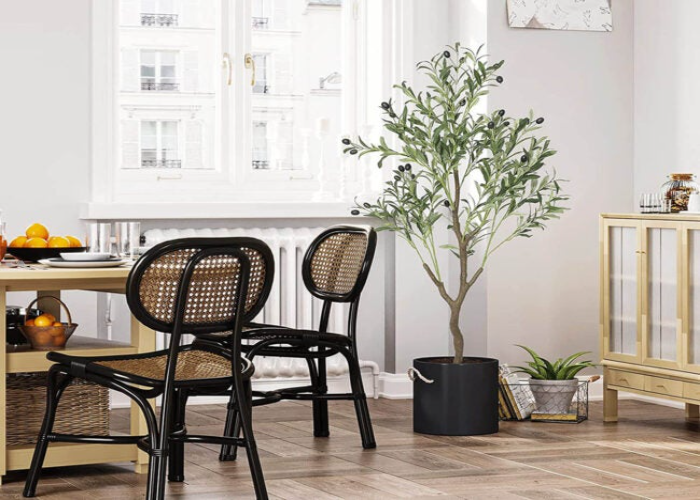 This artificial olive tree looks as real as possible while still being artificial. What makes it look is its imperfections, i.e., the crooked stems, color gradients, growth of the leaves, etc.
Its stem is crooked and not straight like most other faux olive trees sold online. The crookedness of the stem is seen in real trees as well, making it look genuine.
The colors are appropriately used, and the shades are not too bright, which gives a plant a very artificial look.
The main trunk of this tree has many branches connected to it. These branches are connected to the main trunk in a very imperfect way.
There is no symmetry, and the thickness of the branches looks realistic as well. It comes with silky green leaves, and the olives are deep purple in color.
Both are muted shades, ensuring that it blends in with many home decors.
For instance, this faux olive tree will go well with light-colored beige walls and deep brown-colored furniture.
2. Charlton Home Artificial Olive Tree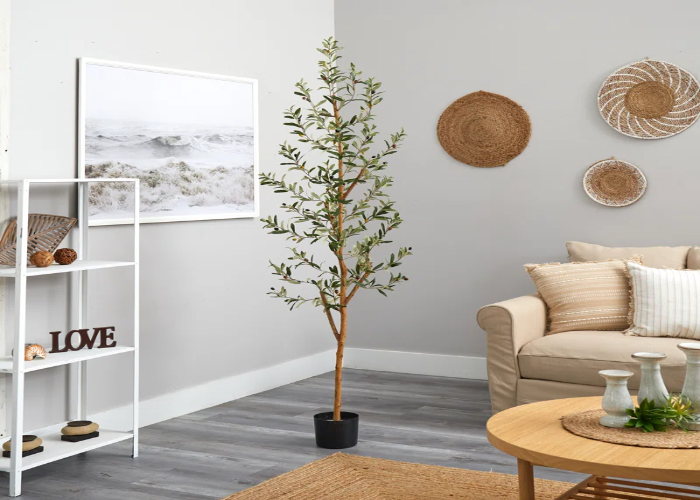 The above faux olive tree seems ready for display and can be placed indoors without any hassle. What makes it look real is its tall stem and sparsed leaves, which are not covering many areas.
However, it is 6 feet in height, making it suitable for placement in various locations. For instance, it can be placed in a corner giving your room much-needed symmetry.
Or, between two pieces of furniture which are shorter in height, placing this faux olive tree between them or on the sides of them will make your room appear tall and gives your decor a unique character.
It comes in a plastic pot, so it's required that you shift it into a pot of your choice. This gives you the much-needed flexibility to choose a pot that aligns with your home decor.
You can also decorate the pot if you feel like it enhances the aesthetics of your living space.
Also Read: Shower Head Height: Complete Guide
3. Etsy Handmade Artificial Olive Tree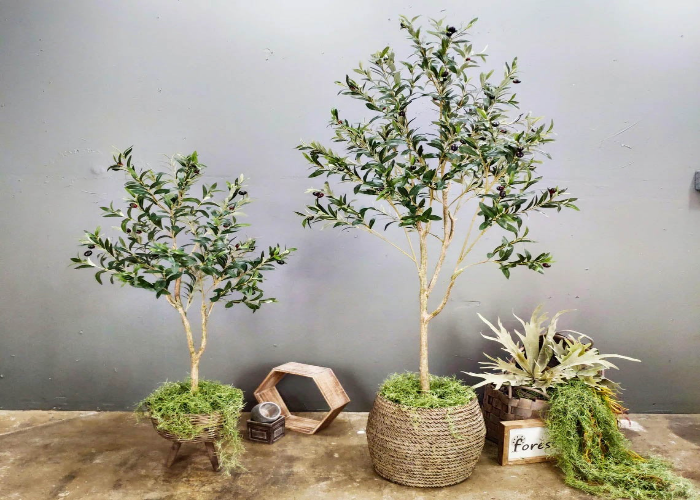 This faux olive tree is homemade, and that is why the detailing shows all its imperfections. Its main trunk is long, and there are multiple offshoots of stems from it.
There are ample numbers of leaves, giving it a fuller look to the tree. Many Youtubers and influencers have bought this and affirmed that it looks like the real thing.
You can also check out the comment section on Etsy, and you will find similar opinions. What makes this further unique is its pot.
Most faux olive trees online have very simple pots or just simple plastic containers. However, this faux olive tree has a handmade and stitched pot, and the detailing itself is worth the money.
It comes in three sizes, i.e., 30, 48, and 70 inches, making it versatile enough to fit your requirements. To style this faux olive tree is simple.
Because of its lushness and detailing, it has its own unique character and doesn't depend on other home decor items to elevate its own look.
You can simply place it in an empty corner, and if your walls are gray-colored, it will look absolutely perfect.
4. Hairui Lighted Olive Tree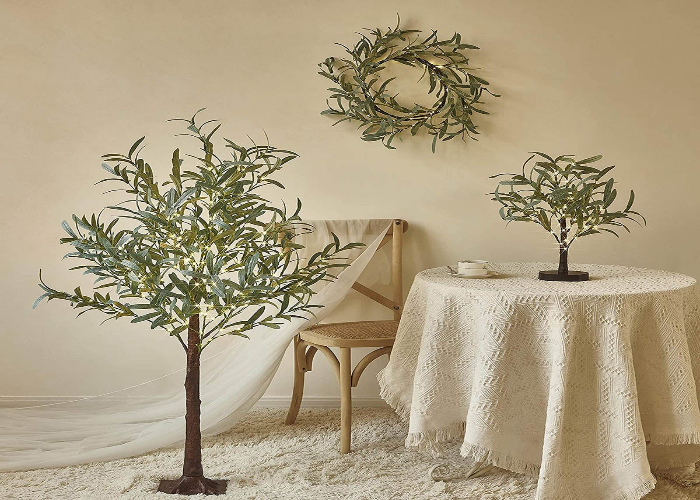 This faux olive tree has led lights attached to it. This should be your go-to choice if you want something a little flashy and extraordinary.
The string lights are warm white in color, giving it a yellowish tint. These string lights are made up of 160 tiny light bulbs, and when strung around the faux olive tree, they look absolutely mesmerizing.
Even though this tree has a light, it can still be put outdoors, and you don't have to worry about occasional rain.
This is because it has IP44 waterproof rating, making it foolproof from light rain and occasional spills of water. Needless to say, this plant will become the highlight of your room.
With lights in it, this tree can be used for mood lighting, family gatherings, and festivals and can act as a night light, thanks to its warmer white shades.
Be aware that kids do not roam around this faux olive tree when it's lit, the bulbs get hot, and there is always a risk of getting electrocuted.
See More: 75-Inch TV Dimensions with Drawings and Tips to Follow
5. Alcott Hill Artificial Olive Tree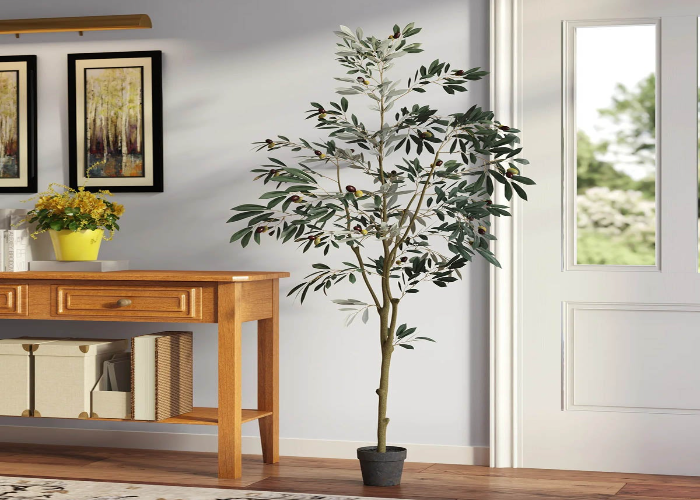 This artificial faux olive tree has many features packed into one.
From the long single trunk to the branches that can be easily bent, this faux olive tree is flexible and perfectly occupies all kinds of spaces and home decor.
The leaves of these faux olive trees are sparse and not too densely populated, giving them a very minimalist look.
The minimalist nature of this faux olive tree allows you to style this tree with various home decor quite easily.
This faux olive tree comes in 3 height options, i.e., 72, 84, and 96 inches. This is crucial as it gives you much-needed flexibility in choosing the height of the tree.
The general thumb rule is to choose the plant according to the height of the ceiling. The tree should enhance the vibe and decor of your room without making it too crowded.
6. Faux Olive Tree with Vase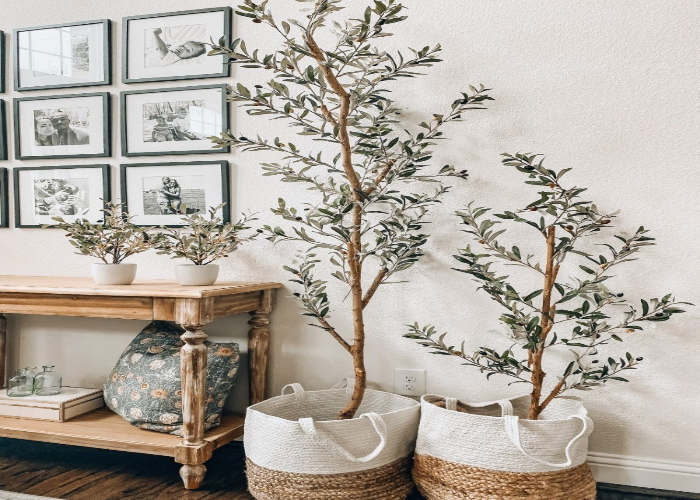 These are mini olive trees and are different from all the other options mentioned in this list.
This is a small plant that looks so real that it will make you reach out for the olive with the intention of eating it.
This mini 18 inches olive tree comes in a set of two and looks real because the dulled-out leaves and colors used are muted, making the olive tree looks real.
The combination of white vase with green leaves gives it a very luxurious feel.
They come in pairs which is a good thing if you want to create symmetry. For instance, you can put this mini faux olive tree on either side of the tv cabinet, giving it a very refreshing and complete look.
The white vase is strong and durable, and the tree itself steals the show with its quality and aesthetic.
Related: 22 Stunning Extendable Dining Table Designs for Every Home
7. Olive Topiary Artificial Tree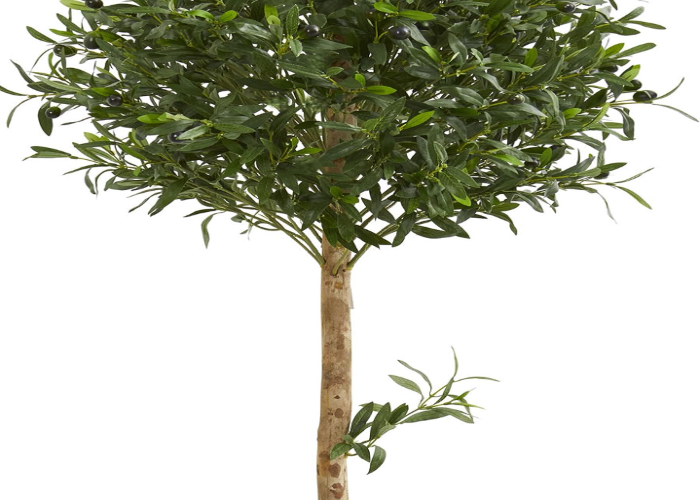 We strongly feel that in this faux olive tree list, this has to be the most minimalist and eye-catching faux olive tree. This is a tall plant with a height of 60 inches or 5 feet.
However, it doesn't appear this tall because of the sheer minimalism of this tree. It has a long trunk with leaves on the top, which is beautifully carved out in a circular fashion giving it a complete look.
The rounded head of dense olive trees will go well with other artificial plants if you have them.
With its height of 5 feet, this is a tall plant, so make sure you place it in a room with enough ceiling space, and the furniture around should also be minimal.
This is only an indoor house plant. Putting it outside might lead to discoloration and will ruin the genuineness of this beautiful faux olive tree.
8. Olive Branch Arrangement in Glass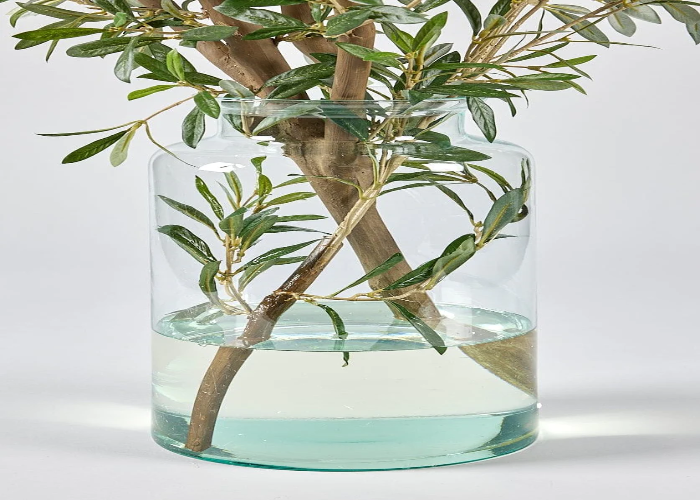 The above faux olive tree is inspired by the Mediterranean region and looks the most expensive on this list.
It looks exactly like a real olive tree, thanks to its lush green foliage and real-looking branches.
What's interesting is the material used in the production of this item is highly sustainable and is designed to withstand even the toughest of weather.
The trunk of this tree is barely visible because of its lush leaves spread all over.
Moreover, the real stealer of this plant is the exotic glass vase. Glass vase, in general, looks rich and premium. However, please be cautious while placing this plant because of the glass vase.
Its height is 49 inches making it big enough to place on the ground. But if you want and if you have enough ceiling height, you can place this faux olive tree on top of furniture which doesn't have much height.
Summing it Up
All in all, we have done a detailed analysis of different kinds of faux olive trees available on the internet.
Faux olive trees are worth the money since they are timeless and are known to bring good luck and lots of prosperity in life.
Moreover, they look good and blend with most home decor even though all the faux olive trees we mentioned above are top-of-the-line.
The key to buying a good faux olive tree is to understand your own requirements, preferences, and existing decor. Make sure whichever faux olive tree you buy doesn't stand out.
Rather, it should blend in and elevate the overall beauty of your indoor living space.
Let us know which faux olive tree you look forward to buying and why in the comment section below!
Check This Next: What is the Standard Height of a Garage: Measurements & Guide [2023]
Frequently Asked Questions
How Tall Can My Faux Olive Tree Be?
Faux olive trees come in various types, sizes, and shapes. But answering how tall it should be depends on a number of factors, such as where you are planning to place this plant, what purpose you are trying to solve, and more.
For instance, according to us, the ideal height of your faux olive trees should be 6 feet for kitchens, rooms, and other spaces which are compact in nature.
Are Olive Trees Lucky for Me?
Olive trees have a rich and meaningful history behind them. Olive trees have been crucial to many cultures and religions throughout history, and even in the contemporary world, they continue to hold high regard.
The one thing common in all those religions and cultures who revere the olive tree is their belief that this tree is the symbol of peace, prosperity, happiness, and meaningful friendships.
Why Are Fake Olive Trees So Expensive?
Fake olive trees, also known as faux olive trees, are not always on the expensive side. The high cost asked by sellers depends on how real it looks, the materials used in the plant, its durability, and the decorated or simple pots.
All these mentioned factors affect the pricing of faux olive trees. We suggest you get a plant that resembles very closely to the real tree.
What Other Artificial Plants Can I Grow with Faux Olive Trees?
Other artificial trees like faux bamboo trees, snake plants, spider plants, and faux banana leaves. But let us make you clear that there is no right or wrong answer when you are designing your interior home decor.
What type of artificial tree you try to pair with the faux olive tree depends upon the decor, the empty space, and your personal preferences.